In talking with Juan Twenty at the SCUBA Show, I received reports of five foot vis and crappy conditions at Old Marineland on Saturday.
We were planning another barbecue today, but I ran a little late and just brought my outdoor stove and hot dogs.
My brother was waiting for me when I arrived; he's not certified, but fits in with the dive groupies and is looking for subject matter that he can use for a commercial contest.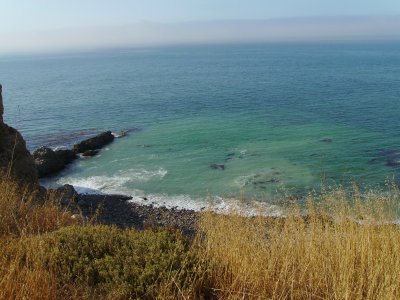 Conditions looked crappy – "green" as we call it; it looked like it went all the way to The Point…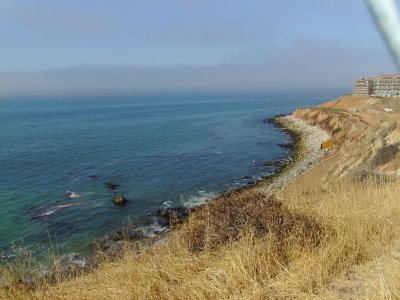 Even though three divers (including a really hot chick!) geared up for a SCUBA dive, most of the regulars stayed dry and called the dive; I took the hint.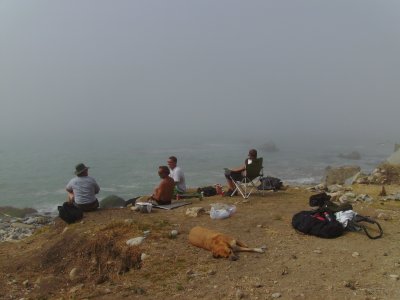 We grabbed some beers and headed down to sit at the beach.
No diving for me, but another perfect day!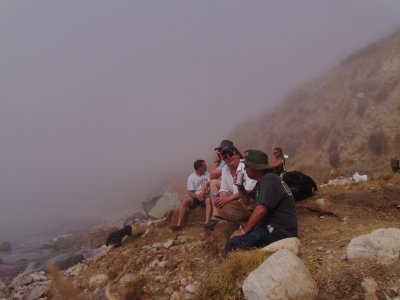 Fog rolled in for a bit and the conditions looked like they were getting worse.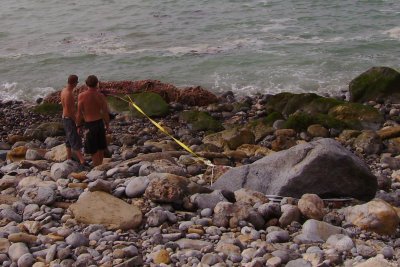 The abandoned and loose fishing net that's been trying to wash itself back out to sea to once again become a marine hazard, was secured with rope by Dive Bum Don and Max Bottomtime.
These nets are lost by commercial fishermen and they end up floating around the ocean, endlessly trapping and drowning seals, sea lions, dolphins and other marine life.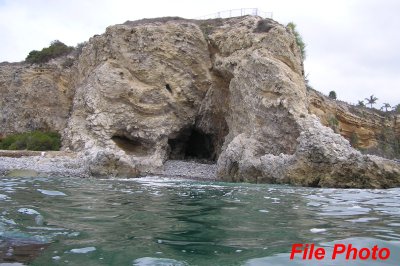 My brother and I hadn't been in Pigeon Shit cave together since our teenage years of sneaking in to Marineland.
We call it Pigeon Shit cave because that's what we would be covered with after leaving the cave back in the day.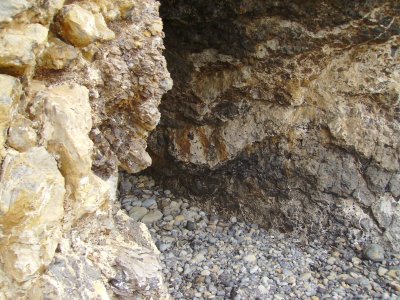 The entrance to Pigeon Shit cave.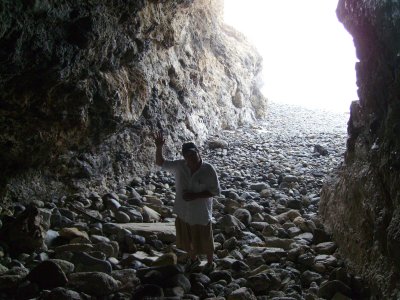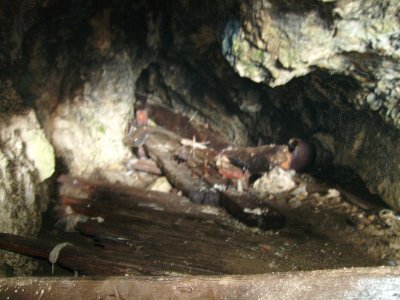 The cave goes several dozen yards back; but all the debris that's washed in from storms forces you to crawl after a certain point.
The cave was damp with water drops falling from the ceiling.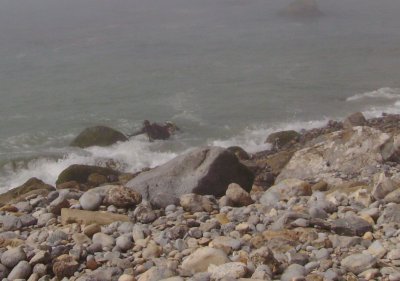 The divers returned; one sacrificed a fin to the ocean gods.
Reports were "about eight feet vis" with water temperature around 60 degrees.
Maybe I should have gone diving – but too many times I've gone in, only to wonder later why I didn't call the dive.
We cooked hot dogs in the parking lot – only a few stayed for the hot dogs (aka "Death Sticks"); I've gotten them too used to Korean ribs, rice and kim chi.
A new diver to Divevets introduced himself – Drew.
The parking lot "party" fizzled out fairly early, leaving me and my brother to reminisce about growing up in the poor part of Palos Verdes and working at Old Marineland more than 20 years ago.