Logged SCUBA Dive #311
Old Marineland (aka Long Point, Terranea Resort)
Dove with the (not) New Chris
In With: 3000 psi
Out With: 500 psi
Max depth: 62 feet
Waves: Pretty flat with minor surge
Visibility: mostly 15 to 20 feet
Water Temperature: 58 degrees Fahrenheit at depth
Total Bottom Time: About 45 minutes
Arriving at the "public access" lot a little after 8 AM, I met a bunch of the regulars pulling out.
"Follow us and meet us at the main Terranea gate, there's no access trail now," Reverend Al said.
Like a sheep, I followed.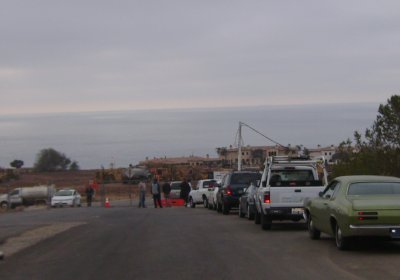 Apparently, just like last week, the guard had no idea that they were suppose to let us in for beach access.
After a few well connected calls from Max BottomTime we were allowed in.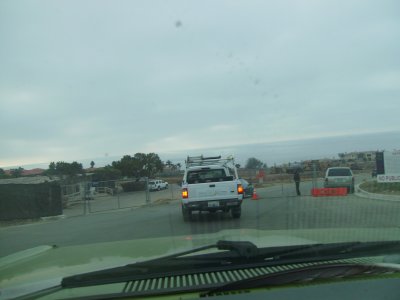 No passport checks, no cavity searches… it's nice to be with the "connected" crowd.
Don't worry about me taking a photo while driving, I'm wearing my seat belt.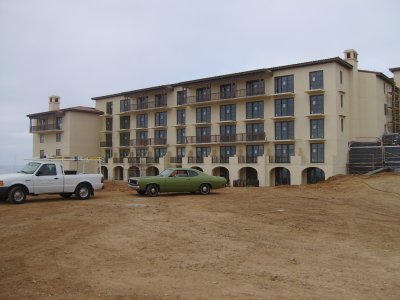 The good part is, the walk is a lot shorter, as we got to park in front of the new hotel.
A new diver by the name of Jordan joined us, in addition to the not so new Chris, Steve, Reverend Al and a few others.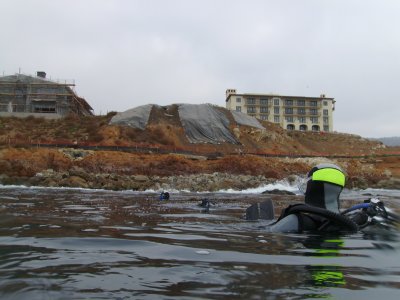 Entry off the Point was easy – the waves were flat, with only a few two foot swells; even Jordan, the Old Marineland virgin, made it in with no problems.
My spring loaded fins made entry for me even easier!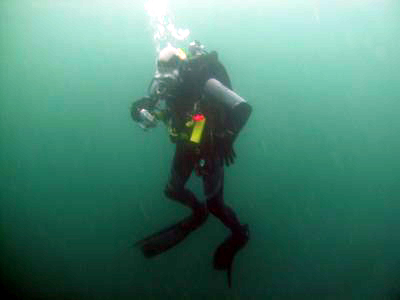 We swam about 100 yards out to where the pinnacle is and submerged.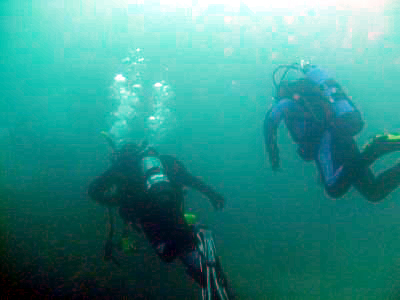 It took me a few minutes to equalize as we descended, I sort of fell behind.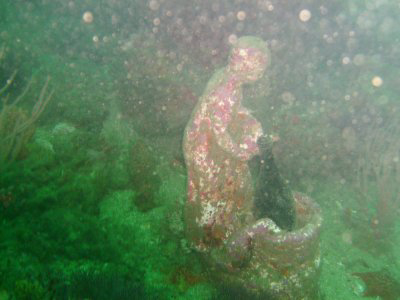 We descended upon the statue at the pinnacle and did a five minute tour.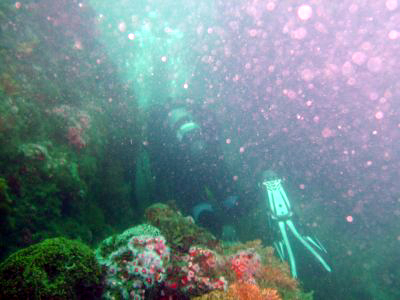 A diver squeezes between a Long Point Reef.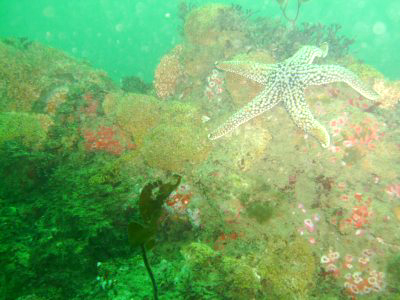 A starfish gets a tan on a shallow part of the reef.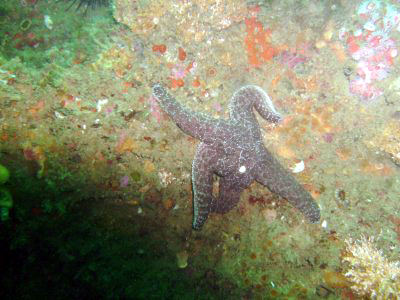 A starfish tries to hold on to the reef.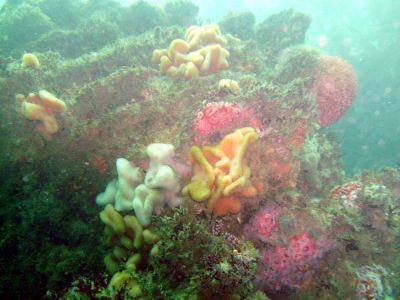 My fish identification is not 100%, but I think these are "sea blobs."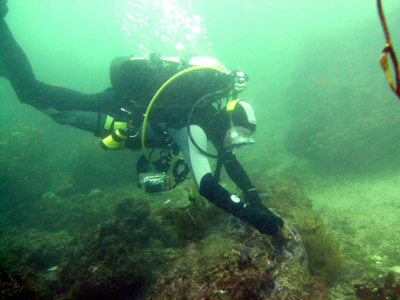 Chris examines part of the reef.
Realizing that we were no longer following Reverend Al, Chris and I went out on our own and headed for an exit at the cove.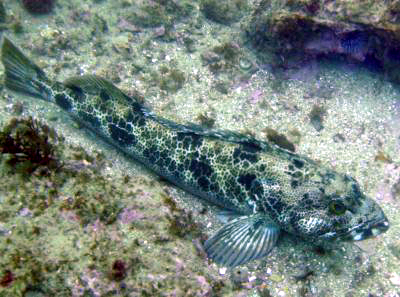 An enormous lingcod!
I also saw huge white sea bass that swam away really fast as I approached….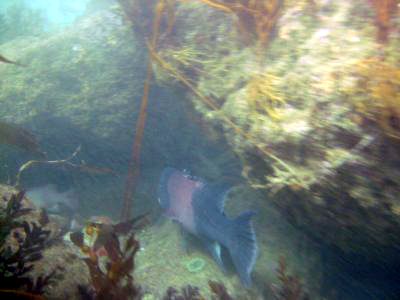 … and a huge Sheephead headed for the hills, too.
Darwinism at it's best!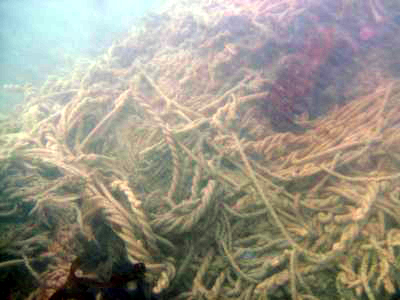 Coming in, we found the famous fishing net that was lying just off the cove in 15 feet of water.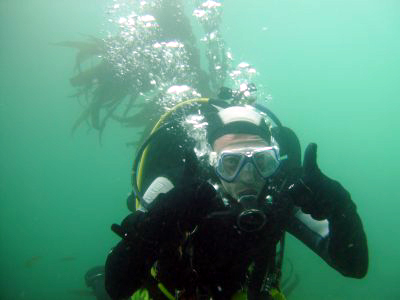 We surfaced and made a very short swim in; with my new spring loaded fins, I made the easiest exit here that I can remember!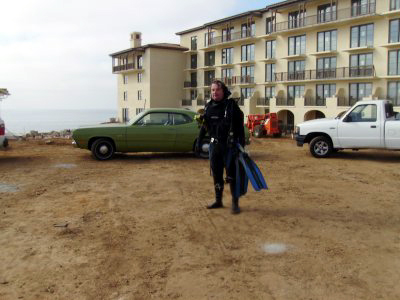 The walk back was easy compared to the walk of the last year or so.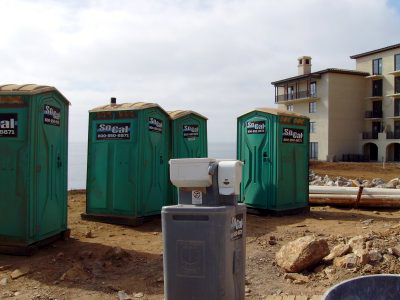 The new accommodations include toilets and a sink!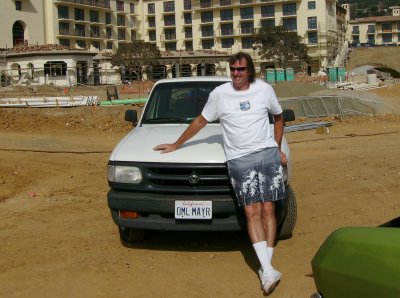 Max Bottomtime poses with his new license plate.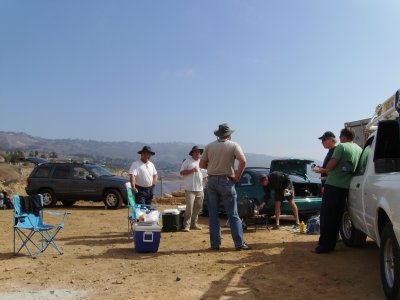 The debriefing continues as usual, but in a different and more secluded area.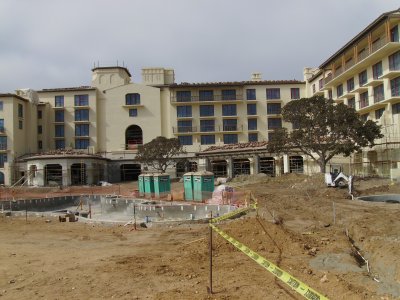 This is where Marineland Of The Pacific's entrance gate used to be.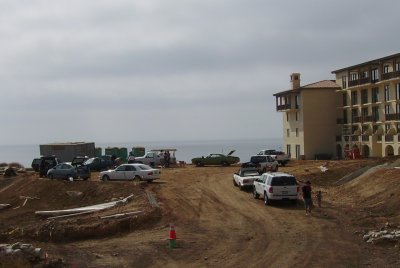 The debriefing circle from afar.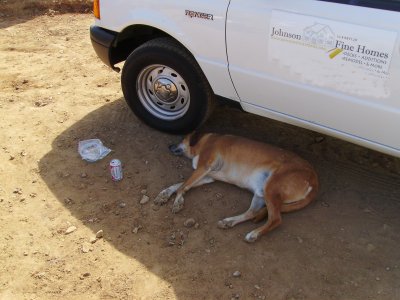 One beer too much knocks Cyber The Attach Dog out of commission.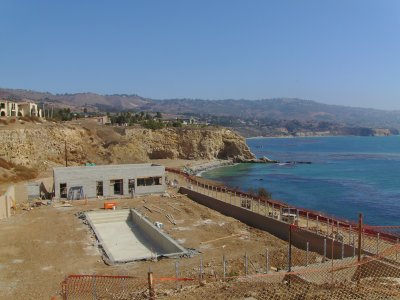 This is over looking the cove from our debriefing spot.
Another perfect day of diving and debriefing at the Old Marineland in Palos Verdes!