Well, this was my second dive with the class, but the last dive for these students before they are either flunked or certified.
Logged SCUBA Dive #383
Black Rock, Catalina, CA
Dove with Crazy Ivan's Open Water Class
In With: 2400 psi
Out With:1000 psi
Max depth: 30 feet
Waves: Mild chop
Visibility: 4-20 feet (depending on how much the bottom was churned.)
Water Temperature: 65 degrees
Total Bottom Time: About 25 minutes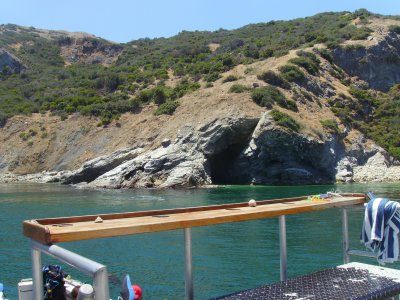 This is Black Rock, Catalina.
All the students were checked with a buoyancy test – I checked two students and they were slightly over weight – apparently that's what the intent was.
After floating around for about 10 minutes, all the students were in the water.
We submerged, Crazy Ivan first, then the students, with me taking up the tail.
Now it was navigation testing – basically, follow a compass heading out, then turn around and hopefully come back to the group.
Crazy Ivan went with the students, I stayed with the group.
Apparently, someone got lost as there was a big gap in time between when the testee left with Ivan and their return.
Some students were swimming around, trying to keep warm, which did wonders for the immediate visibility.
As the last couple of students were being tested, one of them approached 500 psi on air; I motioned everyone to the surface.
Two students didn't have enough air to continue, so they went back to the boat.
The rest re-submerged with Ivan, with me taking up the rear, to continue the dive for five more minutes.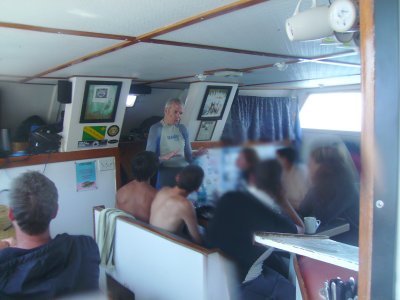 Crazy Ivan debriefs his students.
Comments Off

on Second Open Water Class Dive