I have once again been called upon for my excellent skills as a safety diver – I am to help Crazy Ivan with his last two dives with his Open Water class and I get a free boat trip, free meals and a free last dive.
What a trade!
The original boat chartered was the Mr. C – the world renowned party SCUBA boat.
For whatever strange reason, the Mr. C – "couldn't get the compressor certified" and had to cancel – there are rumors that the Coast Guard won't let it out on the ocean ever since it broke down at Catalina in April, and had to be towed and dry docked.
The boat was switched to the Sand Dollar – this is the first time I've gone on this boat.
Ivan had seven students – a little too many for him to keep an eye on alone.
It was my job to do what I had done in previous years for Instructor John – keep the group together and handle any problems that I may observe.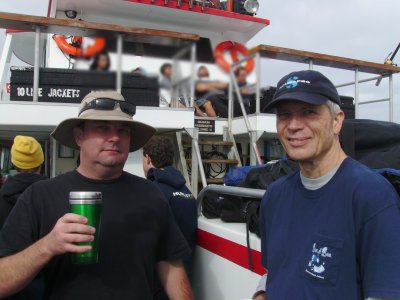 Me and Crazy Ivan.
It took about two hours to reach Black Rock in Catalina; the boat was all students, class staff and four divers from Utah.
Logged SCUBA Dive #382
Black Rock, Catalina, CA
Dove with Crazy Ivan's Open Water Class
In With: 2500 psi
Out With:1500 psi
Max depth: 25 feet
Waves: Mild chop
Visibility: 4-20 feet (depending on how much the bottom was churned.)
Water Temperature: 65 degrees
Total Bottom Time: About 20 minutes
I was the first to jump off the boat – I was getting hot and really had to take a leak.
I floated for about 15 minutes while all of Ivan's students jumped in and swam out to me.
The first 30 minutes or so was surface skills – weight belt and BCD removal and replacement, then Ivan did the simulated emergency swimming ascent with all the students in pairs.
The students, who are younger and lack the insulating fat that I have were getting really cold.
I had to take one student back to the boat – he couldn't get down because he had a cold and was too congested to equalize.
All of us then descended and made our way back to the boat – a slow 20 minutes, with me taking up the rear of the line.
One of the student's tanks fell off the BCD – Ivan was able to remount the tank underwater with no incident.
Comments Off

on Helping Crazy Ivan With His Open Water Class