September 20, 2019*
It's time for a vacation.
I have been slaving away at my new job, pretty much done liquidating my Father's estate and am done with a bad business decision.
What fit my budget was the super two-night, two-day dive package to Santa Barbara Island, Sutil Island and Catalina Island offered by ECO Dive Center.
Even though their website stated that there were 11 spots left, I had to call to reserve.
I called and was told that I just got the last spot; I guess these trips go fast.
I was asked if I was an Advanced Diver and if I had night diving experience.
I started to brag about how macho I am – lobster hunting, almost two decades of diving… I guess I passed his interview, as he shut me up pretty quickly to get my credit card number.
Amazingly enough, my card was not declined!
One part of their website stated that we would meet at the Pacific Star at 8 PM, another page said 9 PM and that we would have a "social hour" at the bar until 11 PM.
I was anxious after getting all my dive gear together; I could not rest, so I ended up arriving at 22nd Landing around 6 PM.
After figuring out the difference between The Cabrillo Beach Yacht Club and the 22nd St. Landing Seafood Grill and Bar, I arrived at the cheaper place to slam a few back and wait for the boat to open.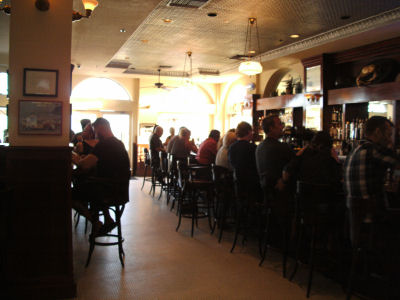 For maximum annoyance and to torture their accountant, their Budweiser beers were priced at $6.02.
I sipped on two King Of Beers until 7 PM and went to the boat.
Showing up early had no consequence on what bunk I was to get as they were already assigned, but the guy from ECO was not there yet.
I was told that I could load my gear in the boat, if I hauled it down, but I did not have a bunk as of yet.
That's exactly what I did.
Around 8:30 PM, Jake from ECO arrived, and I checked in, was given a lower bunk at the bow, signed my life away and decided to kill the rest of the evening hanging out at the bar to get properly plowed so I could get some sleep on the way to Santa Barbara Island.
I ordered some Calamari and Cape Cods – the Calamari arrived faster than the drinks.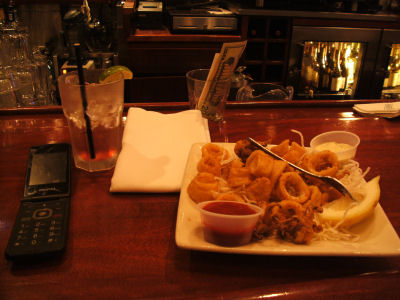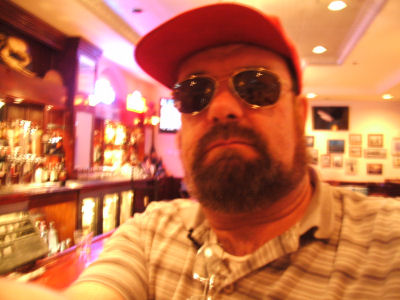 I came to find out, that the bar closes at 9:30 PM; that was a good thing, otherwise I would be broke if I sat there until 11 PM.
Around 9:45 PM, they threw me out and I made my way back to the boat.
There was a briefing given by … I think it his name is Elwood.
The hot topic was, NO CHARGING BATTERIES IN THE BUNK ROOM!
NO CHARGING BATTERIES AFTER 10 PM.
If they find a device plugged in, unattended after 10 PM, they will unplug it and give it to the Captain.
If you want your device back, you have to go and talk to the Captain and explain why it was plugged in.
I partied with my fellow divers, who brought some sissy craft beer; nobody wanted Budweiser – the King Of Beers.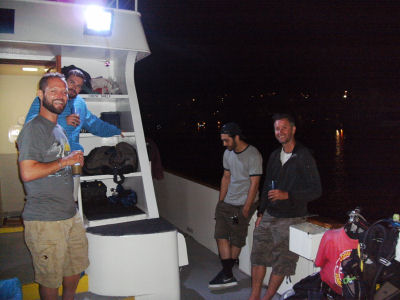 Around 11 PM, I was well ready to pass out and wake up at our destination.
I made it to my bunk, and passed out next to my Spare Air.
More to come, a lot of dives, and too much to post all at once, so stay tuned!
This is a preview of the first Dive on Santa Barbara Island: Training Tiny The Sea Lion To Attack
*Due to lack of internet access, and too much to do to write while it is happening, there has been a delay in these posts. Pretend you are in 1990.