July 13, 2012*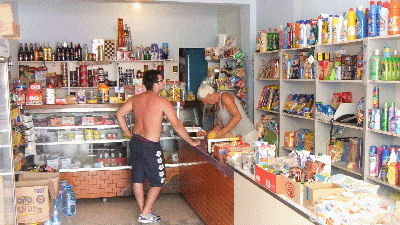 We stopped by a grocery store in Himara and bought cheese and bread to complete this evening's dinner.
My computer had six bars after our two deep dives; we had to stay out of the water for several hours – the next dive was deep, too.
We drove to Llamani Beach and humped our stuff to the "public" corner of the beach.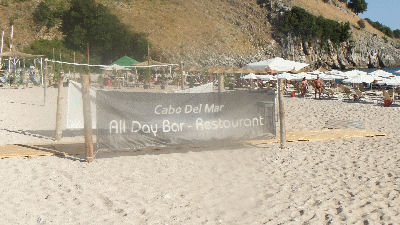 Idit was tired and so was I; we rested under the umbrella for an hour with all of our diving gear around us, to the staring eyes of young kids and curious adults.
"What does your computer say?" Idit asked.
"It says we can fly in 23 hours," I said.
"I don't trust your computer," Idit responded.
We geared up and entered the water.
Idit had never dove here, but was told this was a good spot by a friend.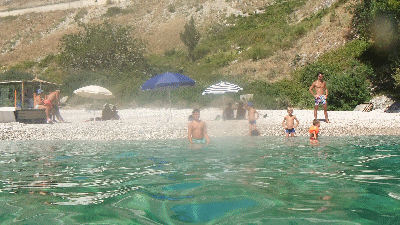 We got a lot of curious stares as we kicked out.
We surface swam over sand until we found a reef to descend on.
Logged SCUBA Dive #419
Dove with Idit
Llamani Beach
Himara, Albania
Air Source: Private fisherman's compressor in Saranda
In With: 2900 psi
Out With: 300 psi
Max depth: 102 feet
Waves: Flat
Visibility: Up to 50 feet
Water Temperature: 74 degrees, colder next to the fresh water springs
Air Temperature: 99 degrees
Total Bottom Time: 40 minutes or so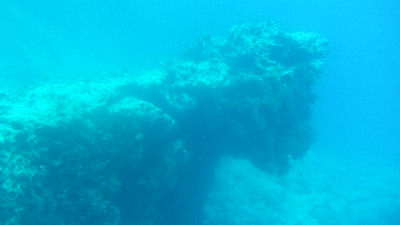 There is a nice reef structure along the wall.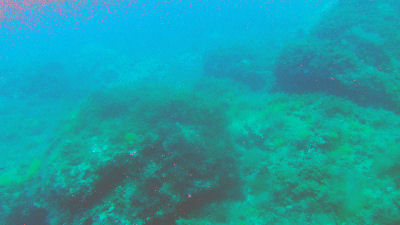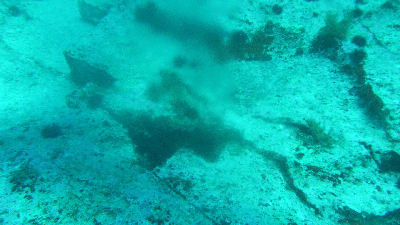 Fresh water from the mountains oozes out of the sea floor, turning parts of the visibility blurry and the water colder.
We found a Greek license plate…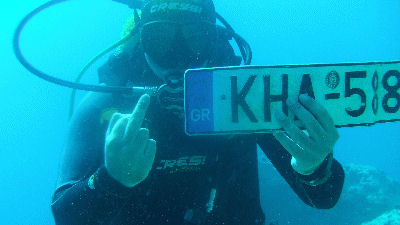 Fuck Greece!
We did a perfect navigation back to our spot, swimming at a depth of 15 feet as our "safety stop" and swim home.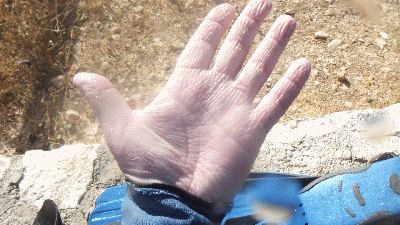 Oh my God! My hand was like a prune.
This had better be temporary, as there is no television in Porto Palermo, the only thing I will have to do tonight is drink beer.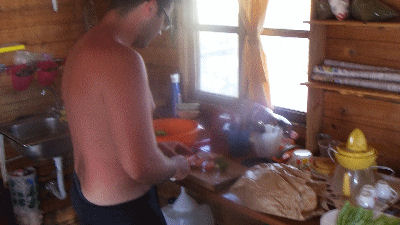 Back in Porto Palermo, Idit made our last meal here from the fresh vegetables we bought yesterday and the bread and cheese that we bought earlier.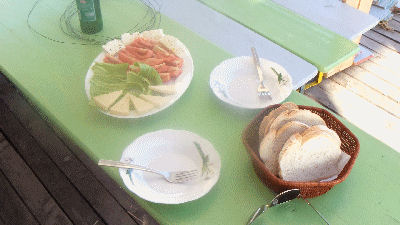 Beer, tomatoes, bell peppers, cheese and bread – a complete and healthy Albanian meal!
Idit left to get some well deserved rest later in the evening.
I said good bye to my newly acquired friends at the restaurant below the bungalows and had a good night's rest before Idit picked me up for the journey back to Tirana.
The water had gone out sometime during the night, so I couldn't take a shower; I hope I didn't smell too bad.

*Due to time constraints, lack of reliable internet access outside of Tirana, power outages in Tirana and the strength of Albanian beer, posting of this article has been delayed.