September 21, 2019*
I rested in my bunk for an hour or so until I heard the announcement that dinner was ready.
I made it to the galley and was greeted by Captain Dave who asked me, "Would you like to try our vegetarian meatloaf?"
"What, no I like meat in my meatloaf," I replied.
Captain Dave smiled and said, "Good for you."
And that's exactly what dinner consisted of: meatloaf, mashed potatoes and green beans.
To kill time, I went to the upper deck to kick it with my fellow divers.
There was a couple from Portugal, who live in Los Angeles.
Two brothers, Tony and Nick, who were comic relief for the trip, told us about their diving adventures around the world.
One time in Australia, when they were kids, they had the bright idea of putting shrimp in their pockets to feed the fish when they went swimming.
Everyone laughed and thought it was a great idea; they laughed even harder when they jumped in the water and were attacked by every fish in their proximity.
I talked to a diver named Tai from Singapore.
Yes, in Singapore, chewing gum is illegal and possession of it is a high crime.
Tai said, "People would throw their gum all over the place.
"Even here, try and find a restaurant that doesn't have gum stuck underneath their tables.
"Our subway system was shutdown for hours because a piece of gum got stuck into some equipment and ended up costing the economy $38 million in lost productivity.
"It doesn't make sense to risk that much over a 30 cent piece of gum, so they outlawed it."
I also gained some insight into the canning of Michael P.Fay in 1994.
Tai said, "When we were kids, we would go around and steal car emblems from Mercedes Benz and Rolls Royce cars; we stole the Judge's emblem off of his Rolls Royce, so the judge put security cameras up and caught Michael Fay vandalizing his car.
"When he went in front of the judge, the judge also demanded that his car emblem be returned, too.
"But Michael Faye said that he didn't have it, the judge didn't believe him, got upset and sentenced him to canning.
"Small crimes are handled with fines and canning, and that seems to deter petty crimes, but if you physically hurt someone, they throw you in prison for 15 years and your whole life is ruined.
"Our justice system works very well."
I had brought a case of Budweiser, the King of Beers, for this trip, with the idea that I would hang them in a bag, in the water, to keep them cold.
Captain Dave told me, "That's a pretty dumb idea. The water is almost 70 degrees; why don't you just put them in the refrigerator?"
And so I did…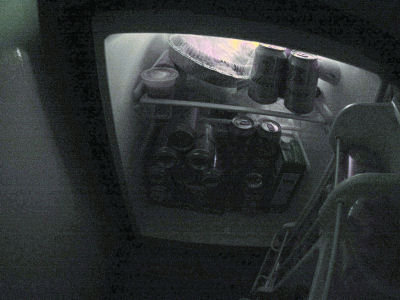 I told everyone on the boat, "Hey guys, after the next dive, help yourself to a Budweiser."
Someone said, "I'd rather drink monkey piss."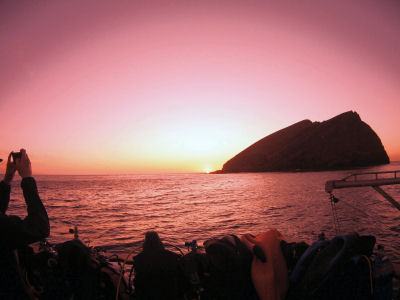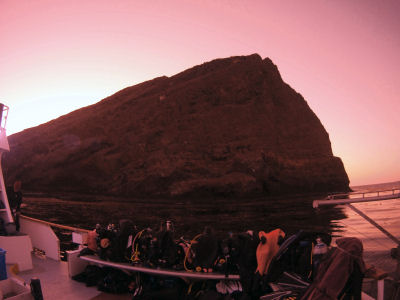 There was a brief debate as to why Sutil is called an island and not a rock.
Someone said, "Then Bird Rock off of Catalina should be called Bird Island."
Well, to me, Pluto is still a planet.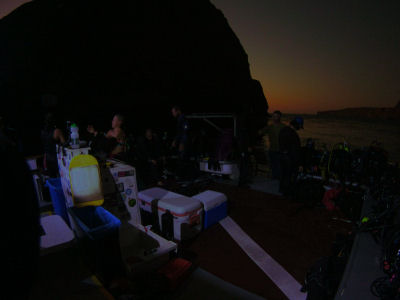 Again, I was the first diver overboard.
I had to juggle my light and my camera, making sure not to lose either one.
I started to submerge, and realized that I couldn't breathe!
I surfaced, and quickly figured out that I still had my snorkel in my mouth.
After a quick switch to my regulator, I descended for the last dive of the day.
Logged SCUBA Dive #515
Solo Diving, SoCal Buddy Diving
Sutil Island, CA
In With: 3000 psi
Out With: 600 psi
Max depth: 60 feet
Waves: Pretty calm
Visibility: 20-50 feet depending on where you were.
Water Temperature: 62 degrees at depth
Air Temperature: 74 degrees
Total Bottom Time: 36 minutes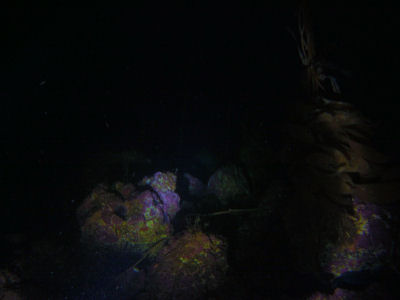 I have to say, if you think my daytime photos suck, my underwater nighttime pictures are worse.
Maybe I needed a better light?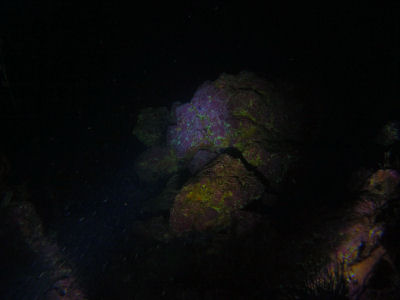 Contrary to what other divers saw, I didn't see any lobsters on this dive; I guess my reputation still follows me – they were all afraid and hiding.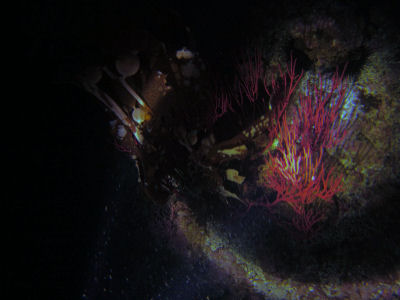 There was more to see, my nighttime photo skills just need to be refined.
This dive was pretty much like the last dive, but just darker, and less "spooky," believe it or not.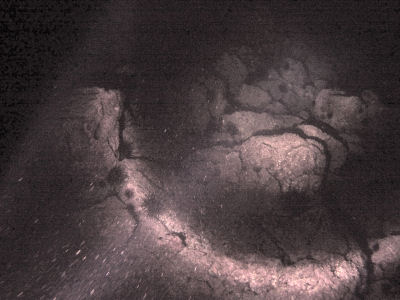 I made it down to 60 feet, which was quite amazing, as the last dive was further away from the island and I never got deeper than 45 feet.
With a light in one hand and a camera in the other, I didn't pay too much attention to my compass., which didn't work out very well when trying to get back to the boat.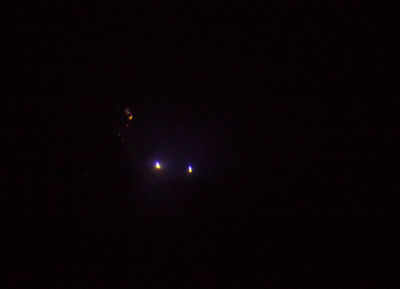 Some other divers were following me for a bit; I hope they didn't think I knew where the boat was, because I was lost.
After a quick surface trip to get my compass headings back to the boat, I submerged and headed back to an easy exit.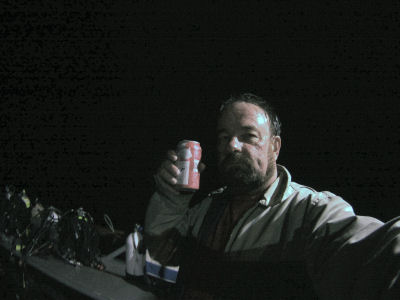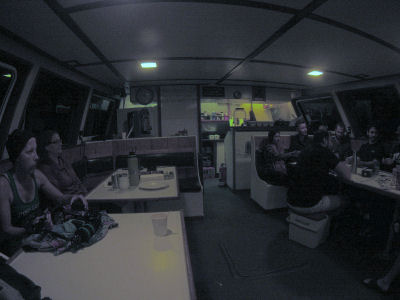 Some divers reviewed their pictures from the day, while others played a high stakes game of Cards Against Humanity.
Some divers drank "craft beer," others had Rum, others had wine and one macho diver drank Budweiser.
Captain Dave headed off to Catalina for the next day of diving.
*Due to lack of internet access, and too much to do to write while it is happening, there has been a delay in these posts. Pretend you are in 1990.