September 15, 2013*
Thanks to one of the Captains of a diving boat, I have a ride back to Warsaw tonight.
I have contacted my friends in Warsaw to arrange accommodations.
So, now it's time for the deep dive of Poland – locally known as the Trałowiec, but officially known as the Munin.
So the story goes, it was a German ship that was sunk sometime in World War II.
I have not been able to find documentation on the internet in English – well not yet.
I'm tired, and writing this on my last night in Poland, so I will readdress this issue later.
Kamil chartered another boat.
I needed a buddy, and he was more than happy to be mine for about $30 USD.
There were about eight divers on the boat, six recreational, two technical divers.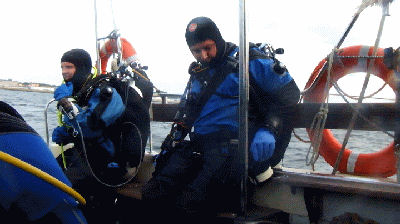 We jumped off the boat, and I followed Kamil to the line that lead to the wreck.
We descended.
Logged SCUBA Dive #448
Dove with Kamil
Trałowiec (Munin) Wreck
Hel, Poland
In With: 3000 psi
Out With: 500 psi
Max depth: 120 feet
Waves: Mild chop
Visibility: 15-20 feet
Water Temperature: 38 degrees
Air Temperature: 66 degrees
Total Bottom Time: 32 minutes or so
We got to about 70 feet, and all of a sudden, I felt this extreme fucking cold pierce through my body.
Holy fuck!
Oh yeah, I need air in my dry suit.
I just kept sinking… and sinking.
I was over weighted for this dive; I kept pumping air into my BCD, and finally at 120 feet, I hit the bottom like a rock.
I was fucking cold, even in a dry suit.
Worst of all, my hands were numb; I was wearing 5 mm neoprene gloves, and I couldn't feel my hands.
Was I narced?
I really don't know, I followed Kamil like a sheep, but I must have been.
And, I admit, I was a little scared.
This was a night dive, during the day – it was that dark.
This was the coldest and one of the spookiest dives I had ever been on.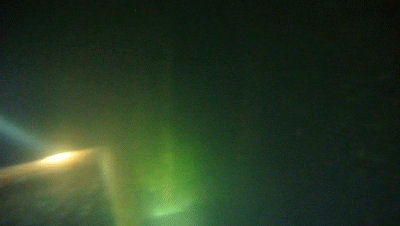 A doorway leads to the inside of the hull.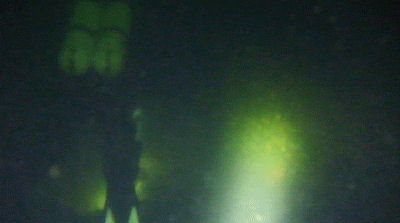 Just follow kamil… Just follow Kamil, all will be fine.
My hands were frozen, I was fucking cold, but I realized that our bottom time was only 12 minutes.
I am macho enough to endure such conditions.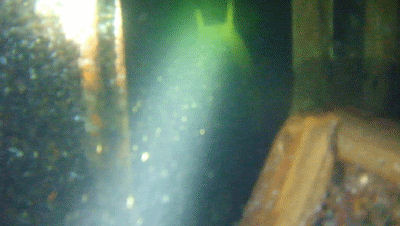 The wheel house.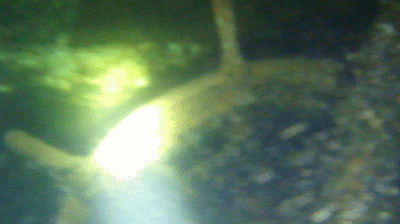 The Captain's Wheel.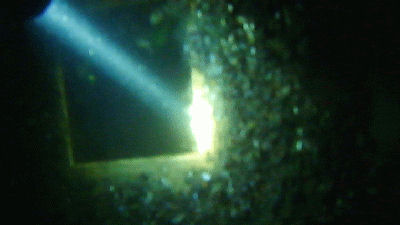 A window on the front.
Kamil lead me back to the buoy line.
Yeah! We're going up to warmer water!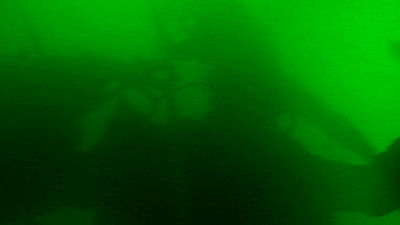 We must have spent more than 10 minutes going back up.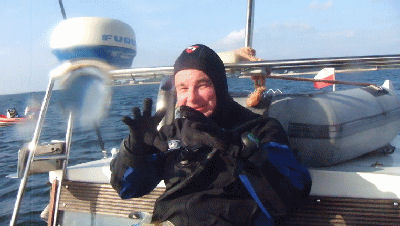 I couldn't feel my hands for several minutes.
I had to take a piss too, but it was so cold, I couldn't find… forget it.
I'm shoving off in several hours.
I will write a recap when I get home.
Thank you Poland for such a great time – next time I will be here, I'm not going to dive.
I feel cheated I didn't stay longer and see some of the history.
*This post has been delayed due to Polish beer, Vodka and lack of internet access.