Sorry for the long delay in writing…
My life has entered a new chapter; my father died on February 20th.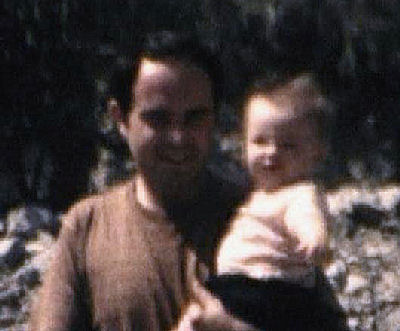 Things are certainly different, and for the next six months at least, I will be handling his vast empire; which means my diving weekends are shot.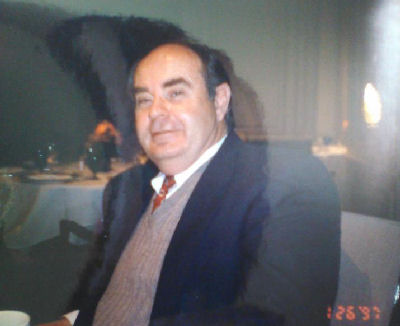 People often mistook my Dad for Tony Soprano.
About five years ago, he was diagnosed with ALS (Amyotrophic Lateral Sclerosis) – the same disease that killed Lou Gehrig, Mao Zedong, David Niven and more recently Stephen Hawking.
The cause is not known, but I personally think it was from him falling off a ladder several years ago or some asshole who sneezed in his face at an airport.
It is my educated guess, and the reasoning is out of the scope of this post.
With ALS, the person's body slowly shuts down, eventually losing all mobility of the body.
The victim is nothing but a fully functioning mind and a set of blinking eyes.
There is also some very tragic psychological issues that go along with suffering the loss of all bodily movement.
The doctors told him that he could get a feeding tube and breathing respirator and stay alive practically indefinitely, like Stephen Hawking did.
But who the fuck wants to live like that?
They gave him three years to live.
His one dying wish, that I could accomplish, was to go to the grand opening of the John Wayne Birthplace & Museum, in Winterset, Iowa in May of 2015.
Yes, he was a life-long John Wayne fan – except for the Duke's stance on the Vietnam war.
He often complained to me that I didn't give him any grandchildren.
I told him, "It's hard for me to even get a date, but John Wayne had kids into his 50's, so I still have hope."
"Yeah, but the problem is, you're not John Wayne," he said.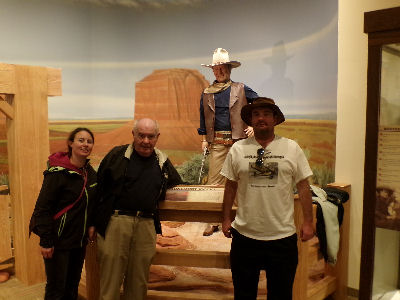 My sister Kate (Secret Agent K), my father and me at the John Wayne Museum – 2015.
Here's the posts of our trip, if you missed it:
Classified Mission To Monument Valley
Classified Mission To Iowa – Part 1
Classified Mission To Iowa – Part 2
Winterset Rodeo And The Opening Of The John Wayne Museum
The End Of My Trip And Other Odds And Ends
Since the trip, he continued to slowly decline.
He got harder and harder to understand when he would speak, but he never bothered to learn to use his Tobii, which would have given him a computerized voice.
He stopped driving two years ago.
About eight months ago, he started to need help getting up out of bed and up out of his chair.
Late last year, he could barely eat and needed assistance in other daily functions.
In January, we hired a part-time care giver.
He did have a CPAP, that helped him breathe when he slept.
He told me, "The only time I'm happy is when I'm sleeping."
I was lucky enough to have said a lot of things to him that I would not normally have said to him if he would have died unexpectedly.
His mind was all there, and was still able to text me as coherent as he ever could communicate with me, or anyone else.
Five days after his 50th wedding anniversary, we were texting about job prospects in other cities for people who can't find work in the Los Angeles job market.
I suggested Reno.
This is our last correspondence with each other…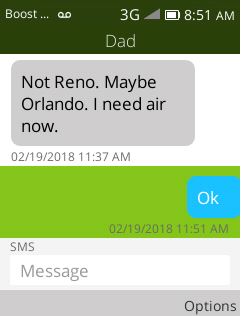 He slept for 21 hours after he sent that text, which was very unusual.
He rang his siren to get help to get up and collapsed within the hour.
The paramedics were called, but he had registered as "Do Not Resuscitate."
His last wish was granted.
Immediately before he died, he was still able to slightly walk and could still talk; or as my Dad put it, "Talk like Frankenstein."
He died at home, around his vast empire of stuff that he had acquired over the last 70 years, but without experiencing a lot of the things that I wish he could have.
And so another chapter of my life ends and a new chapter begins.
Stay tuned.