Secret Location: 4f 66 66 20 6f 66 20 74 68 65 20 53 70 61 6e 69 73 68 20 72 6f 75 6e 64 20 62 65 61 63 68 20 69 73 20 61 20 66 61 72 6d 20 6f 66 20 70 69 70 65 73 2e
Night Diving, Solo Diving – So Cal Buddy Diving with the Divevets off of the Island Diver boat
In With: 3200 psi
Out With: 600 psi
Max depth: 90 feet or so
Waves: Mild Chop
Visibility: 20 feet
Water Temperature: Sort of cold
Total Bottom Time: 20 minutes
Lobsters caught: 3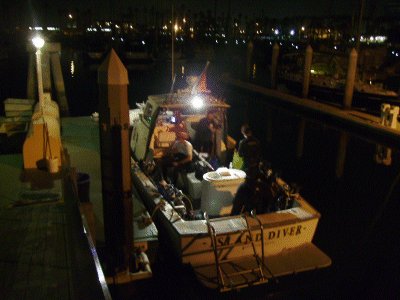 Another lobster trip on the Island Diver!
The new Captain, six divers and two diving Dive Masters left dock at 7:10 PM.
Our first stop was the Palawan wreck at 120 feet down.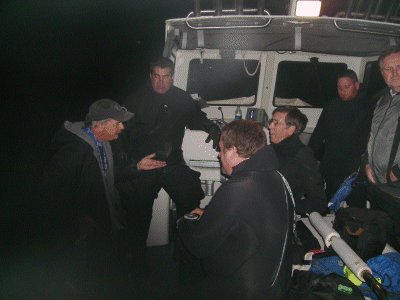 Dan briefs the divers on this deep dive.
I was not overly enthused about this place because I would only have 10 minutes or so to look for bugs.
Dan sent Bob and Chris down with a florescent buoy that he was going to release if conditions and bugs were there.
We waited; everyone was waiting for the marker to pop up.
About 20 minutes later, Bob and Chris emerged with the announcement, "We aren't close to the Palawan or the pipes."
Bob had four lobsters stuffed in his bag, but said there weren't many big ones.
We moved the boat to the location where the rest of us did our first dive.
I went down the anchor line and went South and then South West.
I started to get really narced, but I always maintained my composure.
The first 10 minutes of my dive I didn't see one lobster, then I looked down and almost bypassed my first catch of the day.
I pinned and bagged it.
I ran across a few more, but only one was legal and I bagged that one.
I turned around and started heading back.
Down to 1000 psi I thought to myself, "This is about the time I run across a big lobster that wants to fight."
Sure enough, I ran across a big lobster monster and pinned it.
The lobster monster started to try and escape by frantically flapping its tail; I almost lost my grip.
I shoved it in my bag half way and started my ascent, making sure not to repeat my close call from a few dives ago.
I spent a few minutes getting to the surface and emerged to the East of the boat.
After a 200 foot swim back to the boat, I briefed Bob and Chris on the conditions.
Comments Off

on Logged Dive #263 – Lobster Hunting With The Divevets