Margate, Palos Verdes Estates, CA
Dove off of John's Zodiac
Southern California Buddy Diving With John and Ron T.
In With: 3000 psi
Out With: 1200 psi
Max depth: 50 feet
Waves: Rough Chop; 2 foot swells
Visibility: 15 feet; silty
Water Temperature: Cold at 50 feet
Total Bottom Time: About 35 minutes; my "water resistant" watch has finally stopped working.
I picked up Ron at his home is Redondo Beach at 7 AM and met John at the Redondo Marina.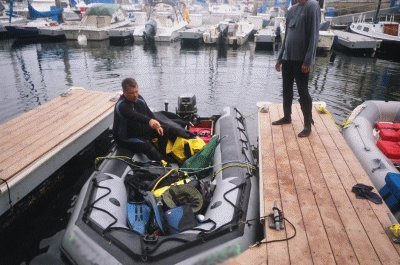 We too a bumpy ride out to the massive kelp bed off "Margate" in Palos Verdes and dropped anchor.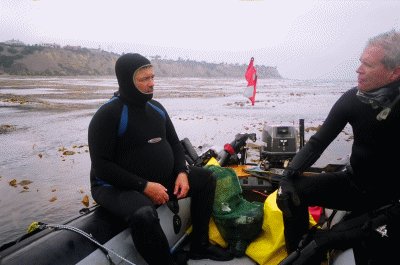 John said the trick is to inflate your BC, throw it overboard, jump over and put your gear on in the water.
I was the first over board.
I swam down to 40 feet and explored from there.
There's an interesting set of reefs, kelp and abundant life.
There was quite a slight surge, even at 40 feet.
I came across an old anchor that was caught in the kelp.
It I could have cut the chain, I would have kept it.
I ascended to 20 feet a few times to warm up.
I surface to get my bearings and made it back to the boat.
John was already on board.
I took my BC off, hooked it to the side of the boat, threw my weight belt in and climbed in the boat.
It was a task easier than I could ever have imagined.
Comments Off

on Logged Dive #231 – Margate Diving Off Of John's Zodiac