Wreck Diving The Yukon
Off the Lois Anne Boat
San Diego, CA
Dove with fellow DM student Ron T; Instructor John followed.
In With: 3100 psi
Out With: 1600 psi
Max depth: 91 feet
Waves: Insignificant
Visibility: 5-10 feet, up to 20 feet at the ship
Water Temperature: 56 degrees Fahrenheit
Total Bottom Time: 21 minutes, including a two minute safety stop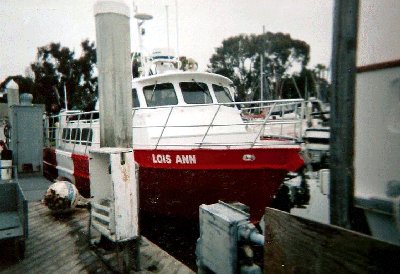 The Lois Ann
This trip is part of my Divemaster course.
We were to dive, but also observe and interview the Divemaster on this trip; after seeing the DM, I was so glad I had the assignment!
I was the first one off the boat, Ron followed and then John.
We swam to the mooring line and submerged.
Vis sucked near the surface; it was very silty.
Then at 70 feet, part of the wreck appeared.
It should have brought a light, because it was pretty dark.
The wreck is big and disorienting.
It sits on its side, so if you are even with the deck and think you're level, you'll find it strange that your exhaled bubbles ascend out the side.
I was getting REALLY narced, especially at first – I was diving with air, Ron and John with Nitrox.
I started feeling better as the dive progressed.
We scanned the bridge, the deck, and the portholes on the side of the wreck.
It was sort of eerie – just a big ship with sea life all over it; sort of like watching a Jacques Cousteau movie in 3D.
We did not penetrate the wreck.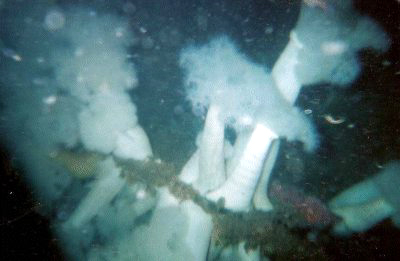 The Yukon is covered with white plumed anemones.
I was sucking up air faster than I remembered I had ever done.
I was following Ron, who had a dive computer, and was following his profile.
Ron motioned that we should head back.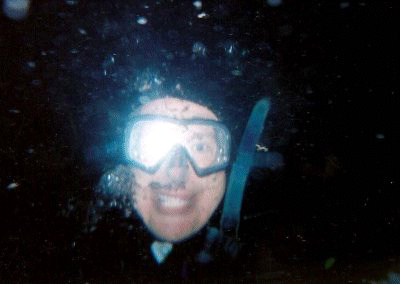 Ron looks way too happy to be this deep.
Ron found the mooring line and we started our ascent.
At 15 feet, we did our safety stop for a couple of minutes.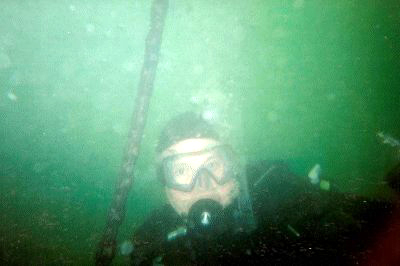 Ron makes his safety stop…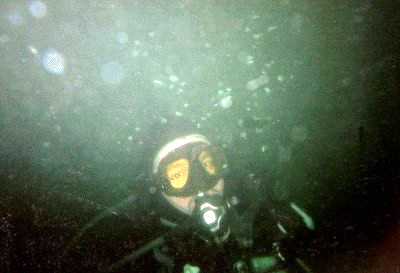 …and so does John.
I thought Ron was cutting the dive short, but I followed the guy with the computer.
Looking at my tables, it was not a matter of air, but time without going into decompression diving – something that I'm not qualified to do.
We broke surface with no problem; I looked over at the smokin' hot Divemaster, gave my "OK" sign and remarked loudly, "The view is much better up here."
She laughed.
Comments Off

on Logged Dive #177 – Diving The Yukon Wreck