Sorry again for slacking on the posts – but it really doesn't matter as I haven't been getting wet lately.
It is a combination of the crappy conditions recently, and family and business shit.
I'm sure I still have my loyal four or five followers; and thank you!
Regardless, the SCUBA tanks that I bought from the garage sale a few years ago I got hydro-ed at Pacific Wilderness and they passed!
So, I now have SCUBA tanks that I can get filled by anyone, regardless of whether they have the paranoid ban on the high quality Luxfer Aluminum tanks from the early 1980's that I have dove with for the past 10 years.
However, I feel guilty for not posting anything for a month – so this is what is up.
I'm not sure if I will be lobster hunting anymore.
It seems like a really big waste of money now, since the last few seasons have produced very few lobster for me.
Not that I'm a shitty hunter, but over all, it would have been cheaper for me to go to the damn seafood store.
I figured that out a long time ago, but the diving camaraderie kept me coming back.
OK, if I have enough money next season, I will see you!
Now, for the fluff of this post…
I just came across this website from one of my friends – it is basically hookah diving, or SNUBA diving, for those who are not macho enough to actually carry a tank.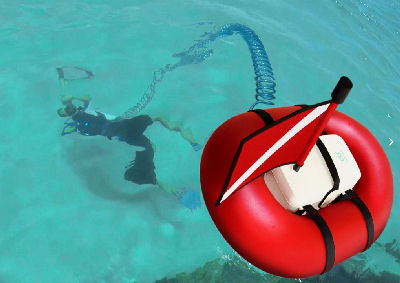 It is limited to 40 feet, so I'm not putting this on my wish list.
Until later!
Comments Off

on April Update