Casino Point, Catalina, CA
Solo Diving
In With: 3000 psi
Out With: 1200 psi
Max depth: 90 feet +
Waves: 1-2 feet, insignificant
Visibility: 15-20 feet
Water Temperature: Sort of cold at depth
Total Bottom Time: 30 minutes
After eating a few free hamburgers, I did my "after the event" dive.
I went down the stairs and off to the right.
At 90 feet, there are two sunken boats, or at least what's left of them.
I ran across a few divers.
Not much to report as far as anything in particular.
I managed to swim back up the first two steps of stairs.
It was a higher high tide, so I just swam up the stairs.
Our crew packed up and went for drinks at Mi Casita in Avalon.
I drank a few beers; others had "bowls" of margaritas.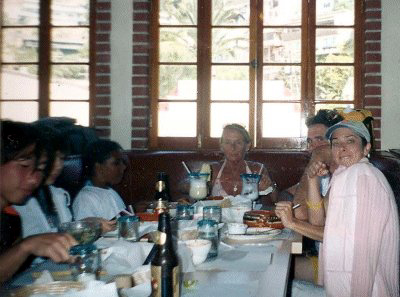 Getting wasted at Mi Casitas.
Bob had a few bowls of margaritas and started telling one of the female crew members how nice her ass looked when she bent over to put her wetsuit on.
She took that as such a compliment that she sat with him on the way back to San Pedro.
If I had said something like that to a woman, I would get punched.
I guess the direct approach works for some people.
Comments Off

on Logged Dive #130 – My Post-Gold Star Dive Dive