So am I now a Diving Professional?
Compensation Received: A T-shirt, free food and the ability to write off the boat trip as a donation to charity.
So here's how the event works:
A certified diver pays, I think $35 or $40 and registers for the event.
The participant receives an event T-shirt and is entered in a raffle.
The divers dive at a particular time and search for metal numbered stars that are redeemable for prizes.
The proceeds go to help the Two Harbor's decompression chamber and the Sheriff's Department.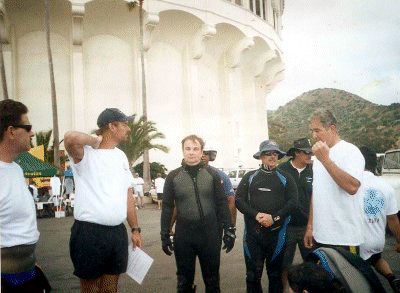 Me in the center, Instructor John to my left.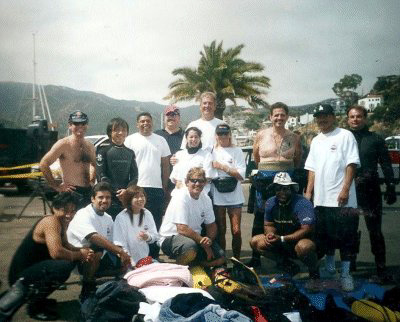 The Safety Crew!
I am to the back, far right.
I look so macho!
I was positioned with Bob half way between the stairs and the end of the park going left (facing the water from the stairs).
Bob was on the rocks most of the time; I was mostly in the water.
I floated on the side in the water; Bob was on the rocks over looking our section of the park during the event.
Divers kept coming up to me and asking if I was alright. "Uh, yeah, are you?" I responded.
Someone even handed me a star; Steve said that I should have kept it.
A few divers were tired.
One girl almost panicked.
She was yelling at her boyfriend to "Go ahead and go in if you want."
She kept taking her mask and hood off.
Other divers were pointed out to me, at least the ones who had to be pulled out on previous years.
Apparently, the lady that I just mentioned had to be pulled out of the water the previous year.
The event started at 11 AM; at 12:30 PM Steve yelled over to us, "We have four divers still in the water!"
I yelled back, "Do you want me to start looking for their bodies?"
The spectators who overheard me were a bit shocked, Steve just laughed.
John, who was in one of three Kayaks, said that there was a much better quality of divers this year.
No rescues, but good experience.
Comments Off

on Safety Diver For The "Gold Star Dive" Event