Yes, it's that time of the year!
Just like the beginning of any hunting season, every yahoo with diving equipment or a hoop net crowds the waters waiting for midnight, unless you are like these poaching douche bags.
And every year we hear about diver deaths on Opening Night.
So much so, that the DFG has been debating for years on whether to officially start lobster season at dawn.
So far they haven't changed the start time, probably because it's a stupid idea and will only push problems later on in the day.
Most have died because of a lack of experience, heart attacks, being run over by a boat or trying to "out macho" other divers.
As far as being a macho lobster hunter, nobody will ever match the lobster hunting of The Duke – so there is no need to go outside of your abilities.
John Wayne took frequent trips to Acapulco, Mexico where he would engage in lobster hunting.
Talk about diving macho…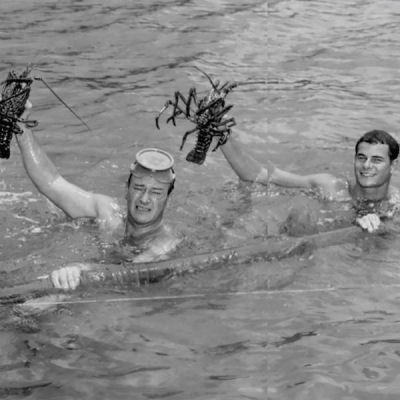 With no wet suit, gloves or even SCUBA diving equipment, The Duke would free dive down and catch bugs – or as he called them, "Red Coats."
And, if he did it after 1964, he only had one lung!
Anyway, I have a stand-by spot on a large boat on Opening Night, so there is a good chance that I may not be going out.
I was told to just show up with cash in hand and wait until I get thrown off.
I told Chipper, "I know I'm a dick, but I'm not a total dick."
Chipper replied, "You sell yourself short, you are a total dick."
We will see what happens – and my ear has been bothering me again.
But who cares about an ear, I have two.
I have a total of six readers, and want to keep all of them, so be careful tonight.