February 2, 2014*
We slowly chugged from the Eureka Oil Rig to the Ellen and Ellie Oil Rigs.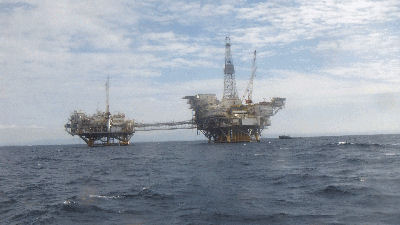 We were to dive Ellen after an hour surface interval.
I was one of the first divers over board; I jumped off, into the water and popped back up very buoyant.
I felt around my waist… Fuck, I couldn't feel my weight belt. I yelled to the Dive Master, that I forgot my belt.
"Where is it, and what does it look like?" the D.M. yelled.
"It's in the middle of the boat… black weight belt with the frayed edges!"
How could I have forgotten my weight belt?
I wasn't that rushed.
I made a second feel around my waist, but a little higher… fuck, I was wearing it.
I tried yelling to the Dive Master, but he didn't hear me.
Four minutes later, he came back empty handed…
I yelled, "You're going to hate me even more, but yeah, I am wearing it!"
I believe he said a few words of relief, but I couldn't really hear what he was saying; he waved at me to swim under the rig.
Bringing whole scallops on the boat, and now having him look for a weight belt that I was wearing… yeah, I should tip him at least an asshole fee.
I swam under the rig; the swells were big enough to where you could hit your head on one of the supports if you weren't being careful.
I submerged.
Logged SCUBA Dive #461
Solo Diving/SoCal Buddy Diving
Ellen Oil Rig
Between Catalina and San Pedro, CA, USA
In With: 2800 psi
Out With: 600 psi
Max depth: 111 feet
Waves: Slightly choppy
Visibility: 40 to 60 feet!
Water Temperature: 59 degrees
Air Temperature: 69 degrees
Total Bottom Time: About 22 minutes
This was my first time diving the Ellen Oil Rig, but this rig seems bigger than Eureka rig.
Scallop hunting was over, so now it was camera time…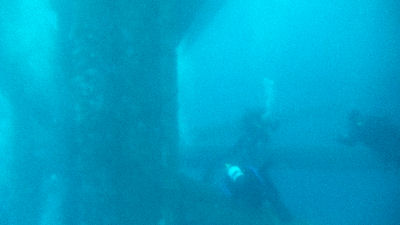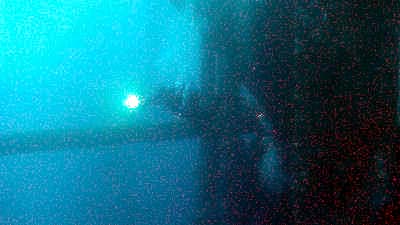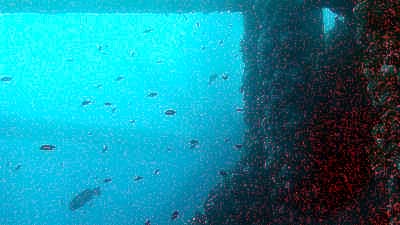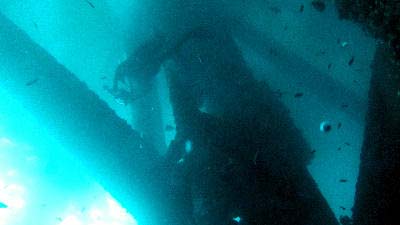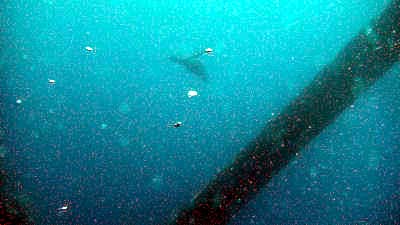 A seal bomber us for a bit.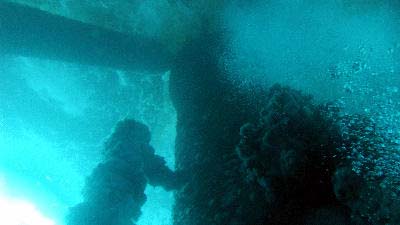 Looking up from 50 feet.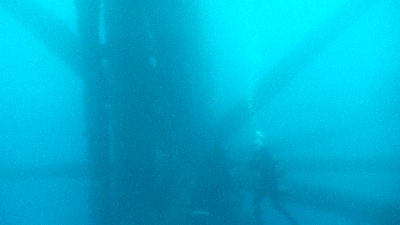 It was a nice, 20 minute dive or so.
I made it back to the boat without problems.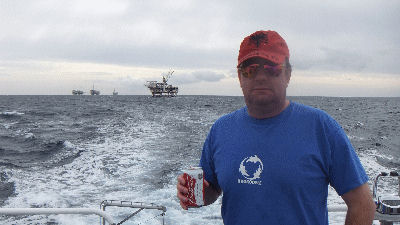 I tipped the crew extra for being kind of a pain in the ass and enjoyed some beer and tequila on the short ride back.
*Posting has been delayed due to the Super Bowl, the Super Bowl Party and the needed recovery from the events.