This is a great day; I won't have to listen and watch the stupid election crap after today.
This election is so stupid, there is a ballot measure to make porn actors wear condoms in LA County; how the fuck did such a itiotic proposition even get on the ballot?
To clear my mind, I took the mighty zodiac out with Instructor John and Crazy Ivan to a new secret dive spot.
"Where should we go?" Instructor John asked.
I stayed silent.
"Take us to the monster bugs," Crazy Ivan answered.
Based probably on nothing more than instinct, Instructor John anchored off a place in Palos Verdes that we've not dove before.
Logged SCUBA Dive #427
Solo Diving/SoCal Buddy Diving
Secret Location: 43 6f 6d 69 6e 67 20 66 72 6f 6d 20 74 68 65 20 4b 69 6e 67 20 6f 66 20 48 61 72 62 6f 72 73 20 74 6f 77 61 72 64 73 20 74 68 65 20 44 6f 6d 69 6e 61 74 6f 72 20 70 6f 69 6e 74 2c 20 77 68 65 72 65 20 74 68 65 20 6c 69 6e 65 20 6f 66 20 50 61 6c 6d 73 20 62 65 67 69 6e 73 2e, Palos Verdes, CA
In With: 2900 psi
Out With: 400 psi
Max depth: 40 feet
Waves: Pretty damn smooth
Visibility: Up to 15 feet and clear
Water Temperature: 62 degrees
Air Temperature: 68 degrees
Total Bottom Time: About 35 minutes
We anchored in 40 feet of water.
I checked the anchor line – no bugs.
For some reason I didn't care if I got skunked; the reef structure was incredibly interesting – I want to go back during the day for photos.
Around 35 feet, I spotted a short.
I waved my light on him, back and forth; he will hopefully grow to legal size and not be afraid of the light.
Just a short distance away, I pinned my first one with no problems; he was a quarter inch over legal.
Now, realizing that I wouldn't get skunked, short of an escape, I relaxed even more.
Passing some short bugs, I came across two pretty good sized bugs and went to pin the biggest one.
I turned the light slightly away to not spook the lobster.
Bam! All I grabbed was a rock and then felt an impact on my groin area.
To add insult to injury, the lobster decided to tail me in the nuts while fleeing.
Shortly thereafter I missed another pin of a good sized bug; what the hell is wrong with me?
I should have three lobsters by now, but only have one.
I must have gone parallel to the shore, I was still in 35 feet of water when wedged under a reef was a monster – the damn thing looked scary.
I put my light down, and by the twilight from the beam, lunged both hands under the reef and pinned him.
It was like grabbing a football, except with a very strong flapping tail; I think I'm going to work out with those shake weight things to train for bug encounters like this one.
So, how am I gonna get this monster in the bag?
Using my white belt Jiu Jitsu skills, I pinned him against my chest while giving him several punches to the head to hopefully stun him.
I shook the bag so the other lobster would be at the bottom, opened it and tried to put the monster in, but it was holding onto my BCD.
No fucking way was this thing going to get free!
After a struggle of five more minutes, the monster bug gave up and crawled into my bag.
Having lost track of air consumption and the boat, I surfaced to take a break and get my bearings.
That zodiac is so small, even when you do spot it, it looks like it is a mile away.
I took a compass heading and went for the return swim; I had 800 psi of air left.
After surfacing and a short, but frustrating, bitch crawl over kelp, I made it back to the mighty zodiac.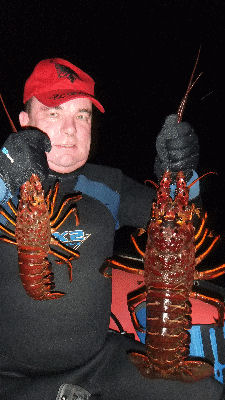 Me with my bugs – notice the strain on my face trying to hold that big one up.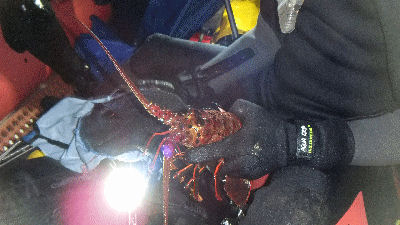 Crazy Ivan brought up two.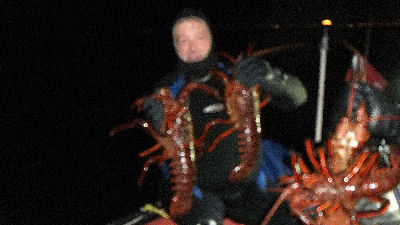 Instructor John had two monsters, four altogether.
For some reason, everyone had a great time!
We found out that someone in our lobster diving group has a growth that needs to be surgically removed.
The guy said, "If I can't dive afterwards, it will have to wait until after lobster season."
Now that is Macho!