July 11, 2012*
After an hour drive, we arrived at our next dive destination – Sirens Bay.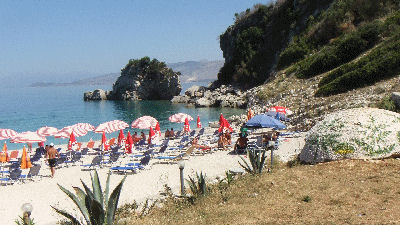 It's a shallow area that is suppose to have a cavern and an arch.
We had two small tanks that were filled with air from the super compressor we brought from Tirana.
We did just like we did with the last batch – breathe, taste and smell the air.
I didn't get a headache or dizzy, but the air tasted like machine oil.
Idit tasted his tank.
"Yeah, it does taste oily, what do you want to do?" he asked.
"What was powering the compressor?" I asked.
"It was an electric compressor," he said.
"Well, it tastes like shit, but it should be good."
Again, we got the usual stares of amazement on this crowded beach.
Logged SCUBA Dive #415
Dove with Idit
Sirens Bay
Saranda, Albania
Air Source: Mini Super Compressor Brought From Tirana
In With: 2500 psi
Out With: 900 psi
Max depth: 35 feet
Waves: Flat
Visibility: Up to 40 feet
Water Temperature: 74 degrees
Air Temperature: 92 degrees
Total Bottom Time: 45 minutes or so
We entered the water and swam to the right, before submerging.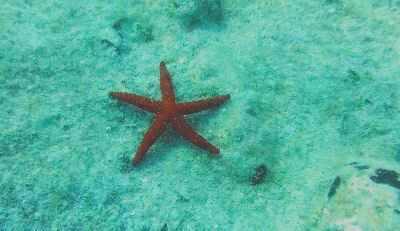 Albanian Starfish.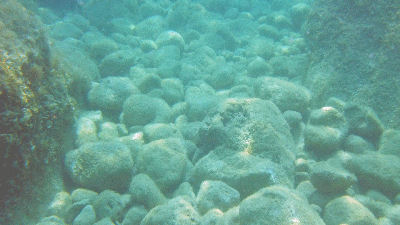 Rock Garden.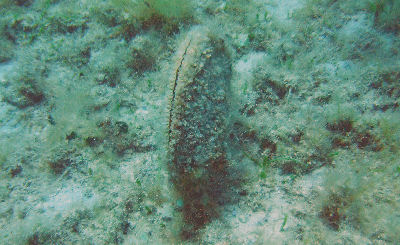 An Albanian scallop – I think.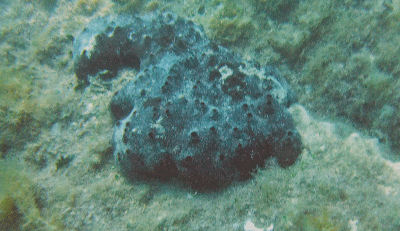 Not sure what this is.
This was a shallow dive, and I wasn't weighted properly.
Albania uses a weird system of measurement called the "Metric" system.
Before our first dive, Idit asked me how much weight I needed.
"Twenty-two pounds."
"I need to know in kilos," Idit replied.
I assembled my weight belt by feel – it felt like 22 pounds.
So, I'm having a hard time staying down and trying to keep up with Idit.
I grabbed a rock to hold for weight, and I was lucky enough to also grab onto the sea urchin that was behind it.
Ouch!
I signaled Idit to go up – we were only 20 feet deep.
I took my glove off and Idit was nice enough to dig the spikes out of my fingers.
We continued the dive.
We never did find the cavern, but we did swim through the arch.
My pictures of the arch didn't really turn out – the arch was too big.
We made an uneventful exit and washed the petroleum after taste from the air away…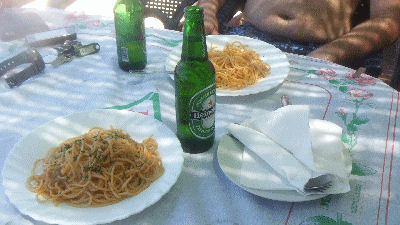 …with a beer and spaghetti.
A complete debriefing meal for only 450 LEK ($4.50), at a nice beach side resort.

*Due to time constraints, lack of reliable internet access outside of Tirana, power outages in Tirana and the strength of Albanian beer, posting of this article has been delayed.
Comments Off

on SCUBA Diving Albania: Sirens Bay, Saranda