July 10, 2012*
After a couple of hours of rest, Idit and I met at the Hotel Maestral, where I was staying.
The "Fisherboat Wreck" is just off the private beach of the Hotel.
"You swim out, find the trail of tires, follow it to the sand path until you find the line that leads you to the bow of the Fisherboat," Idit said.
"Great, we'll never find it," I thought.
The Fisherboat was sunk in a storm in the 1960's or 70's.
The boat doesn't have a name, so the Polish guys who found it just call it the "Fisherboat."
We spent about five minutes breathing off the tanks to test the air – it tasted like air, was dry, left no after taste and we didn't get a headache or dizzy.
The air was good!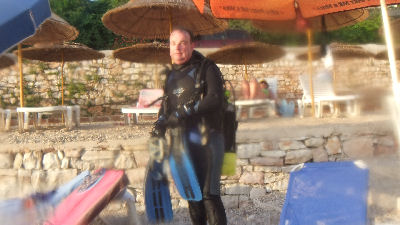 I geared up and went into the water.
I took my primary second stage, put it in my mouth, put my head underwater and breathed – breathed 85% air and the rest water.
FUCK!
Really?
I told Idit.
"What do you want to do?" he asked.
I tested my auxiliary regulator; it was good.
"Let's continue, but if you have issues with air, we have to share this one – the other is not good," I said.
We swam out and looked for submerged tires while on the surface.
It was getting dark, visibility wasn't the best, so we descended.
Logged SCUBA Dive #413
Dove with Idit
"Fisherboat Wreck"
Saranda, Albania
Air Source: Private compressor in Vlorë
In With: 2800 psi
Out With: 400 psi
Max depth: 98 feet
Waves: Flat
Visibility: Up to 25 feet
Water Temperature: 73 degrees
Air Temperature: 90 degrees
Total Bottom Time: 45 minutes or so
I followed Idit, and sure enough, he lead us right to the Fisherboat.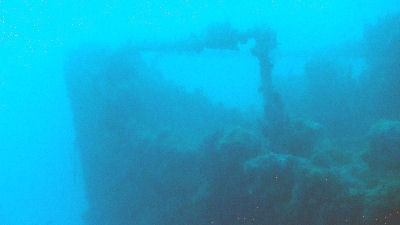 Albania is very mountainous, with mountains going right to the sea; it is not difficult to get really deep, really quick.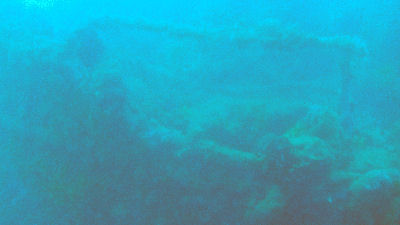 The Fisherboat rests in about 100 feet of water.
I brought a light, but the fucking thing didn't work.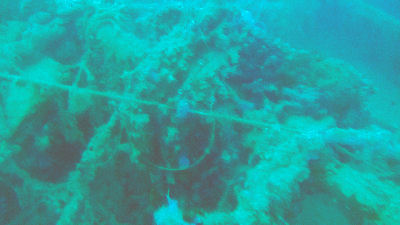 The Fisherboat is covered with nets and sea growth – light sea growth compared to Southern California standards.
This was a pretty deep dive for a shore entry; Idit lead me back to the bow after 20 minutes and we followed the trail back to the shore.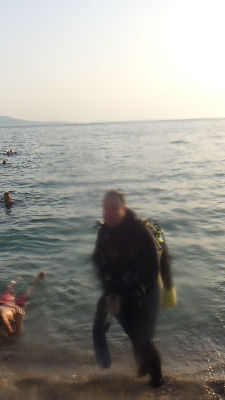 I checked what was wrong with my primary second stage – the hose was cracked going to the first stage, allowing water in when I breathed.
I fixed it with "Rescue Tape."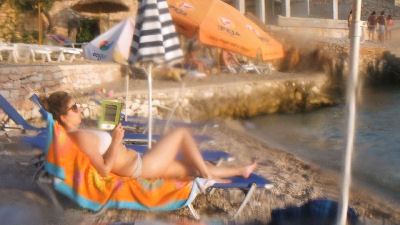 Our Dive Master who supervised our dive.
Idit told me, that he had not dove in a year.
I expressed concern that he didn't take a "refresher" course.
He asked, "Why? Would you still have gone if you knew before?"
I still would have gone.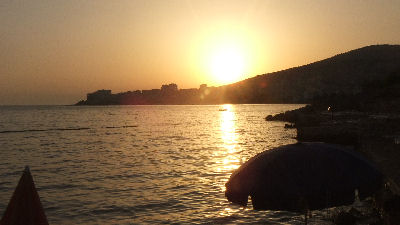 As the sun set, we packed up and headed out for a night in Saranda.
*Due to time constraints, lack of reliable internet access outside of Tirana, a power outage in Tirana and the strength of Albanian beer, posting of this article has been delayed.