After a spectacular lunch of chicken and broccoli, rice and Italian bread, the next dive spot was undetermined.
I went to the top deck of the boat and fell asleep.
The boat never started, but I was awakened by people jumping off the side.
I climbed down on to the main deck and asked one of the deck hands, "I guess this is our next spot, too?"
"Yep."
I geared up and went over.
Logged SCUBA Dive #412
Solo Diving
"Lula" , Catalina, CA
In With: 2900 psi
Out With: 600 psi
Max depth: 72 feet
Waves: Pretty flat
Visibility: Up to 20 feet, but more like 15 feet
Water Temperature: 65 degrees, colder at depth
Air Temperature: 84 degrees
Total Bottom Time: 40 minutes or so
I went a little more North than before, and ran into the reef that I was suppose to last time.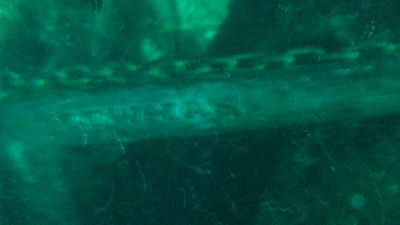 I came across an anchor that was wedged between two rocks.
Ha! Ha! Money!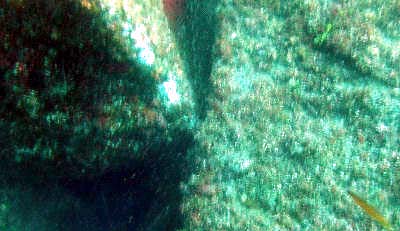 There was a chain attached to it, so I decided to see how much of a chain – I followed it, and followed it and the chain went right up to the Cee Ray.
I surfaced and told Jensen, one of the deck hands, "You know that the anchor is wedged between two rocks?"
"Yeah, we'll get it out, we anchor here all the time."
I continued my dive, sticking shallower.
I lost my way back to the boat, but as I was surfacing, I saw divers on the surface – more than a couple.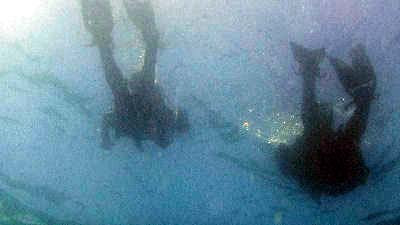 I assumed it was students making their way back to the boat, so I stalked them at depth, making my way back to underneath the swim step, where I waited my turn – hoping to loot any gear that may be dropped in the water upon boarding.
I wasn't fortunate enough to get any more gear, but did make it back with no issues.
Review of the Cee Ray:
I really like the way the boat is run.
They don't rush the gate, the boat goes some places that no other boats go to, and the food is really good – breakfast, several snacks and a gourmet lunch.
The Cee Ray's swim step was a little awkward for me; I am used to just taking my fins off and either walking to shore or climbing up a ladder.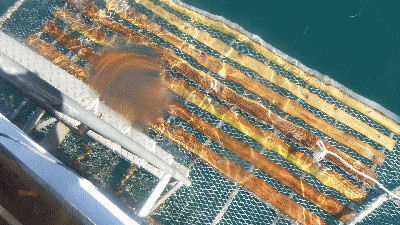 Their swim step rests about a foot or two underwater; so, you sort of have to flail onto the step and then climb up the ladder.
However, it's good for students who aren't used to the weight of SCUBA gear.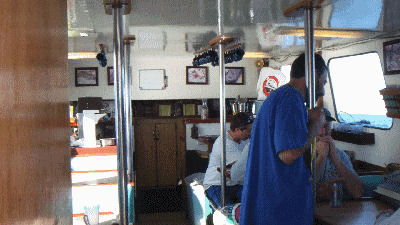 After a great day of diving, the galley sells Pacifico and New Castle – no Budweiser!
I am partially responsible for drinking their beer supply dry.
Also, I have to say, even though I don't agree with a lot of Sports Chalet's business practices, their Divemasters and Instructors have great personalities and are very professional.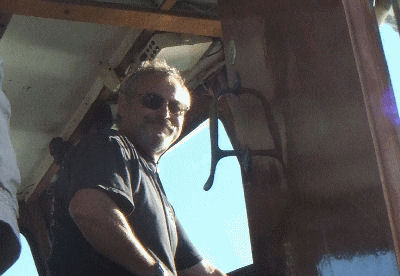 Captain Mike runs a great dive boat – I hope to be back soon.
Speaking of coming soon…
Coming Soon!
A great video of today's dives, plus Rescue at Sea!
Comments Off

on Second Dive at Lula, off The Cee Ray