One of my favorite local wreck dives!
The Palawan never has disappointed me; when I was offered a spot on the Island Diver to do two dives on this wreck, I had to think- I'm saving for my Albania trip which is only two weeks away.
A Palawan trip will simply lead to less beer being drunk on my vacation.
Realizing that I won't need cable television while I'm gone, I decided to dive the Palawan and give up TV for a bit.
As usual, it was nothing more than a "sausage fest…"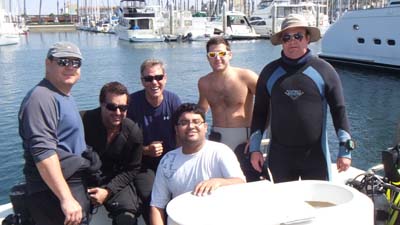 All the divers, minus Joe R.
Four divers were going to do one long technical dive, me and two others were going to do two recreational limit dives.
I buddied up with Joe R. and another diver – a Palawan virgin; his first time.
We made a quick and uneventful trip to the Palawan.
The three of us descended down the anchor line.
I had a hard time equalizing, my ears really were hurting; if I wasn't so macho, I may have called the dive.
Joe and the other diver had reached the bottom at 120 feet while I was still at 60.
By the time I got to the bottom, Joe and the other diver had come back to the anchor line; Joe gave me the "up" signal.
All three of us made a slow ascent to the surface.
The other diver basically said, "Deep is not for me, I started to hyperventilate…"
At least he knew at the beginning, instead of letting panic accumulate.
He went back to the boat, Joe and I continued the dive.
Logged SCUBA Dive #408
Dove with Joe R.
The Palawan Wreck, Redondo Beach, CA
In With: 3000 psi
Out With: 900 psi
Max depth: 126 feet
Waves: Slightly choppy
Visibility: Up to 40 feet
Water Temperature: 65 degrees, colder at depth
Air Temperature: 75 degrees
Total Bottom Time: 20 minutes or so
We made it to the end of the anchor and swam 25 feet North East, to where we found the bow of the Palawan wreck.
A short glimpse of the colorful bow…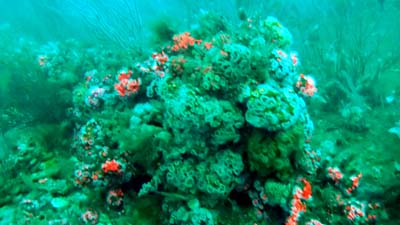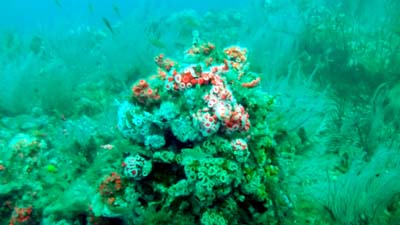 Five minutes later, Joe signaled to start back to the anchor line; I looked at my dive computer – shit!
I was really close to going into deco.
Thanks Joe!
We made it back to the anchor line as the technical divers were coming down.
We did an hour and ten minute surface interval.
The other diver explained that deep wasn't for him, and that he actually had some anxiety leading up to the dive.
I thanked him for knowing his limits and avoiding what could have snowballed into a tragedy.
I also found out during the surface interval that a fellow diver, red haired Dominic, was involved in an accident and is currently in a medically induced coma.
He was helping the victim of an auto accident when an asshole motorcyclist, who was driving in between cars, ran over him.
I bought my dive computer from Dominic; I am not religious, and only pray when I need something, but he will certainly be in my prayers for a speedy recovery.