I need some advise, so please answer the poll below.
I had to remove the poll, as it didn't work half the time and made the site load slowly – Here is a screenshot of the results.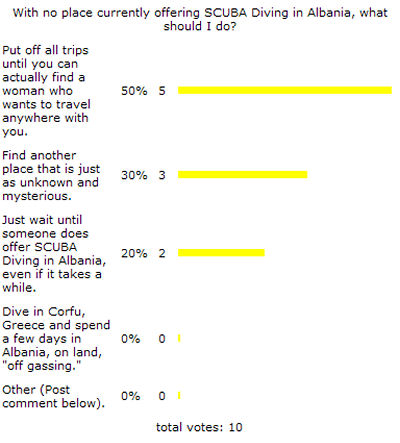 As my three readers know, last year I made the decision to go SCUBA diving in Albania this April – a place where not many people have strapped on gear an took a plunge.
My decision was based entirely on the fact that The Polish Diving Base In Saranda offered dive packages and could assist with hotel bookings.
Having contacted them last year, I was told that they close for the Winter, but reopen in February.
The fact that their website hasn't been updated lately concerned me, but at least it was still on the web.
So now it's February, and I made contact with the Polish Diving Base via Skype.
I got a message from the contact explaining that their business partner left and they lost their facility, but they are currently looking for a new partner, but unfortunately they are currently not in Albania and it's "hard to say what will happen."
I was also told that they were the only facility in the entire country that offered SCUBA diving.
Great!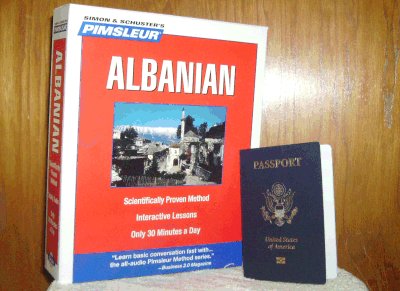 I applied for, and received, my passport and for the last year I've been trying to learn survival Albanian; now the place that I depended on to make this trip a reality is "currently not in Albania."
Determined not to give up, I wrote to the City of Saranda, Albanian Center for Marine Research and emailed a YouTube user who apparently is an Albanian who worked for The Polish Diving Base.
As of now, the only response that I received was from Derek at the Albanian Center for Marine Research, which is apparently run, or contracted out to, an American Expedition company of some sort.
So, in response to my question of "Where can I SCUBA dive in Albania?," Derek wrote:
"Your question has a long and difficult answer…Recreational diving is still technically illegal in Albania. The Polish Diving Base claims they offer day trips, equipment, etc but the local authorities do not recognize them as a legal entity…
"We conduct a lot of research dives over the course of the summer field season but they are always with the consent (and a written agreement) with the Albanian government, the Albanian Institute of Archaeology, etc.
"For the first few years, there had to be an Albanian governmental representative present with us at all times, but after 5 years they trust we are working on their behalf (although we still must present daily dive schedules to the port authorities in Saranda). All of this is true to the north in Vlore, Durres, etc as well.
"The Albanian government has started trying to formalize recreational diving standards for the entire country. I have been a consultant in this process as they try to figure out how to regulate the industry as they know it is necessary to protect the cultural resources on the coast while trying to come up with sustainable tourist activities.
"Our organization is making strides to open up recreational diving activities in Saranda and we hope to start running some trips this summer.
"We are also working with businesses in Corfu to have them be able to bring single-day and multi-day trips over to Albania from Greece.
"But there isn't anything formal yet as everything is a very long process.
"I'm in the process of creating web pages for www.divealbania.net where we should be posting more info in the coming months.
Well, I questioned whether SCUBA Diving really is illegal in Albania, because the last I heard, there were no laws governing SCUBA diving at all.
Derek wrote back:
"There are currently no laws governing diving, which is also what contributes to what makes it illegal."
Maybe Albanians think differently, but with my American thinking, if there's no laws governing something then it's legal.
What would a SCUBA Diver be charged with if there are no laws regarding diving?
Regardless, nobody currently in the entire country of Albania offers recreational SCUBA diving.