I just realized as I was writing this, that this is my 400th dive!
For someone who has been diving almost 10 years, I can't say that it's much of an accomplishment; after all, some divers have thousands of dives in only a few years.
But the point is, unlike the 85% of those who get certified – I am still diving and I am still alive!
Conditions have sucked ass lately, but with a new chick slated to join Sunday Services and my need to get wet, I had to show up today.
Sunday Services totaled five divers – Reverend Al, Air Force Chris, Mike, Holly the New Chick and myself.
It was high tide – REALLY High tide.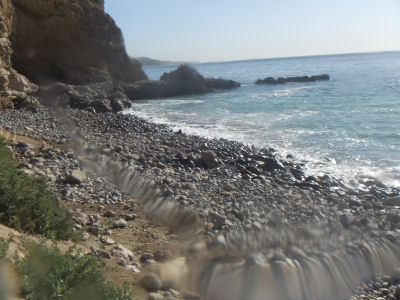 Holly decided to dive with Reverend Al; she must have been intimidated by my machismo, after all, I was originally introduced to her as Reverend Al's daughter.
Going over the rocks at high tide sucked, but everyone made it out without incident.
Logged SCUBA Dive #400
Dove with Air Force Chris
Terranea Resort, Rancho Palos Verdes, CA USA
In With: 3000 psi
Out With: 1300 psi
Max depth: 46 feet
Waves: Slightly surgy, high tide, too
Visibility: Five feet of shit
Water Temperature: 56 degrees
Air Temperature: 74 degrees
Total Bottom Time: 45 minutes
We surface swam to the rocky finger off of Pigeon Shit cave and submerged.
Visibility was horrible.
I followed Air Force Chris, while watching my time, hoping he would turn around after 20 minutes.
Photography was impossible, at least with my set up, but we did see a few unique macro things – two Sun Stars in a domestic dispute and some Garibaldi making out.
It was so high tide, that where we usually hit 40 feet, we actually recorded 46 feet of depth.
We headed in after 35 minutes or so.
Instead of taking my fins off and stumbling over the rocks, I actually body surfed to shore and took my fins off after propping myself up against a boulder.
As Reverend Al put it, "It wasn't elegant, but it worked."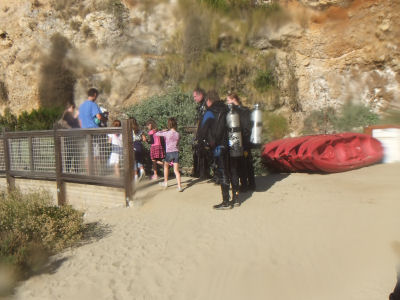 Some children treated us as celebrities, or freaks – Mike was telling them that they should get certified
There wasn't enough divers to justify a break out of the ghetto grill, but traditional debriefing was held as always.
Holly seems to be thick skinned enough to hang out with the group, however Mike C.'s phone number is already on her cell phone – he's working on her already.
Today's group: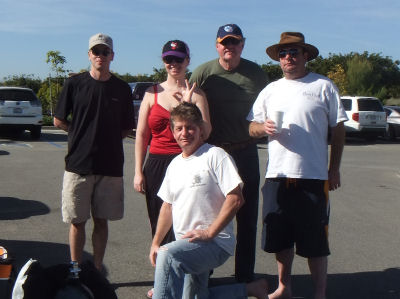 Exciting video can be viewed here:
To watch this video on YouTube, click here.