There were thunder storms earlier Friday; it seemed that might have driven people away from "Opening Night" as there were not that many people on the water.
I write "Opening Night" because technically, it's Opening Morning.
There was no moon – which is good.
We took Instructor John's mighty 14 foot Zodiac – loaded with himself, Jim, Crazy Ivan, me, eight tanks and our gear – to one of our secret lobster locations.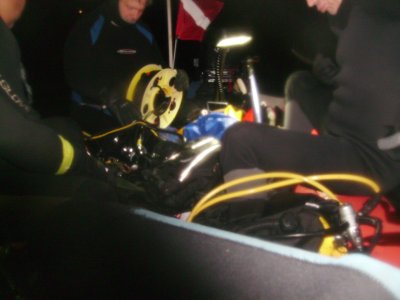 There wasn't much room.
The boat rode low in the water and riding over the swells made the non-macho sea sick.
We jumped in the water at midnight.
I had a nightmare earlier in the week that I had gotten skunked on opening night; I was about to find out if that dream was a premonition.
Logged SCUBA Dive #390
Southern California Buddy Diving/Solo Diving
Secret Location: 4e 65 61 72 20 74 68 65 20 67 61 74 65 73 20 6f 66 20 4d 61 72 2c 20 74 68 65 72 65 20 69 73 20 61 20 68 6f 75 73 65 20 77 69 74 68 20 66 6f 75 72 20 6f 72 20 6d 6f 72 65 20 63 68 69 6d 6e 65 79 73 2e, Palos Verdes, CA
In With: 3000 psi
Out With: 800 psi
Max depth: 35 feet
Waves: 3 – 5 foot chop
Visibility: 15 feet plus
Water Temperature: 67 degrees
Total Bottom Time: 48 minutes
The boat was anchored in 30 feet of water; I submerged to check the anchor line – SCORE!
My first bug, with no problems!
I swam shallower, but the visibility started to suck at 15 feet, I turned around, went over a reef and saw more lobsters a few feet apart.
I pinned the bigger one, measured it, bagged it and looked over…
"Holy shit! That other bug is still there," I thought.
I moved in and missed a secure grip, it wiggled out of my hand and hit me in the face while fleeing.
I surfaced to get a return heading, submerged, and came across my next two fairly easy.
Yeah, there were a lot of short lobsters, but I didn't even bother going after bugs that "look like they might be legal size."
I made a short return trip to the boat, swimming under the thick kelp.
I need to start cage fighting again, as I am so out of shape, I had a hard time climbing back in to the boat.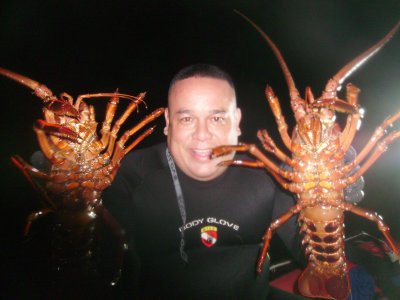 Jim caught three, two were monsters.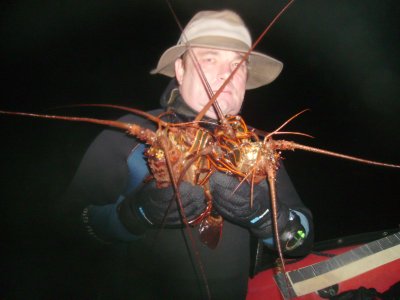 And so the season starts – my first four bugs for the 2011 season.
Instructor John limited (7) on this dive and Crazy Ivan caught one.
We moved to a different location for our second dive.
Comments Off

on California Lobster Season Is Here!