Sorry friends, enemies and lurkers for the lack of recent posts, but up until recently, we've had a lot of storms – and yes, I'm still trying to get an unwanted roommate out of my apartment.
Hopefully, things will be a lot better in February, and if so, I plan to do a lot more diving.
I checked out Veteran's Park in Redondo Beach yesterday – it looked flat, and from the surface, it had a potential to have some good visibility.
I was planning to do a quick solo dive, however, in my haste to pack my dive gear and escape psycho chick, I had forgotten my compass.
No way was I going to dive the pretty much barren landscape of Vet's without a compass.
After seeking asylum at an undisclosed Santa Monica location, I showed up today to finally get my first dive in for the year.
I asked Military Bob, "Do you have a compass?"
"Yes, that's one of the things I remembered to bring," he said.
"Good, I'm following you."
Seems that everyone had forgotten something – fins, a regulator, etc.
Luckily, a regular diver opted out of the dive due to congestion issues, and loaned some of his equipment out to fill the voids.
The trail down was closed for maintenance, but the signs are easily bypassed until you get to the sandy beach – more on that later.
Five divers made an easy entrance off The Cove, with two others opting for The Point.
Logged SCUBA Dive #376
Off The Cove At Terranea Resort
Rancho Palos Verdes, CA
Dove with Military Bob, Not New Chris, Donna The Hot Biker Chick and SCJoe
In With: 2700 psi
Out With: 800 psi
Max depth: 40 feet
Waves: Slow moving, shallow rollers
Visibility: 10 feet
Water Temperature: 55 degrees – I think
Total Bottom Time: About 40 minutes
We all made a surface swim over 120 reef and submerged.
I believe we followed Military Bob most of the way, in a slow pace around the collection of reefs.
The kelp seems to have thinned out a bit since November, but the silt in the water made for a dim dive.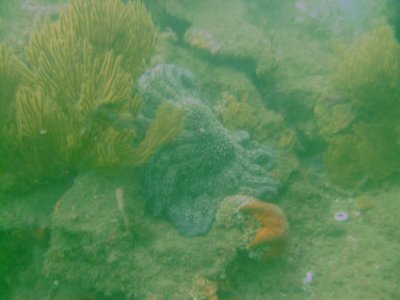 A sunstar and starfish.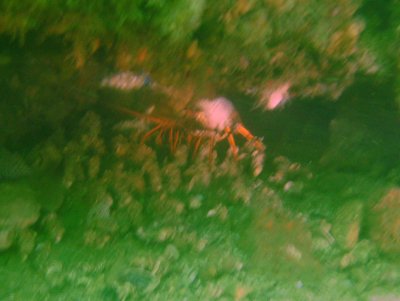 Military Bob spotted a lobster too far in a hole to reach.
Maybe I should think about buying a fishing license and lobster report card for this year?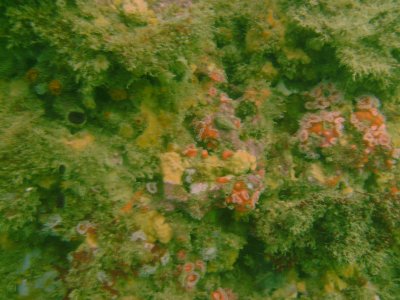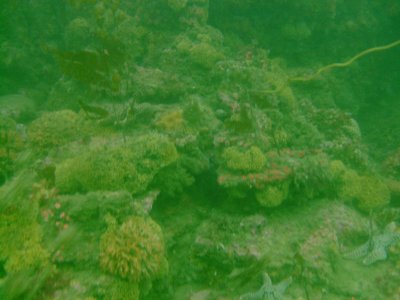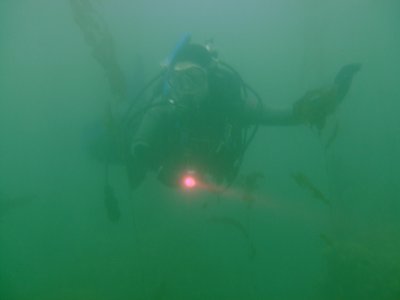 Donna floating in water – almost like an astronaut.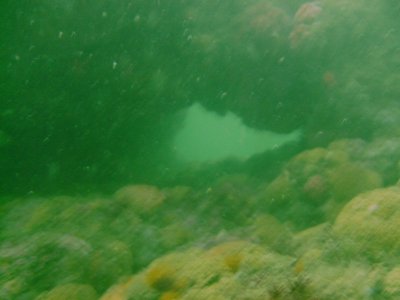 The arch at 120 reef – I only run in to it when I'm following other divers.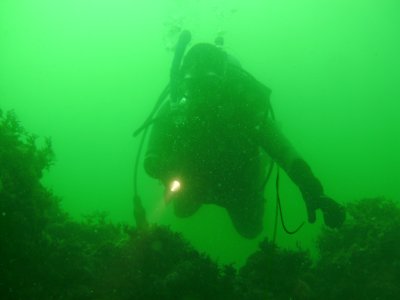 Now, I don't know if I was narced or not – probably not at 40 feet – but when I saw Donna coming over the reef with a flashlight in hand, I had a flashback to my early childhood when I watched the NBC Mystery Movies of the 1970's…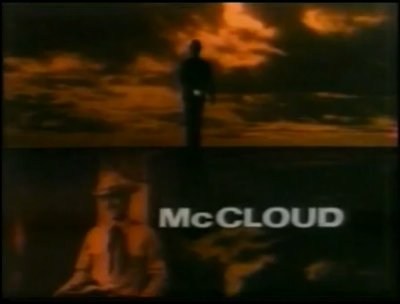 Hmmm… I really think of some weird crap when I'm diving.
A seal dive bombed the group – I was at the tail end, and didn't get any pictures that turned out.
This was Donna The Hot Biker Chick's first seal encounter – maybe it was a sea lion?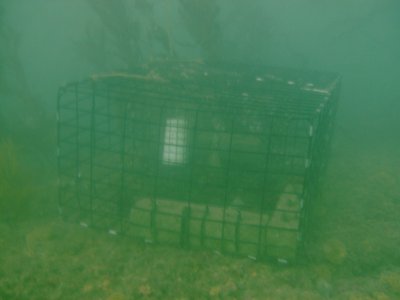 We came across a lobster trap…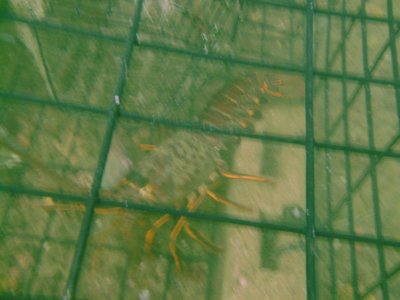 There was a pretty good sized lobster in it that was bouncing against the walls in a panic.
The group kept going.
We followed Military Bob, hopefully back to the cove, but surfaced on the other side of the rocky finger next to the cave.
Oh well, it happens to everyone now and then.
We surface swam back to an easy exit – amazingly, with the 10 feet of visibility and five divers, we all stuck together throughout the dive.
The entire group of seven: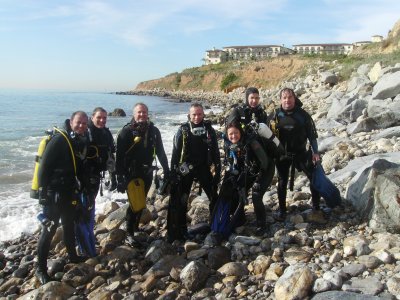 From left to right – Jordan, Military Bob, Nice Bob, Not So New Chris, Donna The Hot Biker Chick, SCJoe and Me.
Jordan and Nice Bob went off the point, and apparently experienced a very hairy entrance.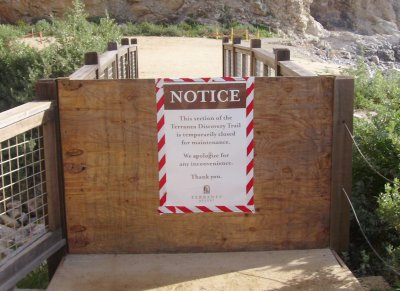 Now, to get to the water when the sandy beach is closed…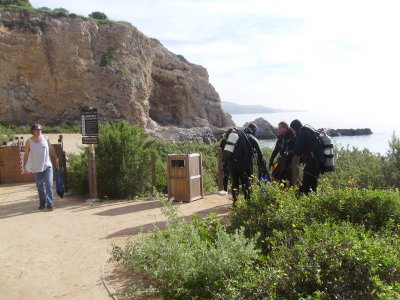 I've heard going to the left and across the shallow gully is easier, but we went to the right…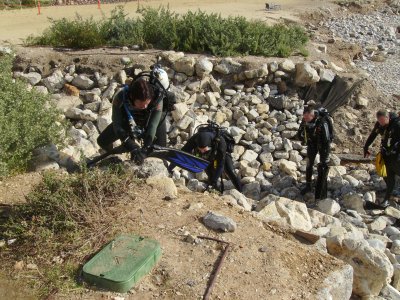 Take the right hand trail to the gully's mouth and climb down to the beach.
Obviously, these pictures show us coming back – it's good starter training for Honeymoon Cove.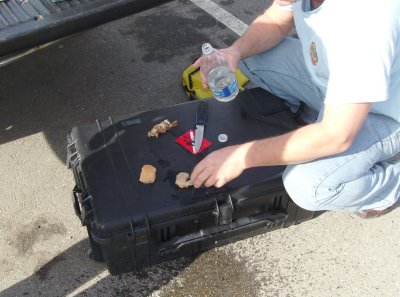 Bob and Jordan came back with a scallop and treated everyone to some Ouzo flavored scallop sashimi.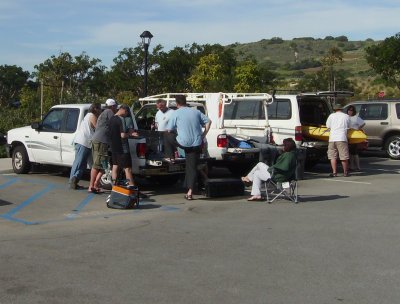 Traditional debriefing ensued – we talked about some of the diving characters that have come and gone and some of the worst divers that we've met.
Let's see – the 350 pound diver that was pulled off the rocks at The Point, who later strolled around the parking lot bare assed naked – this was when Terranea was nothing more than the vacant parking lot of Old Marineland.
Also, there was once a double tank "tech" diver who would hump his hundred pounds worth of gear down to the beach, only to be back in the parking lot when the regulars returned.
The stories continued, but eventually the beer ran out – and so, it was time to end another fun day of cheating death.