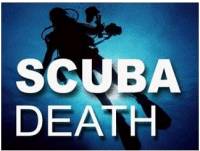 Thank you, Crazy Ivan for bringing this to my attention.
This seems, or at least initially appears to be, a shear case of panic, followed by a mad dash to the surface.
There also seems to be some speculation on the thread at Scubaboard.com, that the student's ascent was initially slowed by the instructor, but the student fought him off.
As ScubaBoard user Merxlin speculates, "Based on the symptoms (frothing, etc.), it was probably a barotrauma caused by rapid ascent due to panic. From my conversation with them, the rapid ascent occurred in the final 15 to 20 ft."
Not becoming an instructor is getting to be a better and better idea, at least for me.
My condolences to the family.
************************************
November 1, 2009 – AVALON, Calif. A Redlands woman died after suddenly surfacing during her deep-sea certification test on Catalina Island Sunday, deputies said.
Mona Towle, 56, died while being rushed from Avalon to Two Harbors, where she was to be treated for apparent decompression sickness, L.A. sheriff's deputy Robert Domin said.
Emergency personnel worked to revive Towle after she suddenly surfaced from more than 65 feet below the water at a marine sanctuary just north of Avalon's casino, another deputy said.
Towle was reportedly experiencing problems with her scuba equipment while ascending to the water's surface. Divers must ascend at a rate slow enough to avoid "the bends," a painful physical condition caused by an excessive concentration of nitrogen in the bloodstream.
The diver was being transported by boat for treatment at a hyperbaric chamber when her heart stopped, deputies said.