Having paid $65 for this lobster trip, I now had a lot of anxiety that I was going to come home with one really expensive bug.
We chose this next site because there were no boats spotted here on Opening Night; this place was going to either really suck or maybe be pretty lucrative.
Logged Dive #354
Palos Verdes, CA
Secret Location: 32 35 30 20 79 61 72 64 73 20 53 6f 75 74 68 20 6f 66 20 6f 75 72 20 6c 61 73 74 20 6c 6f 63 61 74 69 6f 6e 2c 20 77 68 65 72 65 20 6e 6f 20 62 6f 61 74 73 20 77 65 72 65 20 73 65 65 6e 20 6f 6e 20 6f 70 65 6e 69 6e 67 20 6e 69 67 68 74 2e
Solo Diving/SoCal Buddy Diving
In With: 3000 psi
Out With: 400 psi
Max depth: 40 feet
Waves: Calm
Visibility: 15 to 20 feet
Water Temperature: About 60 degrees
Total Bottom Time: About 45 minutes
I submerged near the anchor line and spotted a legal looking bug – I reached and pinned it!
It was like grabbing a had full of mashed potatoes!
The poor thing must have just molted – the carapace just dissolved in my hand and lobster guts gushed out between my fingers.
There was no way to measure it even though it was probably legal sized; and it was certainly dead – I left it there as fish food.
Not seeing any in 40 feet, I headed towards shore and turned back around when I reached 15 feet.
At 25 feet I spotted a huge lobster cave – There were two or three good sized bugs just hanging out, waiting for me to liberate them.
I dug one out and caught another one as it was fleeing; I now had three in my bag.
Thirty minutes into my dive, I saw another one and pinned it, and then I saw a bigger one two feet ahead; I dropped the light and tried to grab the second one with my other had, but missed.
The light went out and my reserve was not on – I dive with one light on at a time, so I can control where I point it.
I held the lobster in darkness as I was trying to turn the damn thing back on; I eventually was able to.
I was running low on air, but caught two more heading back.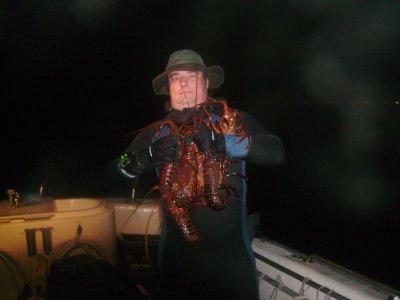 This was a lucrative spot – I limited for the night!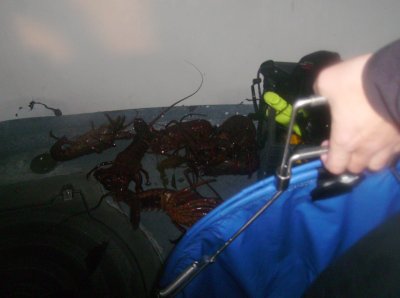 The lobsters were so plentiful, some just jumped right out of the water and on to the deck; the Captain wrote down the GPS coordinates for our exclusive future reference.
The other divers did really well also – seven divers, six of them hunters, pulled in 33 bugs on this trip.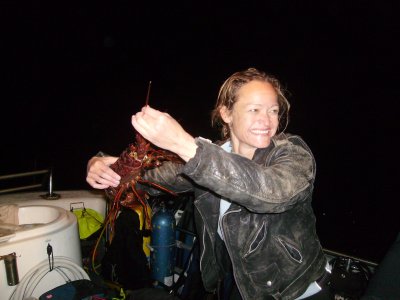 Donna the Biker poses with one of her bugs.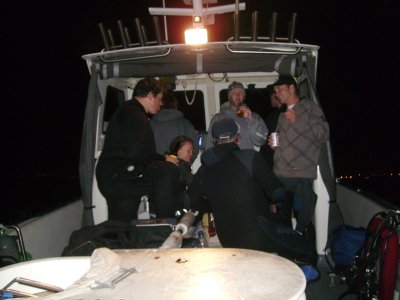 We debriefed with the King of Beers and some swirl that some other diver brought.
Don't think you can dive if you ride a motorcycle?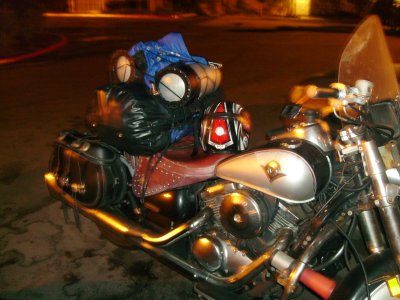 Donna proves the rumor merely a myth.