Prospecting & Camping The Lower Kern River
August 28 – 30, 2009
With a forced day off without pay due to the sucky economy, I decided to try and supplement my income with a little Gold from the lower Kern River.
Nobody I invited could make it, so I had the choice of either going alone or staying home with psycho woman – I decided to venture alone.
The mighty truck made it to Lake Isabella in less than three hours.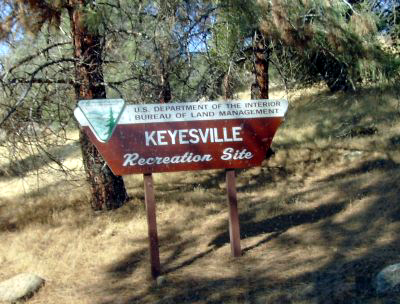 After a beer break at The Shady Lane Saloon and a stop for ice, I headed up to Keysville to find a nice place to set up camp.
Instead of turning left at the toilets to head towards the water, I decided to go right and head for higher ground; I was going to prospect along a stretch of the river that is surrounded by high cliffs and is difficult to get to.
I figured with every local yahoo with a sluice digging in the easily accessible areas, I might have better luck with a little hike.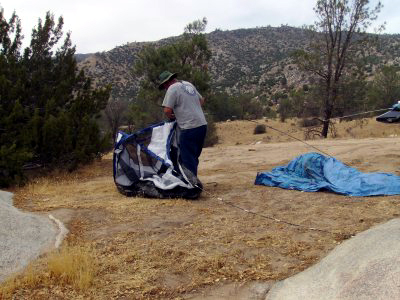 I set up my tent in a way that would make the Three Stooges proud.
After a lunch of fried beans and Spam, I hiked about 200 yards down to the water and set up my sluice.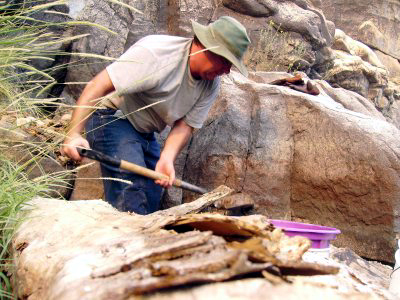 The place I chose was very rocky – almost too rocky; I moved a few large rocks and dug to the bedrock before settling in on an area below a boulder where plenty of gravel had settled.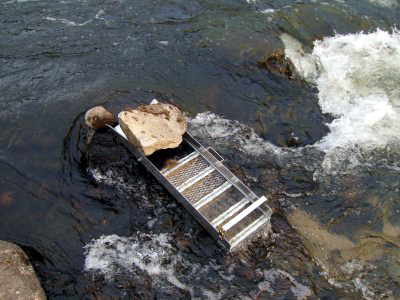 A lot of clay and dirt filtered though the sluice; the concentrate was small but almost pure black sand.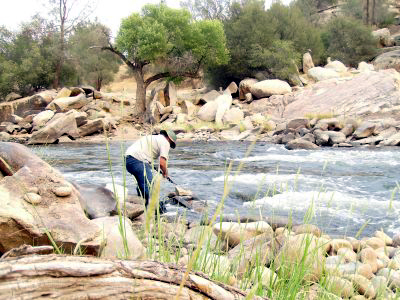 Shoveling gravel in 95 degree heat while redigesting a Spam and bean lunch is probably not what a lot of people call relaxing, but I have not been known to be too rational at times.
After a few hours of digging, with the sun starting to set, I had a few cups of black sand concentrate for my efforts; yes, I did see a few flakes of Gold, but I knew I wasn't rich.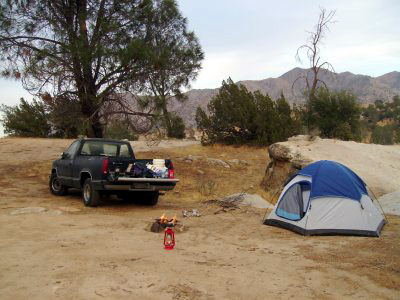 I made it back to camp and was amazed that nobody was around; usually, I meet someone… a neighboring fellow camper, bikers crashing for the night, the Swedish bikini team… but nobody was around.
I brought my radio out, but was pissed that I didn't bring the correct batteries; I would be forced to listen to my wind up lantern/radio.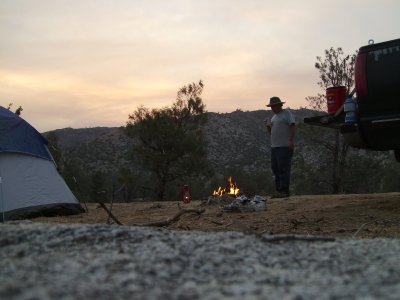 So that's how I spent the night – completely alone with not even another camp in sight, drinking beer, feeding the camp fire and listening to tunes on the lantern/radio in five minute increments, before I needed to wind it back up for another charge.
I made a few short video clips of my camp and how I entertained myself for the night; to see the video on Youtube, click here.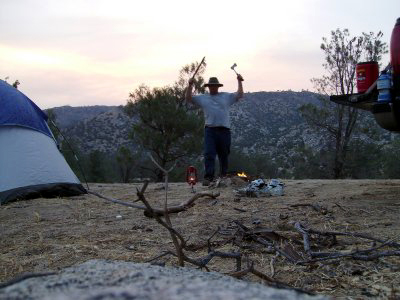 I could act as fucking weird as I wanted to – yelling at the top of my lungs as I tried to juggle a hatchet and machete; I didn't even have to worry about finding bushes to use as a toilet, I could just pee on the road while trying to write my name.
Instead of the evening clearing my mind, I dwelled on a lot of things that I wish I hadn't.
I was trying my best not to turn into an ax murderer or pychotic unabomber; my fire was never bright enough to write a manifesto though.
In the morning, I woke up hung over and dehydrated, in 97 degree heat with every muscle in my body sore from yesterday's digging.
I thought, "This sort of sucks, I'll go insane if I spend one more day and night like this, assuming I don't die of heat exhaustion or stroke."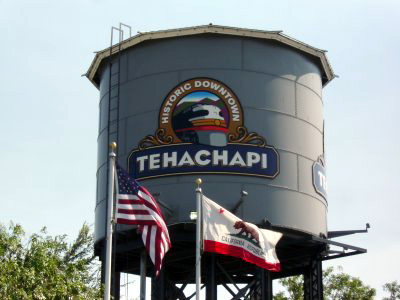 I packed up camp and headed to a friend's place in Tehachapi, where I spent Saturday evening in air conditioned comfort, watching several movies, drinking beer and eating a fine meal of meatloaf and mashed potatoes and gravy.
The movie list included Legends of the Fall, The Shawshank Redemption, Secondhand Lions, and Selina – I watched more movies this evening than I have seen all year long combined.
After seeing the film Selina, I am now a fan of her music, I just wonder how psychotic she was in real life – great music, great person and a horrifically tragic death.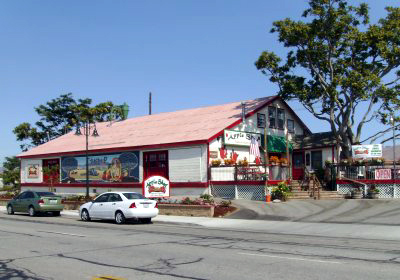 If you are in the Tehachapi area and want a great meal, stop by The Apple Shed at 333 East Tehachapi Blvd.
A huge meatloaf, mashed potatoes and gravy dinner, served with salad and cheese bread set us back less than $15 each; they also have a gift shop and live entertainment, but the food was absolutely great and the cashier was really hot.
I headed back to the Long Beach ghetto Sunday morning.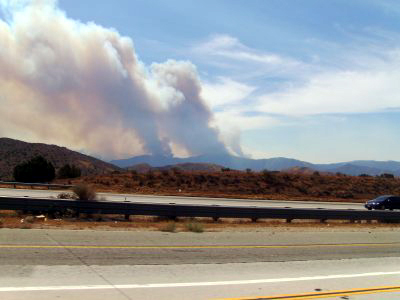 The fires up in Angeles National Forest could be seen from the 14 Freeway.
Apparently, the fire is doomed to knock out all the radio and television transmission towers on Mount Wilson – I think it's God punishing the governemt for getting rid of analog television; an interesting set of pictures from the fire can be found here.
Traffic was great until the 405 came to a halt at Mulholland due to an accident; I detoured through downtown Los Angeles to finally make it home to the Long Beach ghetto.