Logged SCUBA Dive #308
SECRET LOCATION: 41 74 20 74 68 65 20 67 61 74 65 73 20 6f 66 20 6d 61 72 2c 20 4e 6f 72 74 68 20 6f 66 20 74 68 65 20 6c 6f 6c 69 70 6f 70 20 74 72 65 65 2e, Palos Verdes, CA
Solo Diving, SoCal Buddy Diving
In With: 3000 psi
Out With: 500 psi
Max depth: 35 feet
Waves: Pretty Flat
Visibility: 15 to 20 feet
Water Temperature: 65 degrees
Total Bottom Time: About 45 minutes
This is the same spot that I went to Sunday for my second dive, where one of the divers caught six huge lobsters in 30 feet of water under the low lying kelp.
Tonight was a one tank dive off of Instructor John's zodiac with "Jim" and me; we arrived at this location around 8:30 PM.
I submerged, determined to find some big bugs at 30 feet.
There must be more left?
I pinned, measured and bagged one within 10 minutes and continued on, not going shallower than 25 feet, nor deeper than 35 feet.
I missed a few, maybe legal ones, but I am rusty in my technique with six months off.
45 minutes later I surfaced and did a fairly short surface swim back to the zodiac where Jim was already aboard; I had bagged one lobster.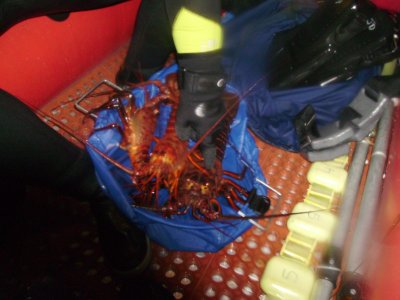 Jim had four way-legal bugs.
I boarded and took a picture with my bug, holding it as close to the camera as possible to make it look huge…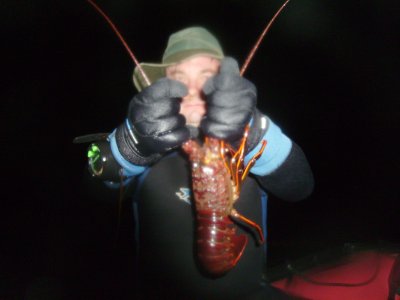 I set it down to remeasure… it was close.
The gauge fit "snugly" over the carapace, which is a legal size bug.
When Instructor John got aboard, we measured it with his gauge – hmmm.. is it worth a $1400 fine?
I threw it back.
John caught one, Jim four, I got skunked.
It's sort of like going to Las Vegas and watching your friends win fortunes while you lose your ass; what am I doing wrong?
The bugs in this location have been spooked for the last few days and are well adapt at fleeing at the slightest detection of light.
John and I agreed, we need to find another spot, but Jim gloated, "When you're down there, just think to yourself, 'Where would Jim go?'"
Last season at this time, John had caught 21 bugs – this season, so far, only five.
I'm getting the feeling that my problem is either old age, or I'm really unlucky, or really unskilled.
Jim found his bugs in 15 to 20 feet of water, not under the kelp, but between the rocks.
Next dive, I'm bringing garlic as a good luck charm.