The diving world was praying for the safe return of eight Taiwanese divers who were reported missing from "Seven Star Rocks" off the Southern most tip of Taiwan.
They called each other's names to keep themselves awake and drank rain water to survive.
They had drifted about 60 miles until they were rescued by the heroic act of the Dive Coach Ting Po-ling, 32, who had swam 11 hours to shore, after waiting in vain for help, after they drifted for 24 hours.
Ting made it to shore at night and yelled to a fisherman for help.
The fisherman, who initially thought Ting was a ghost, called the authorities to let them know where the other divers were.
Another search was launched, but it was still difficult to to find the other divers.
Thanks to one of the divers clicking a camera's flash, the helicopters were able to spot and rescue them after the other seven had been adrift for more than 40 hours.
All were severely dehydrated and had low body temperature.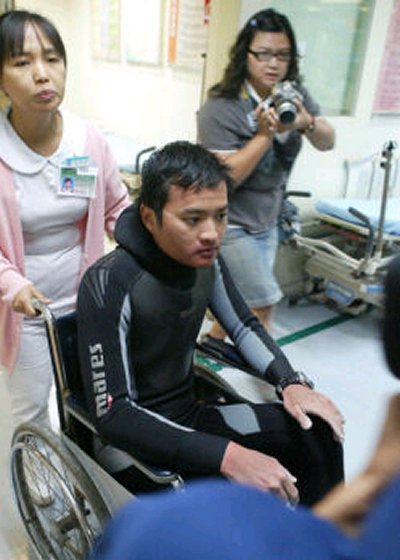 One female diver promised her mother that she would never go diving again because "It's just too dangerous."
So, What Went Wrong With This Dive?
They dove off of a private boat, with no Dive Master on board; no big deal, it happens all the time.
But, it was an off shore reef, and the only person who knew exactly where it was went diving.
The agreement with the boat Captain apparently was, "I'll meet you back here in an hour to pick you up."
Well, an hour went by and the boat Captain went to pick them up.
Either the current took them, the Captain couldn't find the reef or it was a combination of both.
They were reported missing, and the search started from there.
The boat, as planned, left the dive area to return to pick them up.
If there would have been problems during the dive, no boat would have been available to assist.
Since the boat wasn't there, it could not judge potential current, nor follow a current buoy or signal sausage.
So, yes, recreational diving is still pretty much safe!
Accidents still happen, but don't be influenced by the lack of someone else's common sense.
There would be no way I would have gone on this dive if I knew how it was planned.
Stay safe everyone!

Links To The Articles:
Rescued divers describe near-fatal lost-at-sea scuba diving accident
Miracle rescue for Taiwanese divers