August 14, 2017
After booking a SCUBA diving trip to North Korea nine months in advance and being told 13 days before I was to leave that they no longer take Americans, I decided to go to the beer festival in Pyongyang with a different and much better tour company.
Then, not only was the beer festival cancelled due to unknown reasons, the Unites States announced a State Department travel ban on US citizens going to North Korea, which will take effect on September 1, 2017.
Holy crap, it was now or never for an American to visit North Korea, or what is correctly called by the U.N., the "Democratic Peoples' Republic of Korea."
It was no longer a mission to go diving in North Korea, it was a mission just for me to get to the country for a visit before the government of the "land of the free and home of the brave" made it illegal to visit a country that they can't get along with.
North Korea has been criticized for being an isolationist, hermit state, so the U.S. State Department has decided to pass a travel ban to make North Korea even more isolated.
After September 1, 2017, there will be no Americans in North Korea, unless they obtain a special license from the U.S. State Department.
The North Koreans may already be suspicious of Americans, but now, since all Americans will need government permission to enter, their suspicions may be confirmed.
That is typical government work – find a "problem" and implement a solution that makes the original problem worse.
Having made my way to Beijing, China, I contacted my family and friends and told them, "I have made it to Beijing and have signed up for a four day tour outside of the city; I'll be back in a few days."
No need for anyone to worry.
I did give Secret Agent K my itinerary "just in case" something happened.
She wrote back, "Oh, my fucking God! You're going the the DPRK? PLEASE BE VERY CAREFUL!"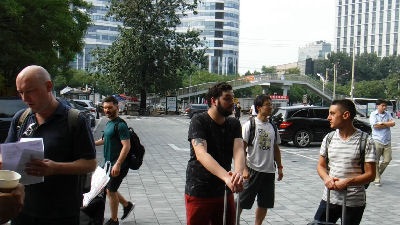 Passing out DPRK Visas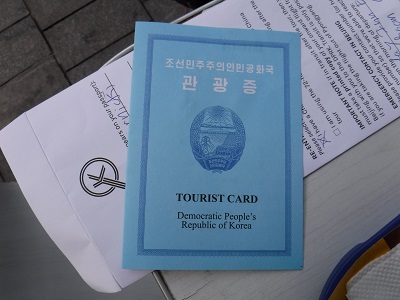 DPRK Travel Visa
I met the tour group which consisted of a British man named Simon who was the tour leader and one citizen each from France, Austria, Brazil, Ireland, Sweden, Japan, Germany, Kuwait, Uzbekistan plus two Australians, three Canadians and six other "crazy" American Imperialists.
We Americans had something in common – it was now or never and we wanted to see North Korea for ourselves.
Regardless of our national origin, one thing was predominantly agreed upon – to want to go to North Korea, you have to have a screw loose somewhere.
We were bused to the Beijing airport for our Koryo flight to Pyongyang.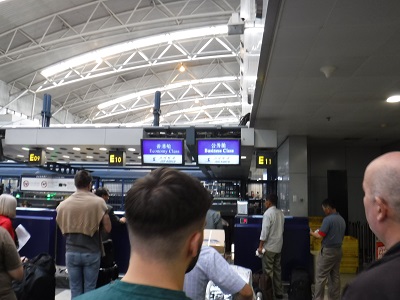 When my check-in luggage was going through security screening, a loud buzzer started sounding.
"Jeff, they flagged your bag," I was told.
WTF? I'm still in China and I'm having problems already?
It wasn't a problem until now, but I had batteries in my luggage.
They made me take them out and put them in my carry on bag.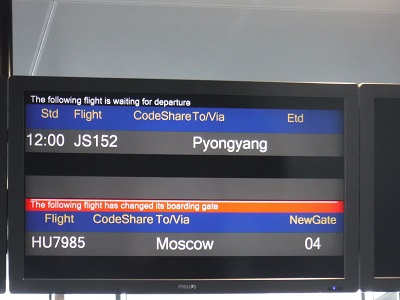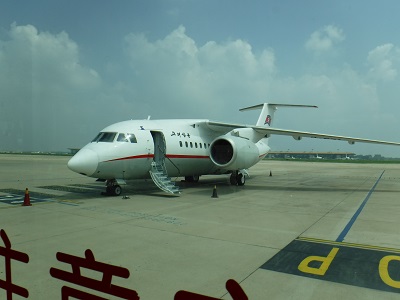 We were bused out to our small Tupolev airplane.
As the bus door opened, everyone seemed to walk slower than me and I managed to be the first up the stairs to the airplane.
A Korean man inside the plane told me to wait at the top of the stairs and not to enter.
I saw the pilot and staff, complete with their party pins on the left of their shirts.
It finally dawned on me – "Fuck, I really am going to North Korea – I am insane."
I was under the impression that Koryo Airlines flew 50 year old Soviet relics, which concerned me a bit.
However, on the insistence of China, they upgraded their fleet to newer airplanes.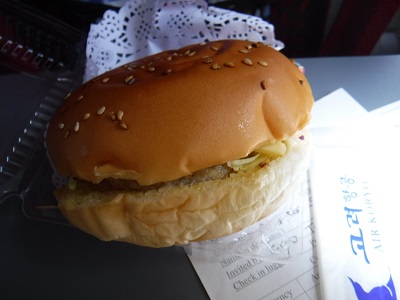 The one and a half hour flight consisted of a continuous video of the DPRK Army orchestra and a delicious Koryo Burger, which I did not find bad at all.
Actually, I would rather eat a Koryo Burger than a burger from an AM/PM mini-market.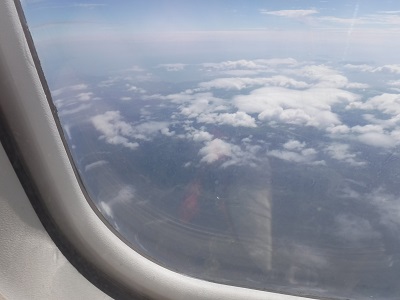 Flying over North Korea, I realized that a lot of their roads are not paved.
Once we landed, we were bused 50 feet from the airplane to immigration and customs.
I had to fill out several forms – a health form and an immigration and customs form where you list the money you are bringing in to the DPRK and a list of all electronic devices.
Everyone at the Pyongyang airport looked like they were in the military – tall brimmed hats and tannish-brown uniforms; nobody smiled.
I was a bit intimidated to say the least.
Once I told them I didn't have a cell phone, they did not care to inspect my laptop or two digital cameras.
However, I did have a newspaper that I brought from China that had to be inspected to make sure it was safe to bring in to the country.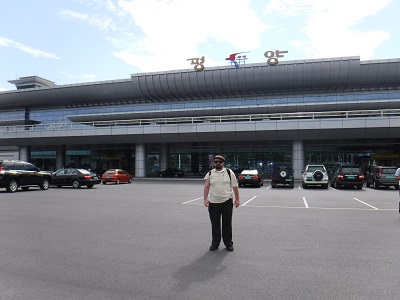 Once I passed through customs and immigration, I met our Korean tour guides – let me call them Miss Kim I, Miss Kim II and Mr. Li.
Miss Kim I's English was so good, I actually could only slightly detect an accent.
When Mr. Li found out I was an American, he introduced himself and said, "Have you been paying attention to the news lately? We're going to shoot a missile towards Guam Island."
I said, "Uh, yeah, I heard. Do you think you guys could wait four more days until I fly back to China?"
Mr. Li did not appear to understand what or why I was saying that.
Next to us another tour company's group was assembling.
I saw a lady wearing the tour company's shirt, holding an American passport.
As far as tour companies and Korean guides are concerned, everybody knows everybody; it is a very small niche market.
I asked, "Is that so-and-so from the 'other' tour company?"
"Yes, it is," I was told.
Wow, the person who I was emailing back and forth for nine months for my previously planned SCUBA diving trip to the DPRK was standing 15 feet away from me.
I was also told, "She is management, if she wanted you on that trip, she would have been able to take you."
That was awkward.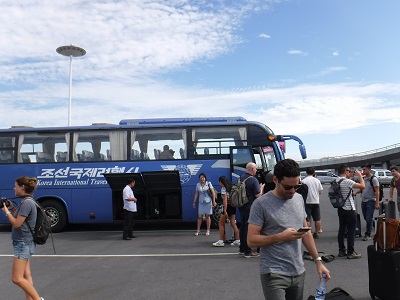 Once everyone made it through customs and immigration, we headed to the bus to start the tour.
Miss Kim I explained the dos and don'ts of the DPRK – it was mostly a repeat of what we were told in Beijing.
Mr. Li got on the microphone and said that if we were Americans, we should feel very lucky because this is literally one of the last trips that Americans can take before the US State Department travel ban to North Korea takes effect.
"We really will miss our American visitors, it really is a shame, " Mr. Li said.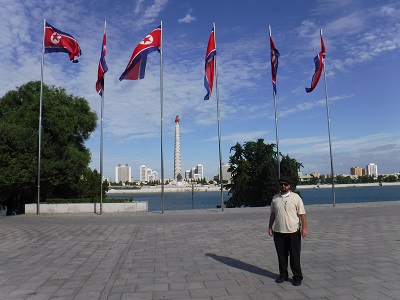 Our first stop was Kim Il Sung Square – the place where mass rallies are held.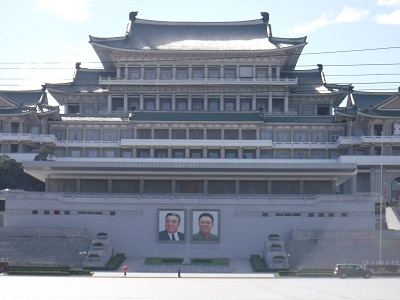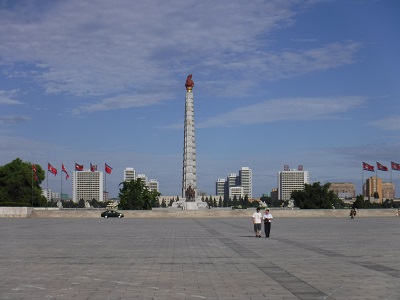 Across the Taedong River is Juche Tower.
It was interesting to see regular North Koreans relaxing and enjoying their day…
I guess these guys are human, too.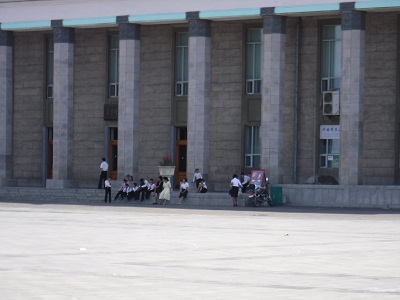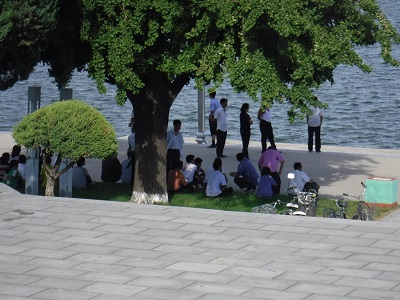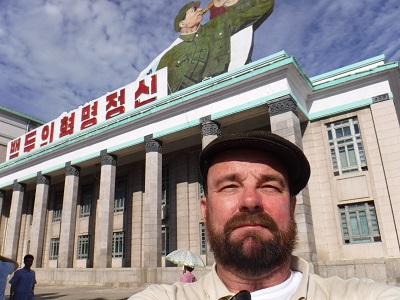 I'm not sure what the background says, but I'm guessing, "Death to America!"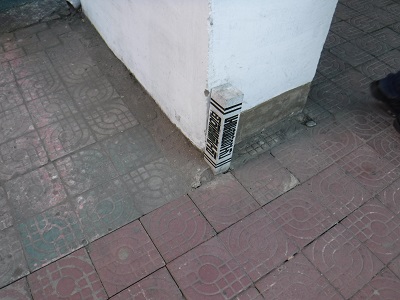 This corner marker signifies which store is to take care of the sidewalk and lawn in the front.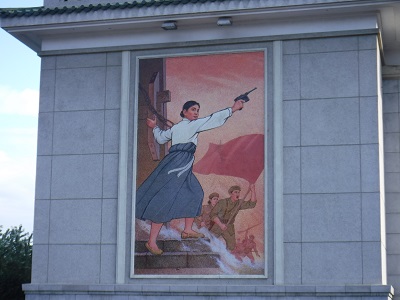 We made it to our hotel for dinner and rest.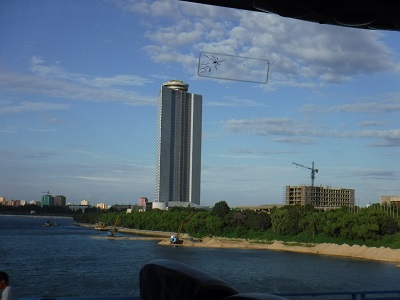 The Yanggakdo International Hotel – known as a four star Alcatraz because it is on an island and guests are not permitted to leave without a state sanctioned escort.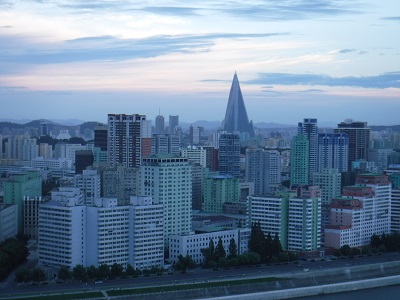 View of Pyongyang from our hotel room.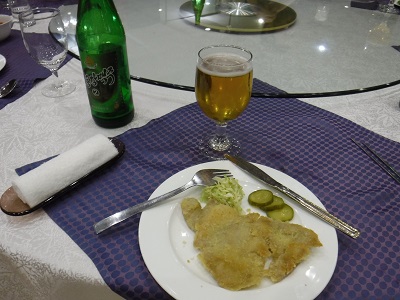 One of many courses for the first dinner in Pyongyang – Fried chicken, pickles, cabbage and Taedonggang Beer.
The beer they make in North Korea is some of the best beer that I've had.
From Wikipedia (So it must be true):
Taedonggang Brewing Company

In 2000, the North Korean Government decided to acquire a brewery. At that point having good relationships with the West, via connections to Germany the Government of North Korea bought the intact and still in place brewery plant of the closed Ushers of Trowbridge, Wiltshire, England for £1.5M via broker Uwe Oehms. Concerned it could be used for chemical weapons production, after assurances Peter Ward, of brewing company Thomas Hardy Brewing and Packaging bought the plant, and arranged for a team from North Korea to travel to Trowbridge to dismantle it.[2] Groundbreaking of the Taedonggang Beer Factory took place on 15 January 2000.[3] Reinstalled and operational from 2002, the brewery uses German-made computerized brewing control technology.[citation needed] The brewery is located in the Sadong District of Pyongyang.

There will be more to come – there was no internet access while I was in the DPRK, so obviously it will take several days for me to catch up.
Day two in the DPRK will be coming soon, however, my entire trip is already on Youtube and can be accessed here: