I've been back for over a week.
I have realized that some people think I am more crazy than they thought, some are not surprised, others don't care, others now think I am a douchebag.
I was contacted by Koryo Tours, who sent an email to all Americans on their last trip that NBC World News wanted to interview one of the last US citizens to vacation in North Korea.
I'm an attention whore, so I volunteered.
I talked to the producer for 20 minutes on the phone and she said she wanted to fly from New York to Los Angeles to interview me on Saturday morning.
Borrowing a friend's house for the filming location, I agreed.
They are doing a segment on the US travel ban to North Korea and wanted to hear about my trip and what I thought about the absolutely ridiculous and stupid ban.
They said, "You are part of a segment, within a segment, within a segment of the news. If another news item is more important, like a hurricane or terrorist attack, your segment may never air. If it does, you may not make the cut. If you get 15 seconds, you will be lucky."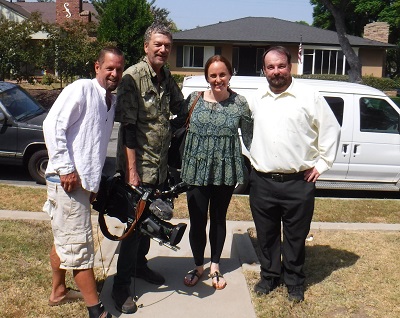 My friend Greg with the house was busy hitting on Michelle the Producer.
Oh, yeah, and yesterday North Korea apparently fired a missile over Japan…
North Korea launched missile that flew over Japan
So, onto the continuation of my trip…
August 15, 2017
After partying heavily at the Yanggakdo International Hotel the night before, I was able to wake up in enough time to get a nice buffet meal in their restaurant.
After being asked what my room number was before entering the buffet area, I thought, "How the hell would anyone sneak in here to get a free meal?"
The Yanggakdo International Hotel is on an island, and you can't leave the premises without a state approved escort.
I assume it is just as hard for a white, English speaking transient to sneak in and get a free meal?
What I had discovered, is that the food – at least for tourists – is pretty damn good.
Yeah, it was a lot of sausage, fried meat, kimchi and odd stuff to westerners, but it shot through me like a rocket.
I tended to take care of business right after breakfast and eat lightly when traveling – I'll get to the lack of toilet paper and squat toilets next time, when I talk about my diarrhea.
After all were accounted for on the bus, we made a trip to our first stop – the Grand Portraits of Kim Il Sung and Kim Jong Il…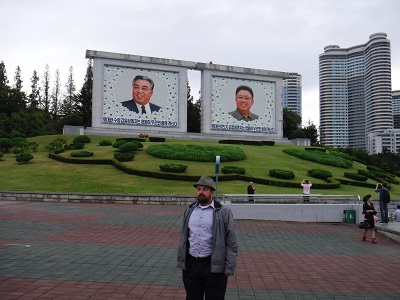 They are very proud of their missile and nuclear weapons programs.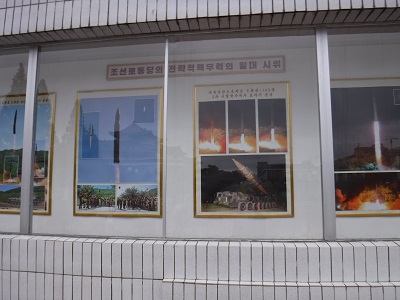 They believe if they didn't have such a deterrent, they would have been the next US invasion victim like Iraq or Afghanistan.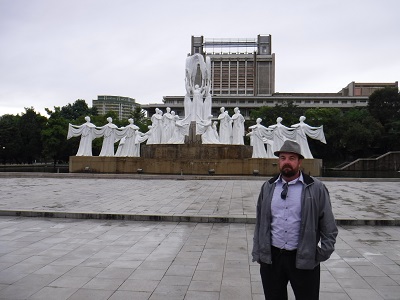 I forgot where the pictures above and below were taken – sorry; somewhere in Pyongyang.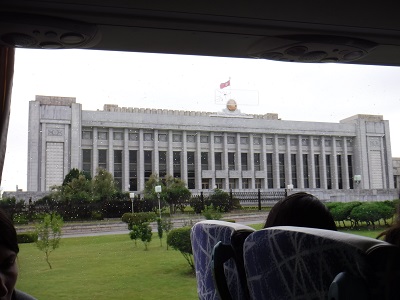 Then we went to Mansu Hill Grand Monument:
Out of respect, you are suppose to bow to the Dear Leaders once there.
I was told by the Korean tour guides, "If you don't want to bow and respect the Korean people you don't have to, but just stay on the bus if you don't feel like it."
Well fuck, I've participated in many Catholic and Jewish ceremonies out of respect, and I assure you I'm not Catholic or Jewish.
And, I want no problems.
Maybe I'm not limber enough to use a traditional squat toilet, but I certainly could bow to their Dear Leaders.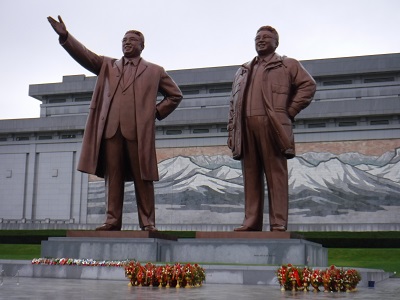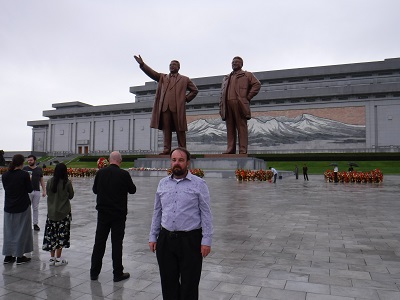 No hat, no sunglasses, hands down to the side with no gestures – all was good.
These are the statues to the side of the Mansu Hill Grand Monument: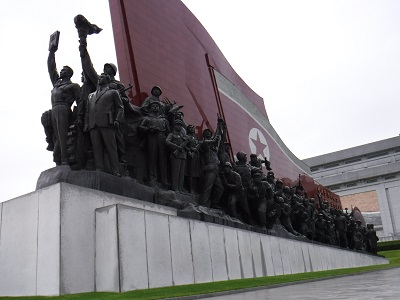 The Peoples' struggle over Imperialism.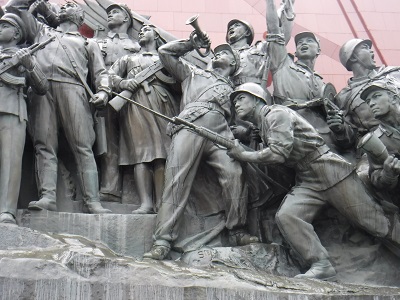 The peoples' Army steps on an American Army helmet.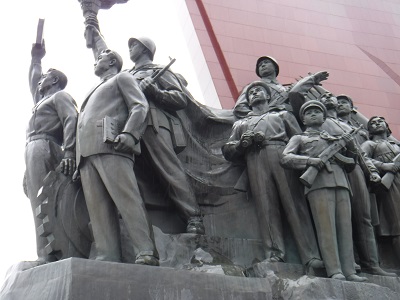 We then went to the Pyongyang Metro to ride four stops to the Liberation Station and see the Arch of Triumph – a monument to celebrate the liberation from Japanese occupation in 1945: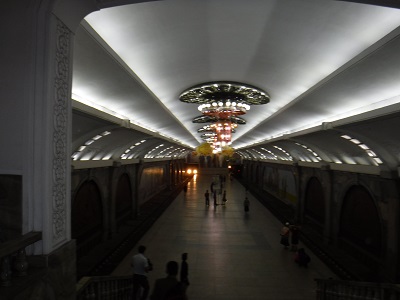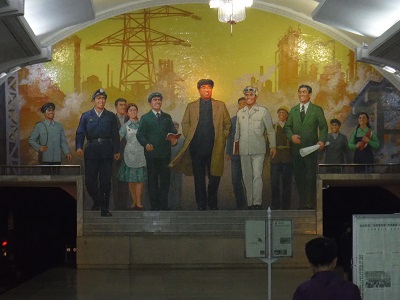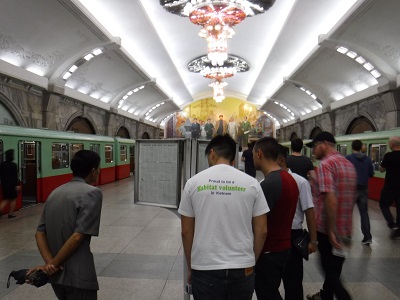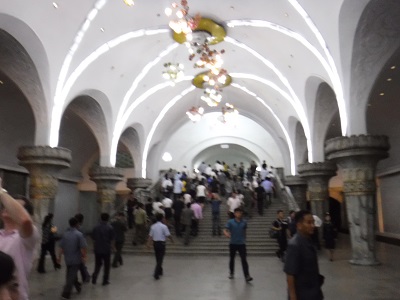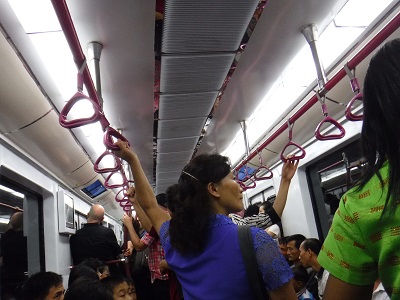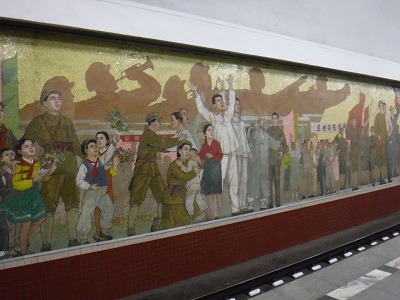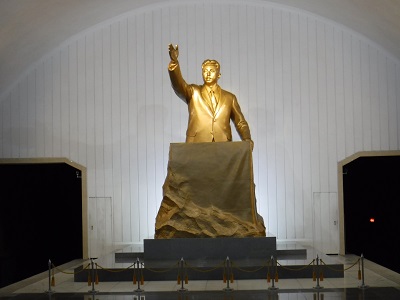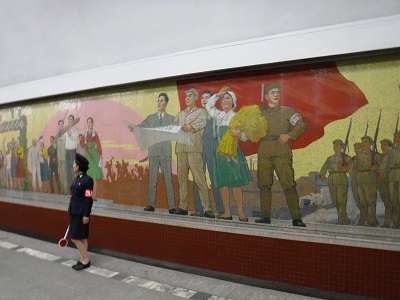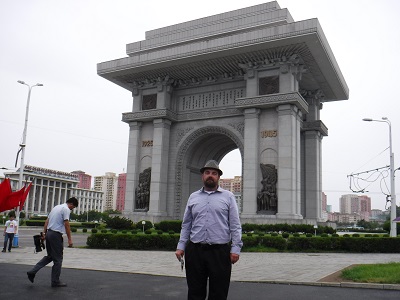 Me in front of the Arch of Triumph.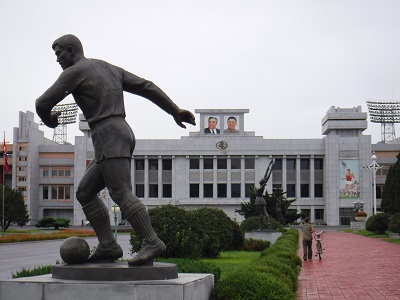 The FIFA approved soccer stadium in Pyongyang.
We then went on to Juche Tower – a monument that celebrates the vague idea of "self reliance."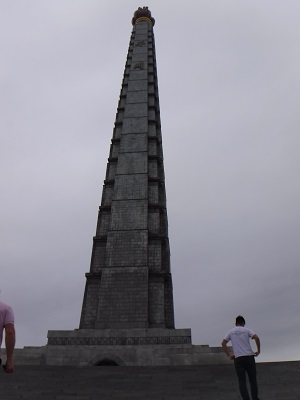 The Ryugyong Hotel from the ground of Juche Tower.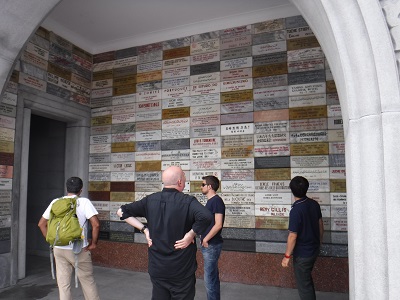 Stones dedicated from fans of the Juche idea.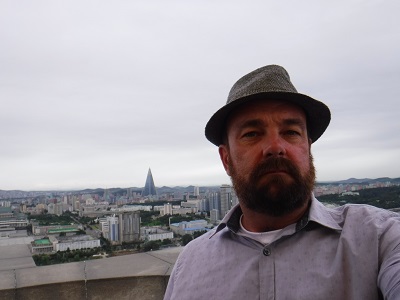 A selfie from the top of Juche Tower.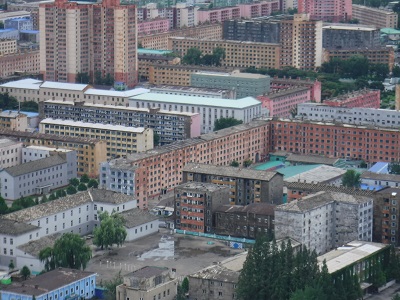 Looking down on buildings from Juche Tower.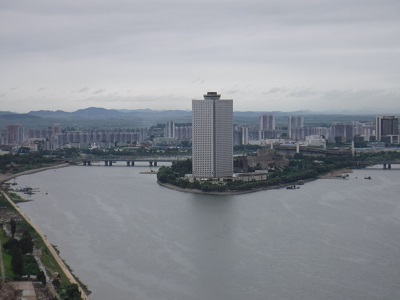 Our hotel from Juche tower.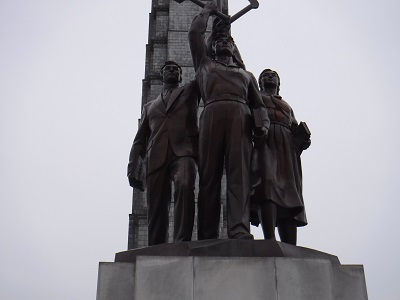 The Intellectual, worker and farmer – what makes the Juche idea.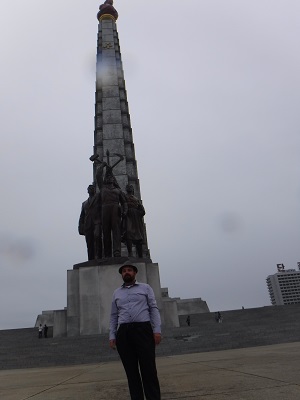 Me with Juche Tower.
At this point in time, we were informed that because of the rain, the mass dance and fireworks were cancelled.
I had no problem with that, because I was tired and had some digestion problems since I was not used to the Korean food.
We were taken to alternate places like a shopping mall and bowling alley to fill the time.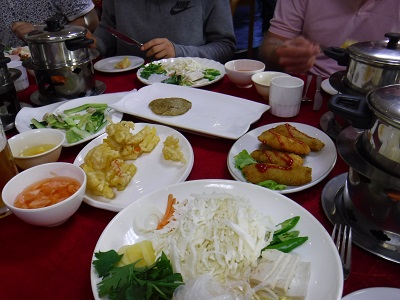 Lunch in North Korea.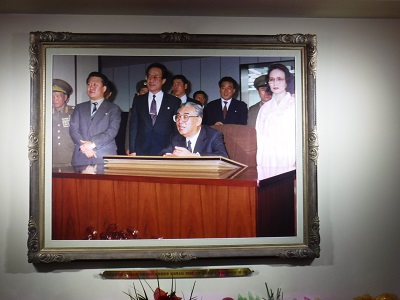 Pyongyang Bowling alley – the Dear Leader visited at one point. I think.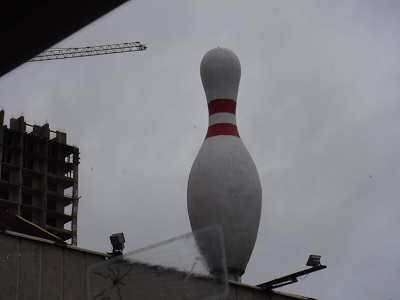 Pyongyang Bowling alley.
We were not allowed to take pictures in the shopping center as previous picture taking bothered the customers.
Most of us ended up drinking beer at a local watering hole right next door.
We then headed for the Pyongyang Circus and then to dinner.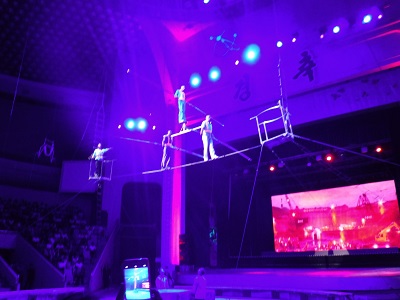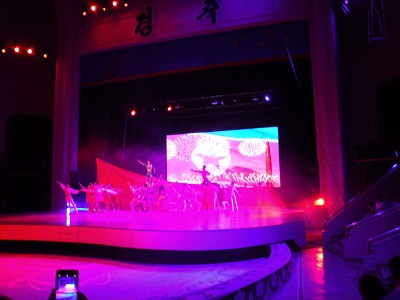 I developed a bad case of the runs.
At the restaurant, the bathroom had toilet paper, but no western toilets.
I couldn't hold it and did my best to use a traditional squat toilet.
I was a success in that I did not hit my pants, however, I need to work on actually hitting the bowl.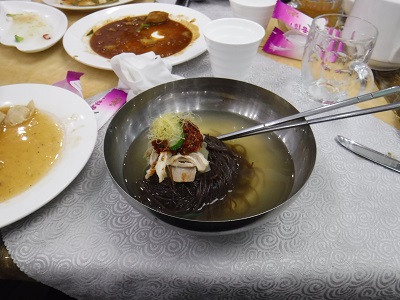 Buckwheat Black Noodle Soup
The long day ended with drinks at the hotel bar.
I met two tourists – one from Italy and the other from Argentina.
The bartender asked where we were all from.
When I told her "The United States" she asked where that was.
Someone said, "He's an American."
She looked at me weird and walked away.
The conclusion of my trip is coming soon!