80-85% of all new divers quit diving shortly after their Open Water Certification (according to dive shops I frequent), and the number one complaint is, that they can't find a diving buddy.
Nine years ago today, May 8, 2004, Dan, Roland, Terry A. and others were debriefing in the Veterans Park parking lot and came up with the idea of forming a free local diving organization that would take any diver, regardless of experience, and keep them diving – thus continually making them better divers.
Thus, The Divevets were born.
Over the last nine years, many divers have come and gone – some have moved, some have died, some got pissed off and left.
To this day, their motto still holds true – "You might get hurt, but we won't let you drown."
I was to bring the ghetto grill and Budweiser, the King of Beers; others were to bring meat or some kind of side dish or beverage.
I found out today, not only that Sea D Sea Dive Shop will not fill my tanks, but that they are also closing July 1, 2013.
Wow, another era in diving is coming to an end.
As far as my tank being refused a fill?
Dive N Surf sent one old Aluminum tank out for a hydro test; it passed the electro-static test and then blew up under the hydro test.
Now, pretty much all the local dive shops won't fill any Aluminum tank that was made before 1989, when they changed the metal formulation – with Sea D Sea recently jumping on the band wagon.
So, one tank – out of the millions that were made – blows up, and now all of them are bad?!
I arrived around 6:30 PM, after buying a discount light at Sea D Sea.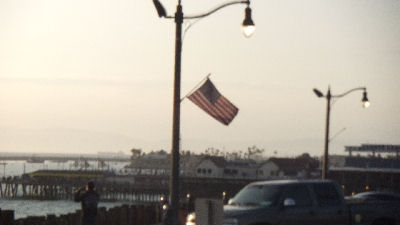 The wind was blowing, the sea was choppy, but there weren't very many big waves.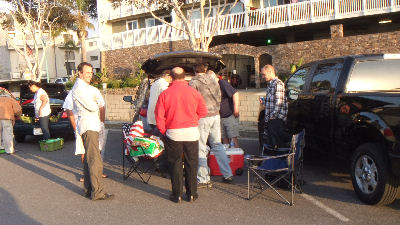 Some called the dive, some just showed up to debrief.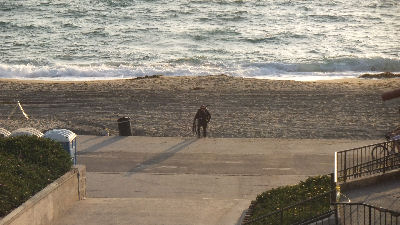 A diver emerged and gave a good dive report – 10 feet in the shallows, opening to 20 feet at depth.
I decided diving was the best thing to do, instead of immediate debriefing.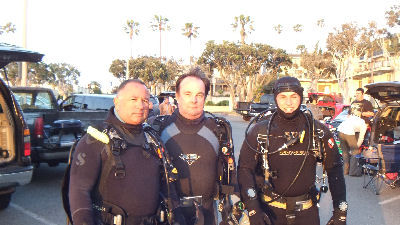 Chipper, Me and George geared up for another macho dive.
Carl and Chris from Detroit joined us.
The sun was setting; we all had lights.
Logged SCUBA Dive #435
Dove with Chipper, George, Chris from Detroit and Carl
Veterans Park, Redondo Beach, California, USA
In With: 2500 psi
Out With: 600 psi
Max depth: 60 feet
Waves: Manageable chop
Visibility: 10-20 feet
Water Temperature: 52 degrees
Air Temperature: 63 degrees
Total Bottom Time: 30 minutes or so
We all made it out, and descended in 25 feet of water, as we were tired of fighting the chop.
I believe Carl lead the dive – we went to the new "Monument" which is a collection of stacked cinder blocks.
I did not bring my camera, but trust me, I didn't miss anything.
We saw crabs, small octopi, sardines, baby electric rays and lots of sand.
We all stayed together, and stopped in 20 feet of water for several minutes.
I thought, "Is this some test to see who floats to the surface first?"
With my tank getting buoyant, I had a hard time staying down at that depth; I found out later that that was our safety stop.
Chipper later said to the leader, "You know, you can still move on a safety stop?"
It was dark when we surfaced; we all made an easy exit – well, of course, we are all macho.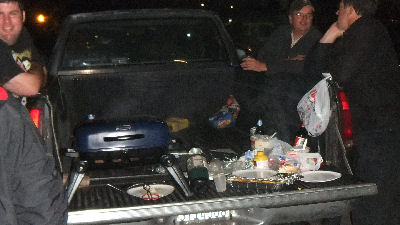 Making it back to my truck, I found that its bed had been converted into a barbecue and buffet table.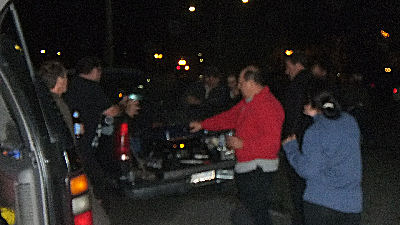 Many people joined in the debriefing activities – beverages of their choice, hamburgers, hotdogs, macaroni and potato salad; I ate quite well.
George was brave enough to admit that he reads this blog – I now officially have four readers!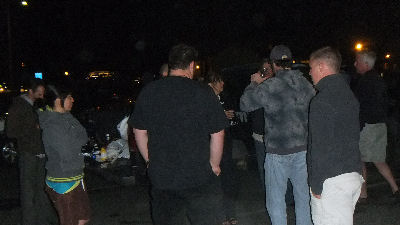 The debriefing and celebration started to wind down around 9:30 PM.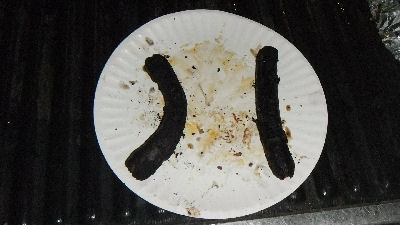 Nobody wanted the last two hotdogs.
Someone said, "I don't like black weenies."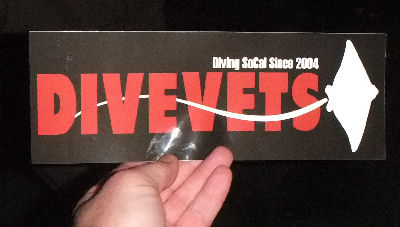 Happy anniversary Divevets!
I'm not sure why the stealth bomber is in the logo.