Weather, scheduling conflicts and other issues have kept me off the traditional Zodiac lobster attack machine, and I have given up on serious lobster hunting from shore dives.
When I was invited on Chipper's boat to liberate lobsters in a new, and still secret, location, I could not refuse.
We met at the public launch ramp in the middle of a Los Angeles ghetto.
Immediately when I arrived, bum and poaching drama was already underway.
Some drunken bums had gotten into a fight and one was lying on the ground, unconscious, while his friends were yelling at him not to get up.
Thirty feet from that episode, an extremely hot DFG Officer who looked like Danica Patrick, was writing some fisherman a ticket; while the alleged poacher was yelling, "Just how big are these fucking fish suppose to be?"
We launched the boat with little drama, and after a quick emergency dart back to the ramp to put the drain plug in, we were off.
Logged SCUBA Dive #404
SoCal Buddy Diving With Chipper and Reverend Al
Secret Location: 4f 66 66 20 74 68 65 20 77 61 6c 6c 20 74 68 61 74 20 62 72 65 61 6b 73 20 77 61 74 65 72 20 61 74 20 74 68 65 20 6d 61 72 69 6e 61 20 6f 66 20 74 68 65 20 6b 69 6e 67 20 65 6e 20 65 73 70 61 6e 6f 6c 2e
In With: 3000 psi
Out With: 500 psi
Max depth: 36 feet
Waves: A little choppy
Visibility: Six feet
Water Temperature: 55 degrees
Air Temperature: 69 degrees
Total Bottom Time: 35 minutes
I was the first one off the boat – we were to dive in shifts, always leaving someone on the boat – this is the ghetto, and not even boats are safe.
I descended and checked the anchor – the anchor was just dragging on the sand – I believe the anchor chain was too short.
Initial visibility sucked – I mean sucked so badly I was going to call the dive in the first five minutes.
Then, I ran across a bed of muscles and a short lobster – OK, there's lobster!
I kept going, and within the next ten minutes, I had caught six bugs – and, these were the easiest bugs to catch, too.
They didn't act spooked like the one off of Palos Verdes; I simply shined my light on them and they froze until I grabbed them.
A lobster's life is so horrid, they can't wait to get liberated.
I spent the next 25 minutes looking for my seventh to limit – easy, right?
Nope – seriously, I thought I would have had my limit within 10 minutes, but either I took the last six legal bugs, or word had gotten out, and those that wanted to live stayed home.
I made it back to the boat with no issues – Reverend Al had gotten skunked on his first dive, so he went back for a second one.
Chipper then made his dive; I stayed on the boat.
As self punishment for not limiting, I decided not to do a second dive for just one lobster.
I had to move the boat away from the rocks a couple of times – the anchor wasn't holding it.
Reverend Al made it back and we ended up picking Chipper up when he surfaced about half a mile away.
I hold my catch for the night, while Chipper looks on in amazement.
The Reverend and Chipper both went home with one lobster each.
The highlight of my night was going to be to get hassled by that hot DFG Officer that looks like Danica Patrick, but two male officers obliged in her place.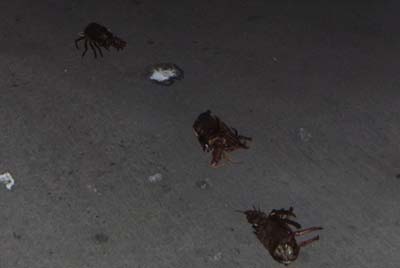 Disrespectful hunters left lobster carapaces rotting on the pavement – it was dark, so my photo didn't come out, but there was a garbage can five feet away from this.
To add to that "This is the ghetto" flavor, the public restrooms double as low income housing…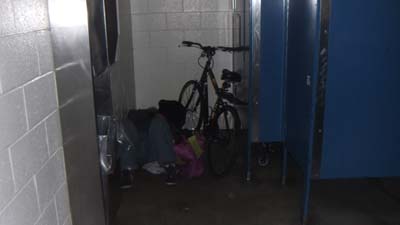 How can someone sleep on a concrete floor, covered in urine, in a room that smells like a sewer?
Needless to say, this was an interesting night.
Thanks Chipper!