Sorry again for the delay in this post, but my 486 at home crashed again and I'm trying to repair it – hopefully, without burning the valuable motherboard.
Yes, the headline is correct, so without going in to our boring dive at first, you can read about the skull and the event here, or you can watch the following, on scene coverage…
To watch this video on Youtube, click here.
Logged Dive #349 – Veterans' Park
Redondo Beach, CA
The Annual Underwater Clean Up
Dove With TwinDuct
In With: 3000 psi
Out With: 700 psi
Max depth: 84 feet
Waves: 2 to 5 feet, sporadic
Visibility: 10 to 14 feet, pretty clear
Water Temperature: 55 degrees at depth
Total Bottom Time: About 35 minutes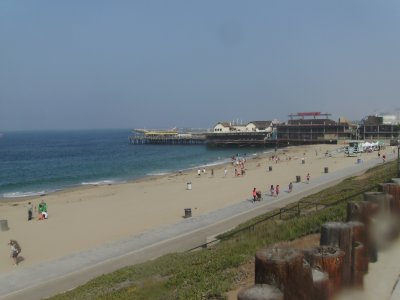 While volunteers cleaned the beach and surrounding areas, TwinDuct and I geared up and entered just off the pier…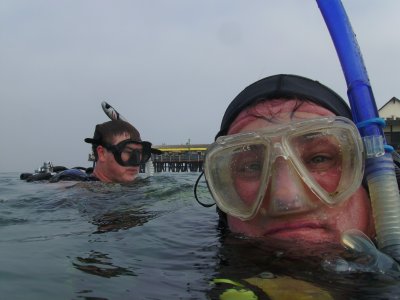 The plan was to clean the trench that is a few dozen yards South of the pier.
That area is basically where all the half dead fish go to die – last year we found a lot of trash and fish skeletons.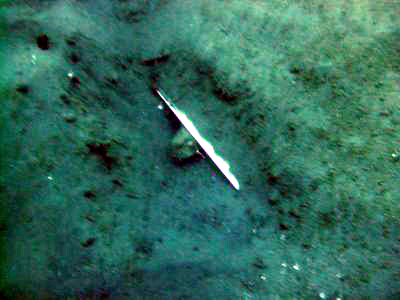 If a piece of trash was something's home, we left it alone.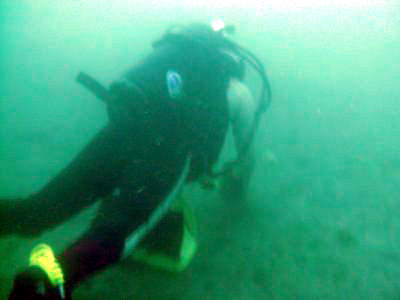 TwinDuct patrols for trash.
We did such a good job cleaning last year that, aside from a hand full of plastic bags and a bucket, there wasn't much trash this year.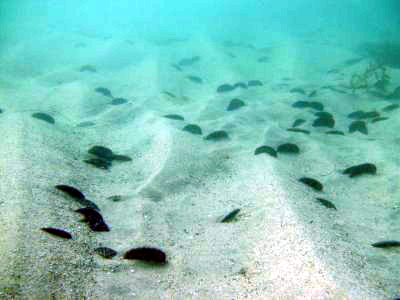 This was just another typical, uneventful Redondo Beach dive, but looking for trash and not looking at trash.
We had no problem exiting with our heavy bags of debris.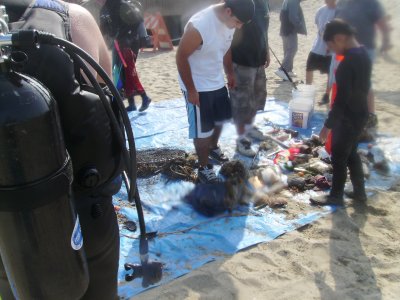 The underwater trash pile was fairly small this year.
The trash was so exciting, some even video taped the collection heap.
During the debriefing, we were told that "Someone found a human skull."
My brother promptly grabbed his video camera and shot the above footage.
The skull finding was the topic of conversation – "It still had hair and teeth…" "It was wrapped in linen and then in a bag…" "The Divemaster who found it is quite shaken…" "It was probably a mafia hit…"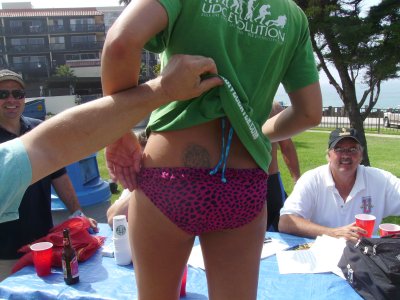 To ease our trauma, one of the divers showed off her tattoo.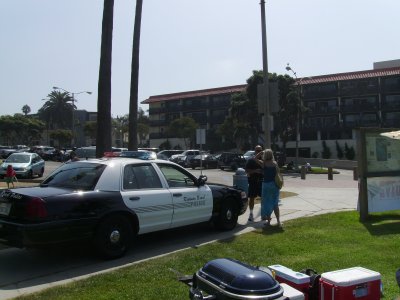 Around noon, the Redondo Beach Police showed up to talk to the Divemaster who found the skull; the Officer did his best to comfort the diver as he gently explained that the skull was made out of plastic!
Some say it may have been part of a ritual, I think it was a practical joke aimed at this event.
After all, all the voodoo rituals I have seen never used plastic props, and apparently the skull was without sea growth, so it had been tossed in the ocean within the last few days.