It must have been the three day weekend or the reports of increasing swells, but only me, Reverend Al, TwinDuct, Bob W. and SCJoe showed up at Old Marineland to dive.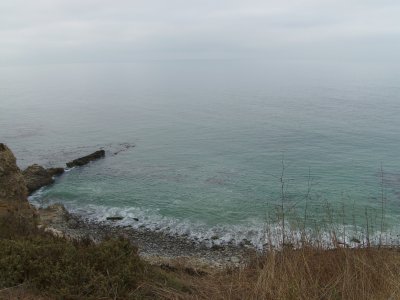 The ocean was pretty flat, but the water looked really green.
After some debate, we packed up to check out Honeymoon Cove and Malaga Cove.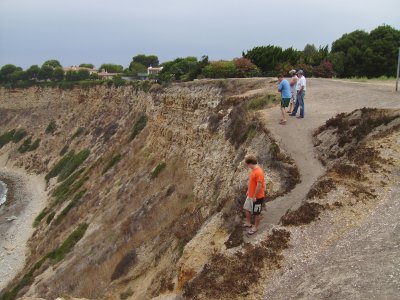 The group gave Honeymoon a thumbs up for a dive.
Realizing there are no soles on the bottom of my dive boots, and thinking back to the last time I dove here, I decided to do shore support.
The group geared up; I packed my camera and beer for the wonderful trip down the goat trail.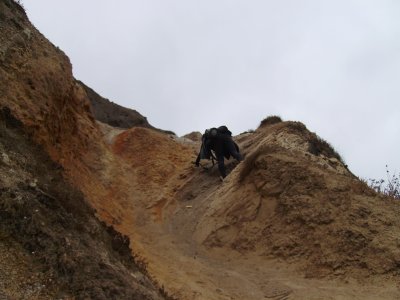 The first lip off the cliff is tough, especially with SCUBA gear.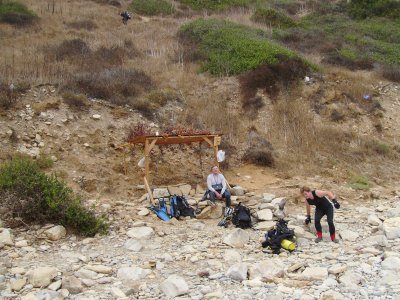 Some locals made a nice beach house for shade.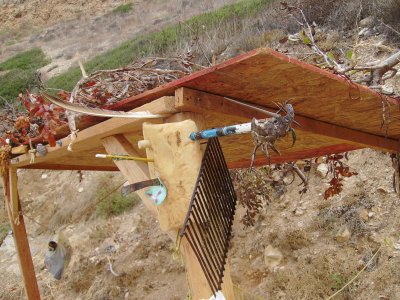 The house was decorated in a modern castaway theme.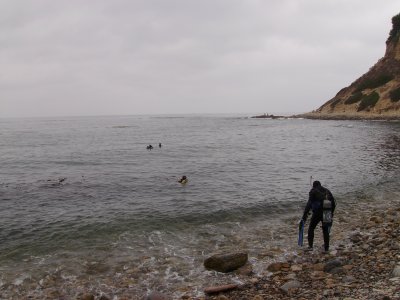 The group departs for their dive…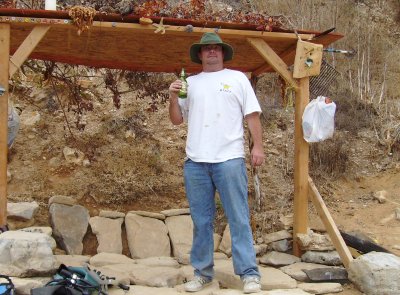 …while I Divemastered the event, a very important part of every dive.
Just something to note, at the shore, my cell phone only had reception at the water's edge.
Dennis G. and his wife came down for a swim.
I was getting so damn hot sitting on shore, I actually took off everything except my shorts and went for a swim.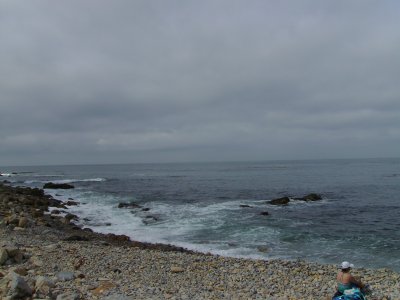 No wetsuit, no fins, no mask, but the water was so nice and warm – 69 degrees Fahrenheit!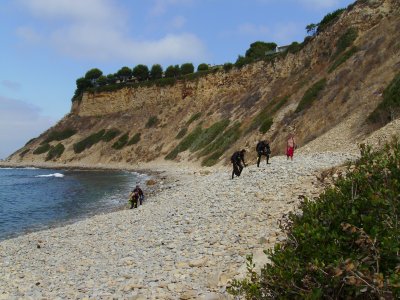 An hour later, the dive group emerged.
Dennis told his wife, "We better climb the hill now, before it gets all muddy."
The fun part begins!
The walk up…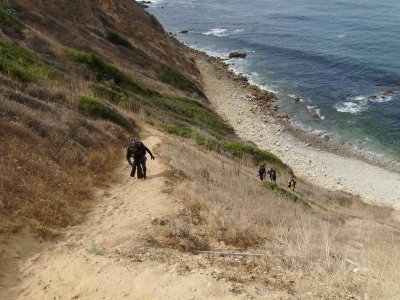 Some people without tanks and weights have a hard time going up this hill.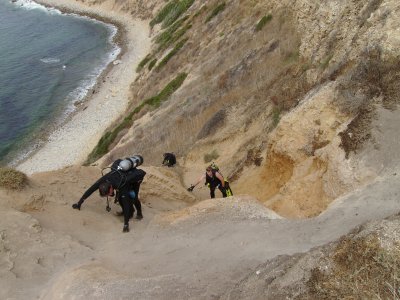 One wrong move could send someone plunging to their death.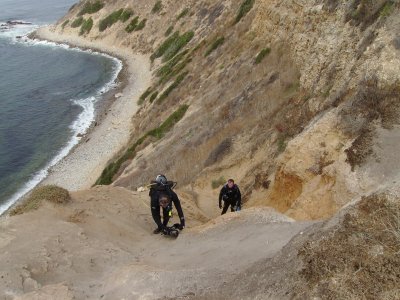 Reverend Al takes the tail end of the convoy.
They did an hour dive, no deeper than 40 feet; vis was a spectacular 20 feet that varied depending on location.
We decided since the Palos Verdes Estates Police are so bored, it would be safer to debrief at the Old Marineland.
I headed out first to start the grill; Instructor Ed was to meet us there.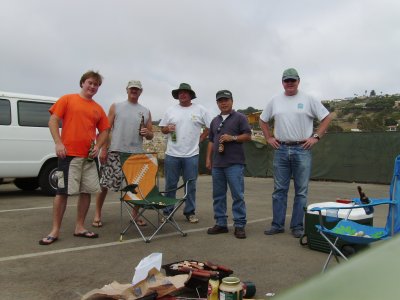 The debriefing crew… from  left to right, TwinDuct, Bob W., Me, Instructor Ed and Reverend Al.
Dive Bum Don, Cyber the Attack Dog and my brother meandered in over the next hour.
A group from Encino stopped by to check out the site; I gave them a tour.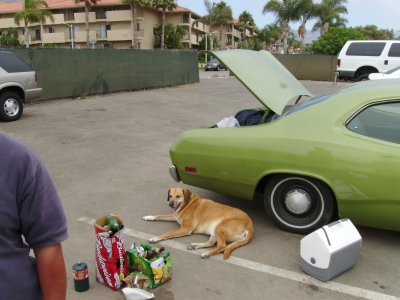 Cyber The Attack Dog guards the Duster and the last of the beer.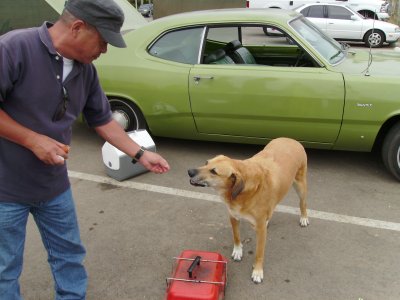 Cyber the Attack Dog threatens to bite Instructor Ed over the last Budweiser.
There's suppose to be a big party at Long Point next Sunday; two people's birthdays and possibly my 300th logged SCUBA dive.
No diving for me today, but the swim felt good; I noticed that I am so fat, that even without a wetsuit on, I can't help but float.