Secret Location: 42 65 74 77 65 65 6e 20 4d 61 6c 61 67 61 20 61 6e 64 20 48 61 67 67 61 72 74 79 27 73 20 69 6e 20 35 30 20 66 65 65 74 20 6f 66 20 77 61 74 65 72 20 74 68 65 72 65 20 6c 69 65 73 20 61 6e 20 6f 6c 64 20 63 72 61 6e 65 20 62 65 6c 6f 77 20 74 68 65 20 68 69 6c 6c 20 6f 66 20 67 72 65 65 6e 20 74 72 65 65 73 2e
Night Diving, Solo Diving – So Cal Buddy Diving with the Divevets off of the Island Diver boat
In With: 2900 psi
Out With: 1200 psi
Max depth: 55 feet or so
Waves: Pretty flat with occasional chop
Visibility: 20 feet
Water Temperature: Cool, in some places cold
Total Bottom Time: About 30 minutes
Now for the second dive at a "new" spot that the Captain in training recommended.
The Captain in training is not a diver, but he knows of this spot as a "good place to fish."
I was out of the water for an hour by the time we reached this spot.
I was afraid that I went deeper last dive than what my gauge showed.
It took a long time to get back up and my depth gauge was stuck on 90 feet.
I decided to play it safe and cut my bottom time on this dive to a little over half of what it could be.
I was the first over board and promptly submerged.
I swam towards shore after hitting bottom at about 50 feet.
I trolled and trolled… the kelp was sparse.
There was suppose to be a metal artificial reef, but I never found it.
The bottom looks interesting with rocks and a variety of sea life, but I was looking for lobster.
I ran across one and pinned it.
It was about a quarter inch too short, I threw it back.
I think a few other divers must have caught and released that same lobster as everyone reported catching one short.
That poor thing must be traumatized.
I went back and boarded after doing a three minute safety stop.
Everybody gave the Captain in training a hard time for wasting our time here.
Heavy debriefing followed on the boat…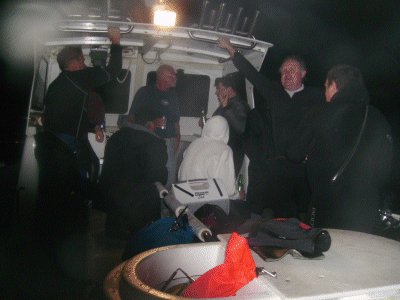 …and in the parking lot…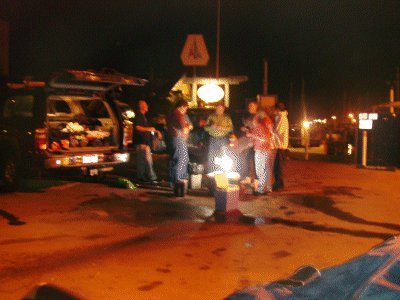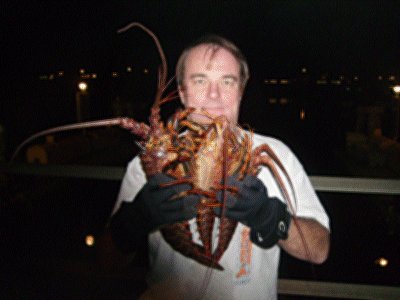 I pose with my stash of lobsters.
I made it a point to be brief in whatever I said – I didn't want to bore anyone this time around.
One of the divers, who dives with a dry suit, was explaining how he rigged a suit urinal with tubing and a condom.
During the conversation he whipped his dick out to show us his set up.
He said, "I bet you didn't expect that one, did you?"
Uh, no, we didn't!
Comments Off

on Logged Dive #262 – Lobster Hunting Off The Island Diver