Secret Location: 4f 66 66 20 6f 66 20 74 68 65 20 53 70 61 6e 69 73 68 20 72 6f 75 6e 64 20 62 65 61 63 68 20 69 73 20 61 20 72 65 65 66 20 6f 66 20 74 6f 69 6c 65 74 20 62 6f 77 6c 73 20 61 74 20 74 68 65 20 6d 6f 75 74 68 20 6f 66 20 74 68 65 20 73 68 65 6c 66 2e
Night Diving, Solo Diving – So Cal Buddy Diving with the Divevets off of the Island Diver boat
In With: 3200 psi
Out With: 1100 psi
Max depth: 90 feet or so
Waves: Mild Chop
Visibility: 20 feet
Water Temperature: Sort of cold
Total Bottom Time: 15 minutes
Lobsters caught: 1
We decided to check out another fairly deep spot.
I out gassed for one hour and twenty minutes before I went back in the water and down the anchor line.
I was told, "Go anywhere but North."
"Why not North?" I asked.
"Because you'll get to 300 feet really quick."
I went East and then South, trolling for bugs.
I didn't feel as narced as I did on the last dive.
I finally came across one that looked legal and grabbed for it.
The thing was fast and slipped through my lighting fast grab.
I continued trolling and caught one for this dive.
I only had 15 minutes at the bottom and decided to start my ascent after 12 minutes.
I knew if I had trolled for one more minute I would run in to a huge lobster that would have ruined my bottom time.
I surfaced fairly close to the boat.
Dan and his group was the last ones back to the boat.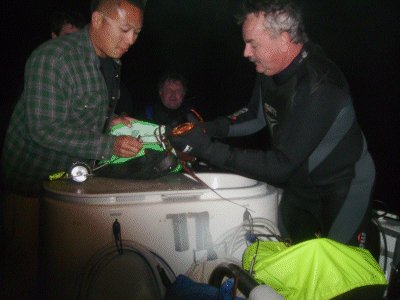 Dan's crew came back with their bags stuffed with lobsters; they had apparently come across a heard of them.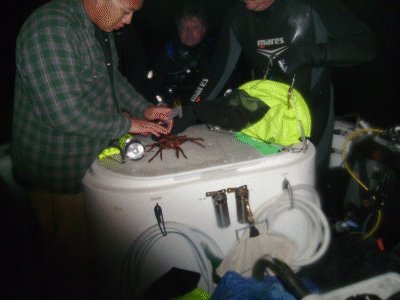 The Captain triple checks Dan's lobsters for size.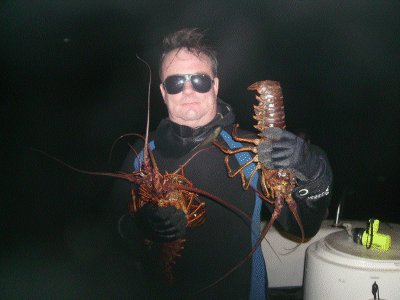 I pose with my catch of bugs.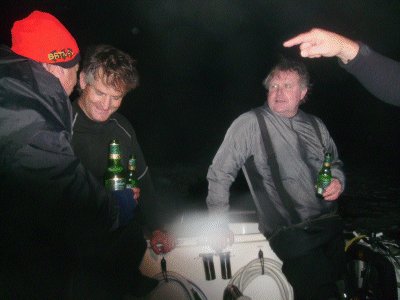 We partied all the way back and in the parking lot in traditional Divevets fashion.
Comments Off

on Logged Dive #264 – Lobster Hunting With The Divevets