Casino Point, Catalina, CA
Solo Diving
In With: 3000 psi
Out With: 1200 psi
Max depth: 90 feet +
Waves: 1 foot, insignificant
Visibility: 15-20 feet
Water Temperature: Sort of chilly at depth
Total Bottom Time: 30 minutes
This was my dive before I helped staff the "Gold Star" charity dive event that benefits the Sheriff's Department and decompression chamber at Two Harbors.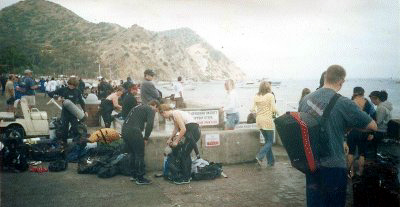 Instructor John, Steve from American Diving, Bob from my previous Rescue course were also staff participants.
American Diving apparently is the sole sponsor to this event.
I submerged about 8:55 AM.
The point was not crowded, except on land.
I went towards the left (North I believe).
Visibility was okay… about 15 to 20 feet.
I had to get back at 9:30 AM for an orientation on the event, so I went deep – 90 feet and some change.
I stayed deep for about 15 minutes, 70 to 90, 90 to 70, etc.
There seems to be less fish than before, maybe because of the depth or time of year.
I came across one of the "gold stars" at about 50 feet and was also attacked by a Garibaldi.
Apparently, the Garibaldi's will bite at you if you get near their nesting ground.
I came back up and out with no problem.
Comments Off

on Logged Dive #129 – My Pre-Goldstar Dive Dive