Cabrillo Beach, San Pedro, CA
Night time lobster hunting with Instructor John, "Jim" and student Ron T as part of an Advanced SCUBA class.
In With: 3200 psi
Out With: 2200 psi
Max depth: 17 feet
Waves: 1 foot, calm
Visibility: 10 feet
Water Temperature: Cool
Total Bottom Time: 35 minutes
We met a little before 7 PM.
We geared up really quickly and went off the sandy beach.
We had a long swim to the right.
There's lots of kelp; John and I had to free Jim who was caught in the kelp on the surface.
John said later, "I'd rather have a long surface swim than go off of the rocks."
We ascended in 17 feet of water.
I paired up with Ron, John went with Jim.
We trolled around looking for lobsters.
The first one I saw, I grabbed and caught.
It was legal; it started to attack my light while I was measuring it.
My first legal lobster!
Ron was attacked by a red kelp crab.
I saw him struggling with it and I wondered why he wanted to catch it, but later found out that it had attacked him.
Ron said later, "That was the first time ever that something attacked me in the water."
Ron had the same problem as yesterday; he couldn't stay down.
We agreed to burn 300 psi more and then head in.
It was a short dive, but productive, at least for me.
John and Jim came out about 30 minutes later.
Lobster count:
John: 2
Jim: 2
Me: 1
Ron: 0
John gave Ron and I our "Advanced SCUBA Diver" C-Cards.
As I say, "A am certified macho."
The Advanced class is now over!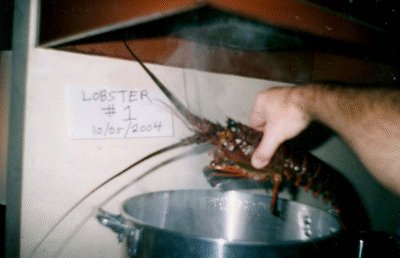 My first lobster about to be put out of its misery!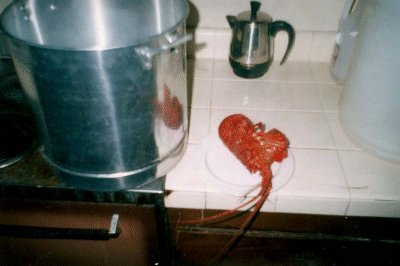 A feast fit for a king!
Comments Off

on Logged Dive #84 Advanced Course At Cabrillo Beach, San Pedro