After spending over a year liquidating my father's estate and dealing with some bad business decisions, I said, "Fuck it."
I'm going back to my old life of diving, that I have missed, but never intended to leave.
Sometimes you just have to call your losses and go on with your life.
But, if I ever find that Prince from Nigeria in person, he's a dead man.
I miss not only the diving, but the people and the scene; I never realized how much the people you hang around with influence how you feel and your mental state of mind.
That is probably why I don't have many friends.
Well, regardless, I'll get to more later about the missing section of my life later.
As far as this blog, I will warn you in advance, that I had a spam attack that was not caught through my spam filter, which worked quite well until they wanted money.
I have 10,000 spam comments to manually delete; that will take me some time.
The server itself was also attacked by some Turkish hackers who managed to take over another website.
I had to update WordPress to the latest and greatest, so there may be technical difficulties with the comments and counters or anything else.
To put it in technical jargon, shit on this site might be jacked.
By the way, I HATE the new WordPress interface – it's geared for retards that don't know any HTML.
I finally decided to get back in the water, but I have not dove in over a year, so you are suppose to give yourself a "refresher course" to make sure that you can still dive.
I remember when I first started diving and how heavy all the equipment was and how difficult the walk to the water was during beach dives.
I showed up at Veteran's Park in Redondo Beach around 7 am to give myself a refresher course.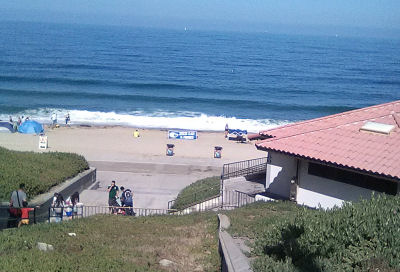 I bought a new underwater camera, since I can't find my old one.
I made the mistake of not bringing any new batteries, so I was not able to take pictures under water.
The photos here are taken by my cell phone.
I always thought it was dumb to have a camera in a phone, but not anymore.
At least I was not distracted by having a camera underwater.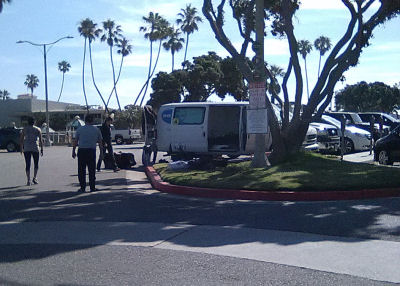 I ran in to Airborne, who was helping to teach a rescue course.
He said, "If you need help, just act like you have a cramp in your prostate, and one of the students will rescue you."
I geared up and made an easy entry off the beach.
Logged SCUBA Dive #509
Solo Diving
Veterans Park, Redondo Beach, CA
In With: 3000 psi
Out With: 1200 psi
Max depth: 80 feet
Waves: Surgy at the shoreline, but managable
Visibility: 15-20 feet depending on where you were.
Water Temperature: 62 degrees at depth
Air Temperature: 74 degrees
Total Bottom Time: 28 minutes
I descended to the ocean floor at 20 feet and headed West.
Being underwater was a feeling I have missed for over a year, but I had to make sure I was still able to dive.
I slowly made my way to the shelf and went down at an easy pace.
My regulator had been serviced, I still fit into my wetsuit, I was not scared or anxious… it was just like I never left.
I went down to 80 feet, observing the crabs, sparse plant life and garbage.
After heading back up the shelf to 40 feet, I decided to take my weight belt off and replace it, take my mask off, put it back on and clear and ditch and recover my regulator.
I took my weight belt off and held it in my hand – my ass started to float up and I thought, "Maybe this was not a good idea?"
Using my cage fighting skills, I balled up and threw my weight belt over my back, and tightened it, upside down.
I took my mask off… air bubbled up my nose, couldn't see… I sort of know what water boarding must be like, maybe.
I put my mask back on, and cleared it.
The regulator ditch and recovery went without issues.
I slowly made my way back to shore and an easy exit.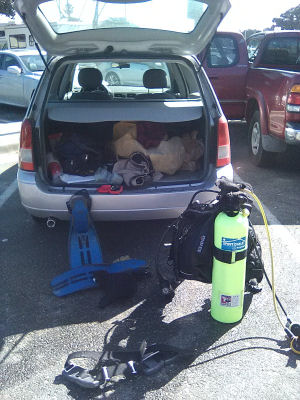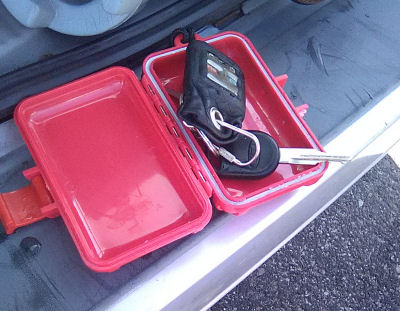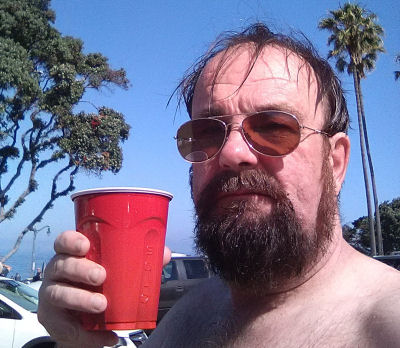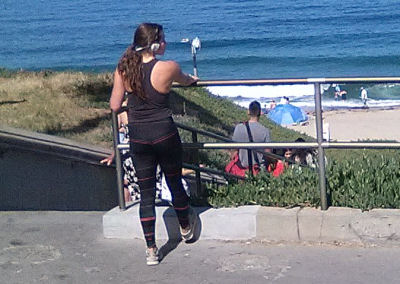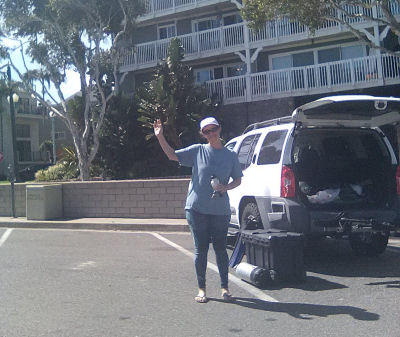 Donna the Hot Biker Chick showed up to help teach her new boyfriend, Steve, how to dive.
I had no idea she had been single again, but I never even got a call for an interview.
Until next weekend, I must sign off.
I'm planning to dive either Laguna Beach or Terranea next weekend.