The SCUBA Show is once again coming back to the Long Beach Convention Center, June 23-24!
I used to be a regular attendee, but after the show kept looking the same year after year, I stopped going for a few years.
I plan on going back this year, probably on Sunday, June 24th.
I will be signing autographs, and you can have your picture taken with me!
And if anyone actually asks for an autograph or picture, I will probably go into shock.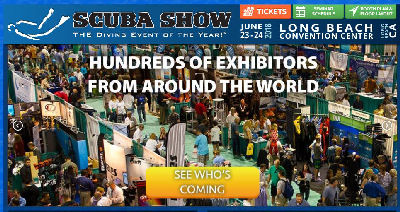 With 76,000 feet of exhibit space, more than 300 exhibitors, seminars, movies and a pool where you can actually try SCUBA diving, I am once again looking forward to going again.
Here are some interesting videos from a few years ago, to give you an idea of what it might be like:
If you see me, and I still have beer left in my backpack, I will give you a beer!