So much has changed in my life, and so quickly.
In my last post, my father had died, and I was left in charge of his vast empire of stuff.
Since then, I have started a new job, inherited a Ford, sold my truck to the best Harley shop on the West Coast and have slowly started to liquidate my father's collection of 40 year old paint, models, items that he bought over the years that are still new in the box, and his car collection.
I had a job interview for a place that does support for billing systems between smart meters and the repository for the billing interface.
I explained my vast experience in IT, like how I managed to keep the same blog up for over a decade, without modernizing the design, and my undercover spy work, like the time I infiltrated North Korea to verify that, yes, they do have guided tours, pictures of the Dear Leaders are all over the place, and all the missiles that they have ever made can reach Guam Island.
My interview ended at 9:30 AM.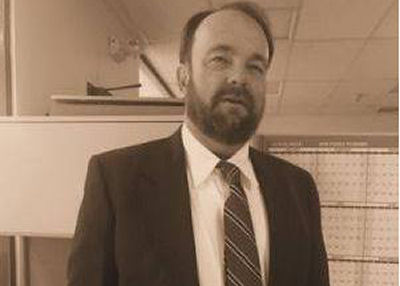 I was offered the job a little after noon.
I had not been offered a job that quickly after my first interview since I was in High School.
Now it was onto the task of going through my Dad's vast empire of stuff, which included a garage packed high with boxes, two bedrooms packed high with boxes, two storage lockers packed high with boxes, a living room packed high with boxes and boxes under tarps in the backyard, when he had run out of space to put stuff.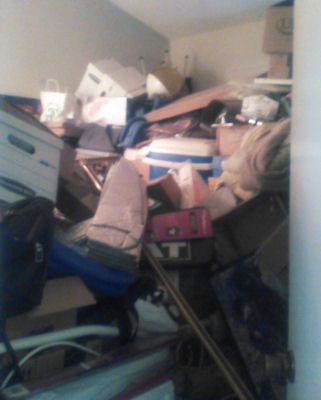 Cracking one of the bedrooms open – I know how Howard Carter felt cracking open King Tut's tomb.
My Dad personally put me in charge of his stuff.
I made the decision that I would go through everything myself, sorting everything into piles – keep, trash, shred, sell and put directly into my trunk.
The problem was, with the sheer volume of stuff, the piles soon blended into one another.
I now have a vast pile of old 8 mm home movies that I have been digitizing.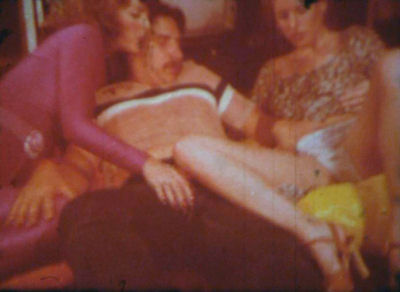 I think that's long lost Uncle Melvin with his girlfriends in the 1960's.
My Dad liked deals, and when he would come across one, he would buy two or three.
A lot of his stuff was still brand new in the box.
I hired a professional estate sales company to take care of liquidating his empire.
The estate sales lady said that she had never seen such an enormous collection of stuff that is brand new in the box.
Of course, Professional Debriefer Paul had a problem with all this.
His plan was to sell all this stuff himself, on Ebay.
I told him, "You must be on crack.
"You've never bought or sold anything on Ebay, and it is going to take you 30 years or more to sell this stuff.
"Mom wants this stuff out this year."
My cousin Joe, who had to deal with a similar situation when his father died, said it the best.
Joe said, "So if you have ten things that you know are worth $400 each, but someone comes along and offers you $250 each for all of them, how much extra effort will it take you to get $400 for each?
"Time is one thing you can't get back in life."
We made a compromise with PDP and let him sell DVDs and other stuff that is light weight and not popular in estate sales.
Even though it took him two weeks to think up a "good Ebay name," he has done a great job.
He says it is time consuming and people ask the dumbest questions.
You can find his store here: MrEstateSale
I hope this is not his retirement plan.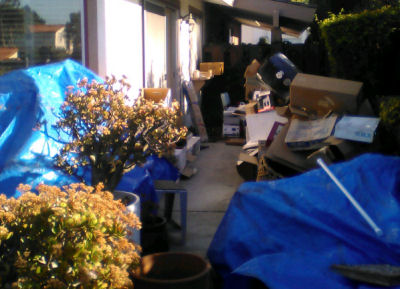 The backyard looked more like skid row during the cleaning.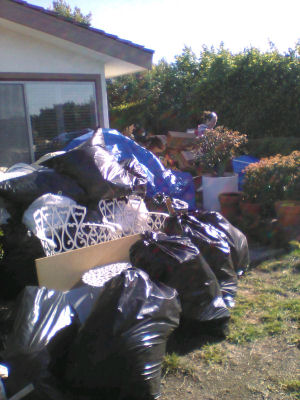 It took two solid months to go through the house, and I haven't even really gotten to the storage lockers; that will be saved for sale number two.
The estate sales company provided staff and security during the four day sale, but between sales, I guarded the house.
I borrowed a Universal Protection security shirt, complete with a Wells Fargo badge, from a Dry Cleaner friend of mine.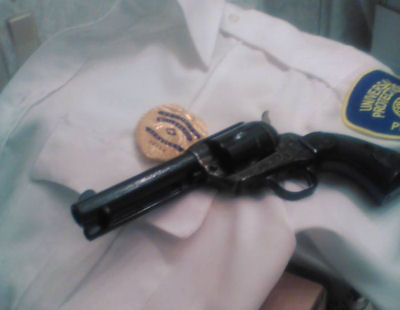 I also had a toy .45 caliber Army pistol to complete the image.
I was depending on my cage fighting skills if some shit actually went down.
On the first day of the sale, people were actually sleeping in their cars overnight to get first grabs at 10 AM.
I woke up every two hours and did a perimeter check wearing my security shirt during the night, or whenever a skunk or cat would set off one of the motion alarms.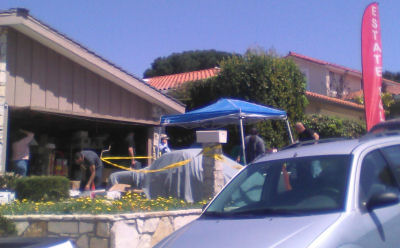 Every vulture, cheapskate and wanna-be Storage Wars character in the South Bay showed up for the looting.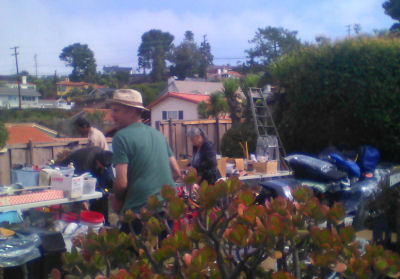 People were looking for that $5 gem that would be worth a million dollars on Ebay.
After the first day, I had dinner with my mother at The Admiral Risty – a pretty classy place, that served a bottle of Budweiser with a glass.
My mother said, "Maybe you can start diving again when I'm gone."
I said, "Well, I hope you'll be around for another twenty or thirty years…"
"No, I mean when I go on vacation," she responded.
I'm hoping maybe I can dive in a week.
Hell, I'll dive Vets Park now, just to get in the water.
Now, I'm going to head back to the Long Beach ghetto and finally get some REM sleep with my shoes off.
Stay tuned.