I arrived promptly at 8 am to check the conditions; Reverend Al and other divers were already present.
For the most part, the Cove was pretty calm with some waves rolling onto shore.
The Point was a little different because some big swells were rolling into the rocks between lulls; I would have called it, but the consensus was "It is doable, if you are patient."
We geared up and headed back down.
Someone remarked, "If all seven of us make it out unscathed, it will be a miracle."
That is not what I wanted to hear, but Reverend Al assured us that all will be fine.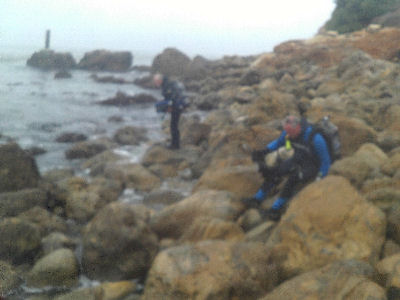 We took our time; I waited for a swell to come in.
As a swell came in, I jumped in and rode the wave out, kicking as another swell tried to push me back into the rocks.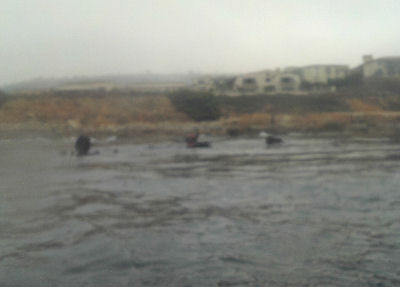 We all made it!
We noticed that there was one hell of a current pushing us West; we submerged.
Logged SCUBA Dive #507
SoCal Buddy Diving With Reverend Al, Nice Rob, Rob, BlueSteel, Joe R. and David
The Point off of Terranea Resort, Rancho Palos Verdes, CA
In With: 3000 psi
Out With: 800 psi
Max depth: 64 feet
Waves: Calm with occassional chop towards shore.
Visibility: 10-15 feet but silty, better shallower
Water Temperature: 62 degrees
Air Temperature: 76 degrees
Total Bottom Time: 40 minutes
Visibility looked pretty good on the surface, but cut down to 10-15 feet with lots of silt.
It took me a while to get down because of problems equalizing; by the time I reached the bottom, everyone was gone.
I knew swimming against the current was going to suck, so I just headed to the Cove on my own.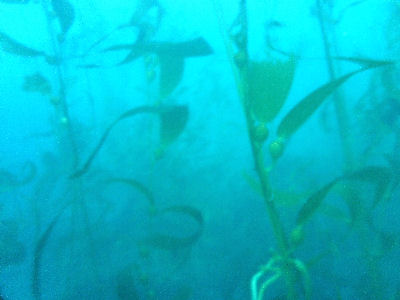 Conditions were not good for photography.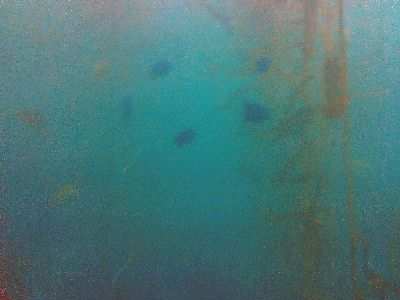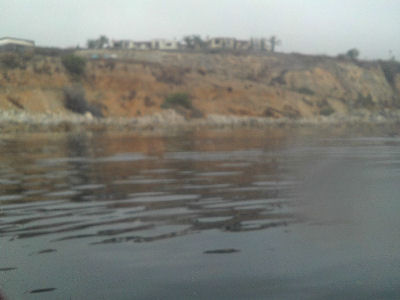 I surfaced after getting lost; I was still at the Point.
I did a surface swim to the drainage pipe and submerged.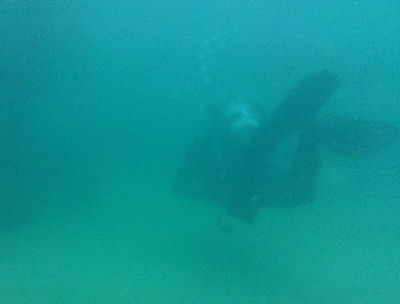 I finally found another diver!
All seven of us surfaced at roughly the same time.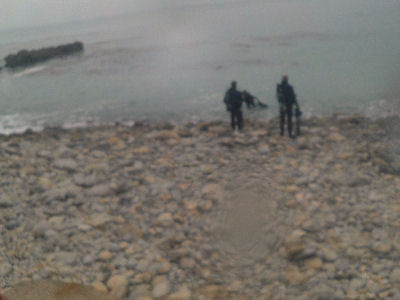 We all made an easy exit!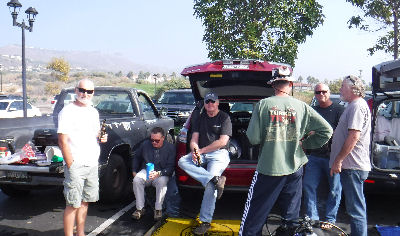 Let the debriefing begin!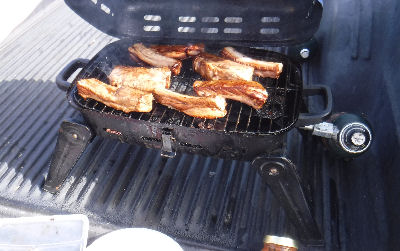 We had a Korean themed debrief with pork ribs, rice, kimchi, dried mushrooms and Ginseng wine from North Korea.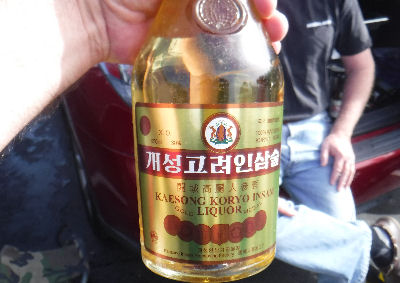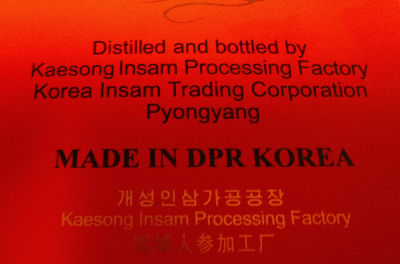 Ginseng wine from North Korea!
My video of "Tasting Ginseng Wine From North Korea (DPRK)" can be found here:
Tasting Ginseng Wine From North Korea (DPRK)
Now, the mushrooms that I brought back from North Korea had been soaking in water for two weeks, they were still as hard as rocks.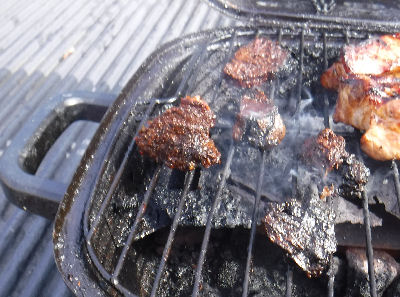 The mushrooms looked like dried dog turds on the barbecue.
After taking a taste, I decided not to torture my fellow divers with them; they tasted like dried cork.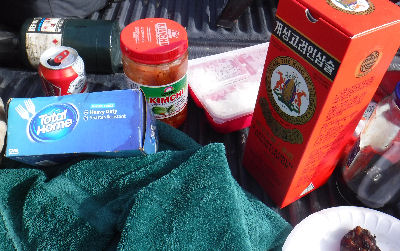 Kimchi and rice!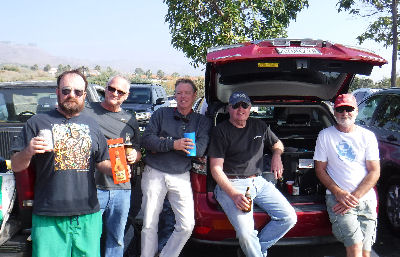 Me, Nice Bob, Joe R., Reverend Al and BlueSteel.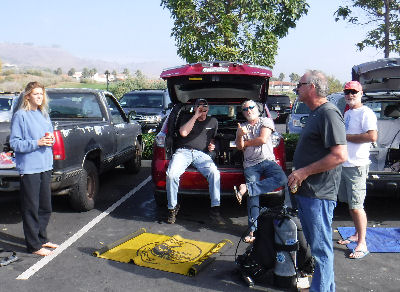 Matty, Cal Poly Pomona student, joins us for a beer after she was waved at.
Right around this time, Joe disappeared mysteriously like Clark Kent.
One of the topics of conversation was how different the diving community is now, as compared to 15 years ago.
Divevets is gone, so are the Sandeaters, The Dive N Surf group has fractured, people have died, gotten sick, stopped diving and moved away; even this blog (so I have heard) is on the decline.
Even Reverend Al said, "I keep wondering how long I'm going to do this."
Until they can perfect underwater WIFI, SCUBA diving may not be as popular with the new generations.
Until next time!