August 17, 2017
One of the good things about being on a group tour in the DPRK – you will never oversleep and miss your flight; they will find you and drag you down to the bus to transport you to the airport.
For half of the guests, this was the last day in North Korea, the other half was going on an extended tour for two more days.
Unfortunately, I had to do the budget tour.
We all assembled down in the hotel lobby at 9 am; the ones in suits were going on the extended tour to visit the mausoleum, the rest were leaving – hopefully without complications.
I gave the two female guides a bottle of Jameson whiskey each.
I said, "I was expecting two male guides, so I hope you can do something with this whiskey."
One of them said, "Oh, yes, we can. Thank you."
The other guide agreed.
I was told by someone who is familiar with the tours that, "It's sort of like being in prison; they can trade what they have for something that they need."
We said our goodbyes to the extended group.

The Yanggakdo International Hotel lobby.
We boarded the bus to the airport and were off; our guide handed us back our passports and travel visas that they had kept for almost the entire trip.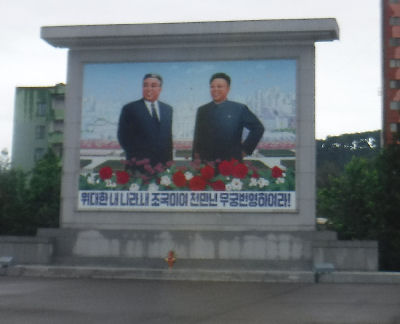 The Dear Leaders on the way to the airport.
The plane was actually a large aircraft, unlike the one we took to Pyongyang; the entire DPRK weight lifting team was on the flight going to compete somewhere.
I said goodbye to Simon and my guides and I went to wait in line to check my baggage.
My bag was three kilograms over the weight limit.
I put my bag on the conveyor and the young ticket lady pressed a button that rolled my bag under an X-ray; two North Korean Army officers carefully inspected the X-ray image.
They started arguing with each other – All I could understand was "Mak-chu… Mak-chu…" which means beer.
They said something to the ticket lady and she asked me, "Are you bringing beer back to the United States?"
Oh, fuck!
I'm going to do hard labor for smuggling beer!
"Yes," I said.
She asked, "How many bottles?"
"Four."
They started counting.
"Oh, and a bottle of soju," I said.
She translated to the officers.
They laughed; she sent my bag through and printed my boarding pass.
Simon was still around and I asked him what that was all about.
"They are just curious what Americans bring back from their country; it was more of a curiosity thing," he said.
Now it was the time to pass through passport control…
Just like when I arrived, I handed my passport and travel visa over a counter top to a set of eyeballs with a hat on top of them.
There was a two minute delay as he did something behind the counter.
"What is your name," he said.
"Jeff ….," I responded.
He looked at me, took my travel visa, handed me my passport back and buzzed me through the gate.
My blood pressure returned to normal.
Unlike the trip to Pyongyang, they didn't seem to segregate the passengers; I sat right among the North Korean weight lifting team, even passing Koryo burgers and customs forms between them from my aisle seat.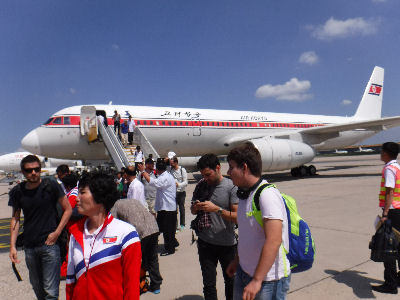 We landed back in Beijing without incident.
Once in Beijing, I managed to travel the 18 hours that it took to get back home.
Due to the time difference, on August 17th, I was in North Korea, China and the United States on the same calendar day.
What I learned on my trip:
Going to North Korea as an American is really no big deal, as long as you obey their laws and customs.
American tourists are the only interaction that some North Koreans get with their "enemy" – they grow up to hate Americans, but are very friendly and curious when Americans actually go there.
They like money and gifts, but who doesn't?
There is no such thing as "arbitrary arrest" – their laws are strict and strange to us, but you actually have to break their laws for problems to happen.
If you travel with a great tour company, they will brief you on how to behave and what to expect; don't go with a horrible tour company that will string you along for a year and boot you off of their trip because one of their previous clients got arrest in North Korea.
I also have a California accent and attitude; I was told just that by my travel companions – relaxed and humorless.
When I told my Brazilian roommate Bruno about my psycho-ex who was Brazilian, he said, "Don't blame that on Brazil, blame that on her being a woman."
Bring plenty of toilet paper when you go to North Korean and learn to squat when taking a shit.
OK, my mission to North Korea has been as complete as I could make it… now I need to get back to diving.