My July trip has been cancelled – not by me, but by the tour group that I was going with, simply because I am an American citizen.
I jinx all my trips:
2012 – I bragged about going to Albania, only to have the Polish diving base close. I had to find and hire a student from the University of Tirana to complete my mission of diving in Albania.
2013 – I went diving in Poland, however, Greg, the guy who was suppose to take me diving had personal issues and couldn't. He turned me over to another diving group – that was no issue.
OK, I have not been totally honest with the six people who read this blog – I did not want to jinx my trip.
Yes, it was a trip to Vladivostok, Russia to go diving.
Well, it also included a six day tour and diving in North Korea.
So, here's the story.
I work in a cubicle, sort of like a jail cell, in the basement of a building.
Diving in Hawaii or Fuji, just really doesn't cut it for me.
I need to go someplace weird, and when I found out last year that there was the first tour group of its kind, open to the public, to go diving in North Korea, I knew that was the trip for me…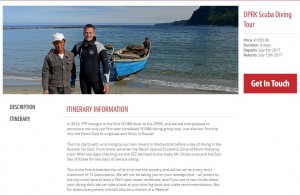 This isn't a joke – they have diving in North Korea.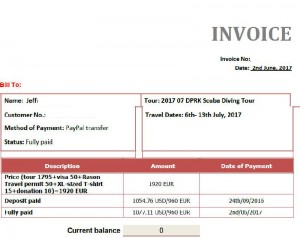 In September of last year, I put a deposit down and paid the balance in June.
For almost a year, I heard how wonderful "The Real North Korea" is and how any negative news that I may hear is just "standard banter between the US and DPRK that has been going on for 70 years."
I had to jump through hoops to get a Russian Visa ($385), buy a letter of invitation ($45) and I also went out of my way to become PADI certified, as the tour group did not recognize any other agency other than PADI.
On June 3rd, I received a confirmation email stating that the trip is on and that we were to all meet in Vladivostok, Russia on July 6, 2017.
Then, the unexpected happened…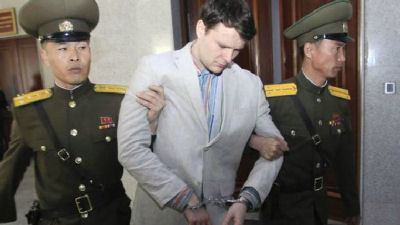 Otto Warmbier, who had been held in North Korea for 17 months, was medevaced to Cincinnati the same day Dennis Rodman landed in Pyongyang.
Mr. Warmbier arrived in a comatose state and died on June 19, 2017 of unknown causes; his family refused an autopsy.
On March 16, 2016, Mr. Warmbier was sentenced to 15 years of hard labor after he was caught and confessed to stealing a propaganda poster from a staff only area in the hotel he was staying at; he was with the same tour company that was taking me SCUBA diving.
I agree, that is an unusually harsh sentence, but a man in the United States had been sentenced to 25 years to life for stealing pizza and another received a life sentence for stealing a pair of socks.
What happened to Mr. Warmbier is anyone's guess, but I personally think he tried to commit suicide and the North Koreans couldn't revive him.
American prisoners in the DPRK are too valuable to be tortured and starved or beaten; something else must have happened.
After Mr. Warmbier's death, the tour company started getting a lot of bad press:
Gung-ho culture at tour agency Warmbier used on North Korea trip
Boozy tours court trouble in the hermit kingdom
Then on June 19, two weeks before I was scheduled to leave for Russia, I read the headline, Tour group says no more Americans to North Korea after Warmbier's death
Well, luckily, I had already booked and paid for my trip, so this was obviously for future trips.
That same day, I received an email from the tour group…
"I wish I was contacting you under happier circumstances, but I'm afraid that's not the case this week. Due to the recent events regarding Otto Warmbier, we have reassessed our decision to bring American travelers into North Korea and have decided we will no longer be coordinating tours for American visitors to the DPRK, starting immediately. This means that we will have to cancel your booking for the upcoming SCUBA diving tour to North Korea."
What the fuck?
I wrote back, "That sucks. I can understand the tragedy with Mr. Warmbier, but it probably would have happened regardless of nationality. Can't you make an exception since I signed up almost a year in advance? And no, I don't have travel insurance. It will cost me not to go."
I also wrote about my extensive experience in cold water diving and that I would be an asset to the group.
"Perhaps you need a staff safety diver? I could do that," I wrote.
Three days of silence was followed by the next correspondence:
"I've tried talking to management about still bringing you along but they are very persistent about the finality of the decision. So unfortunately we will still have to go ahead with the cancellation."
That was it.
People can go diving in North Korea, but I can't because I am an American.
I told my friend Rick, "I know what it's like to be discriminated against; I now know what it's like to be black."
Rick said, "You don't know what it's like to be black, and everyone thought you were a dick face for even trying to go to North Korea."
I have ran into all sorts of problems, on every international diving trip that I have planned.
To be so close, with what would have been the ultimate mark on my diving bucket list, only to be told that since I am American I can't go but everyone else can, really sucks.
I became really depressed and it sent me off into heavy debriefing mode for several days, to the point where my boss told me to "switch your cologne because it smells like beer."
I did some research on how I could go diving in North Korea now.
There are currently four tour companies that will still take American citizens, however after contacting them, they are currently "reassessing" their policies towards Americans.
None of the four tour groups have diving trips to North Korea, however you can go surfing in the DPRK.
I am not a surfer, I'm just too fat.
There is also talk of the United States government making it illegal to travel to North Korea, for whatever stupid reason they can make up.
So in order for an American citizen to go SCUBA diving in North Korea now, a diving crew from either Russia or China would have to be hired and then one of the approved tour companies that still take Americans would have to put the tour together.
If anyone is interested in such a trip, I would be happy to look into it further, but it won't be cheap; contact me if you have any serious interest in such a trip.
Also, anything the United States government does in the way of travel laws could interfere with these plans.
Thanks to my friend Mirek, who pointed out that someone called Handel On The Law last Saturday with a similar situation; maybe I can find him and we can do a class action lawsuit?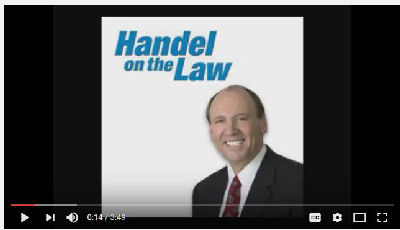 It cost me almost $1,000 not to go.
As one of my friends told me, "You failed and have disgraced the SCUBA diving community. You are lucky you aren't Japanese because you would have to commit Harakiri to preserve your family's honor."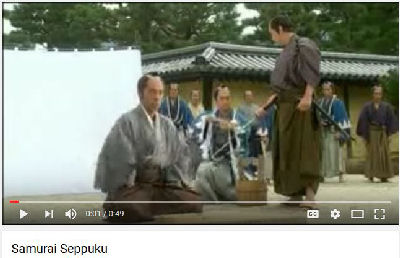 I told him, "If I was Japanese, I would be able to fucking go!"
I will no longer be announcing trip plans, maybe that is part of the jinx?
Anyway, that ends the best diving trip that never happened… because I am an American.