Sorry for being such a stranger!
I think my seven readers may have gone down to four.
But, Oh well, I make no money on this blog, so I don't care!
SCUBA diving conditions have sucked, and I'm really stressed out about family matters and business and work matters.
So, I decided to self glorify myself by going to Beach Streets Grand Prix and ride around the track with my Ordinary bicycle at lunch.
My co-worker Rosario insisted that she goes with me because she "wanted to get in the paper."
So, I see – another self promotion, glory seeker!
Obviously she was counting on my good looks to get in the spotlight.
I also made a deal with Rick the Biker who owns Long Beach Choppers, LLC – the best old school Harley repair shop in the area.
He would buy me a beer for wearing his shop shirt, and a another beer for each paper that I would get in.
Well, I think I'm pretty average looking, but for some reason, yes I did get some media attention…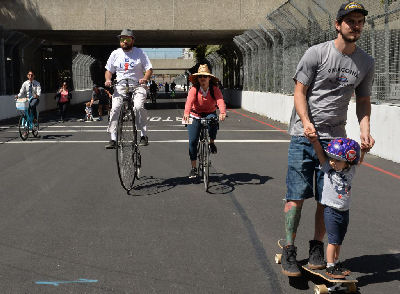 Photo By The Press Telegram.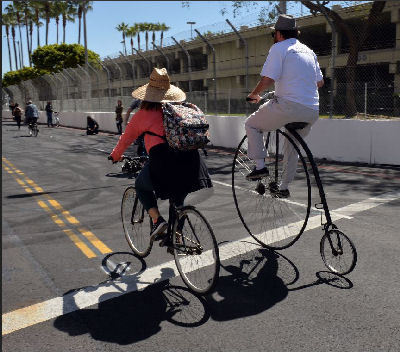 Photo By The Press Telegram.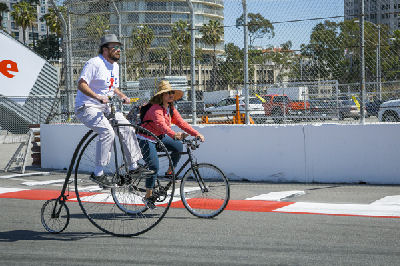 Photo By Beach Streets Long Beach.
So, anyway… I haven't been diving or cage fighting or anything else besides going on a token two mile bike ride while stressing out over business and personal shit.
I woke up with an intense headache, shoulders hurting and bloodshot eyes.
I called in sick and my boss asked what was wrong with me.
I said, "I don't know, my shoulders hurt and my eyes are all red."
He laughed, "Oh, your eyes are red, Ha Ha, well, you still need to deal with the conference call at 8 AM."
I asked, "What do you mean?"
He hung up.
So, 8 AM was no problem, since the walk in medical clinic doesn't open until 9 AM, but I couldn't get onto the conference call, so I called my boss.
He said, "Well, I told them you were sick so we cancelled."
Uh, what the fuck was that?
He told me I still had to deal with it, but cancelled and didn't tell me?
Anyway, I went to the doctor, and Dr. Habib told me that I had stage 2 hypertension – my blood pressure was like 162 over one – thirty something.
I credit my macho life style and over all machismo for not having a stroke or kidney failure.
I was actually prescribed some pills which dropped my blood pressure down, so all is well now.
I'm making plans for my SCUBA diving trip in July … stay tuned!