Sorry for lagging on the posts for the last few months.
The weather has been pretty stormy and the conditions have sort of sucked, so I have been out of the water.
I have other things going on, which I will make public at a later date, which has kept me from cage fight training; yes, I am getting fat.
I may need to diet so I can fit back into my wet-suit.
Anyway, I know six people heavily rely on this site to keep them informed on the latest SCUBA diving news, so on with the main story…
A Belgium entrepreneur has come up with the gimmick of all restaurant gimmicks – a restaurant that you SCUBA dive to.
It's only 16 feet deep, so a macho person like me could just free dive to it, and it's in the middle of a swimming pool, so there's not much to see, but … why?
From the article:
Lowering themselves to the floor of the pool, an especially deep one built to train scuba divers, they swim to one end where their restaurant awaits, five meters (16 feet) below the surface.
"The Pearl" is a two-meter wide white sphere tethered close to the pool's floor. The diners jettison their weighted belts before swimming underneath and up into the pod that looks like a cross between a lunar landing craft and a giant spaceman's helmet.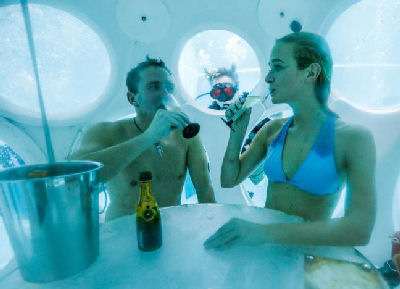 Photo by: REUTERS/Yves Herman
Food is served by expert scuba divers who deliver foie gras, lobster salad and champagne in waterproof cases before leaving the diners peering out of the portholes, enjoying the strange tranquility of eating in an air pocket, completely submerged.
The entire article, with additional photos, can be found here:
Belgian entrepreneur invites you to scuba dive to dinner
I hope they take wet money!