Having not been able to put a SCUBA diving trip together for several years, I stumbled onto the diving trip of a life time.
It is a group tour in July 2017 that originates in Vladivostok, Russia… and after eight days, ends back in Vladivostok, Russia.
I wired my deposit last week.
Other than that, I really shouldn't say anything else – but I'm sure it will be an adventure.
Lobster season is coming up, and I'm doing my final preparations – renewing all by licenses, making sure my lights are good and practicing my lobster death grip.
I'll be on the Bottom Scratcher this Friday night – yeah, I don't like big boats for lobster hunting, but it's slim pickings this year.
Having stayed the night in Palos Verdes, it was easy for me to show up right on time at 8 am in the public spot of Terranea Resort.
We went down and checked the conditions.
Reverend Al and I would have easily made it out from the Point, however, it was high tide and the receding swells and the pounding waves were intimidating.
Since we didn't want to perform any rescues, we decided to go off the Cove.
The crew consisted of Me, Reverend Al, Nice Bob, the other Jeff, Rob and Blue Steel.
On the way down, Rob blew an O-ring and had to turn back.
It was an easy entrance and visibility looked promising…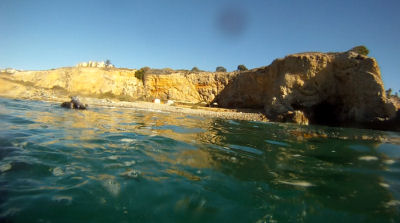 Logged SCUBA Dive #502
Dove with Nice Bob and the other Jeff
120 Reef, Terranea Resort, Rancho Palos Verdes, CA, USA
In With: 3000 psi
Out With: 1500 psi
Max depth: 43 feet
Waves: Flat with some extreme rouge waves
Visibility: 10 feet with some silt
Water Temperature: 64 degrees
Air Temperature: 80 degrees
Total Bottom Time: 31 minutes
We swam to the rocky finger just off of the cave and submerged.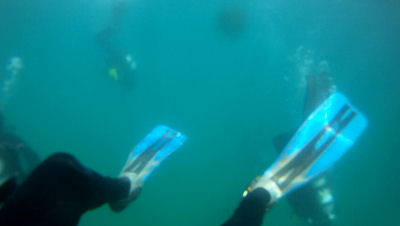 I followed Nice Bob and the other Jeff.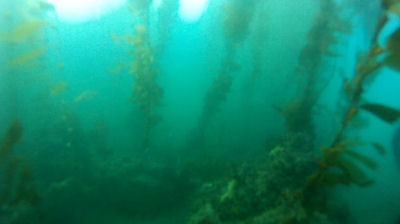 Visibility was not great and there was a large amount of surge on the bottom.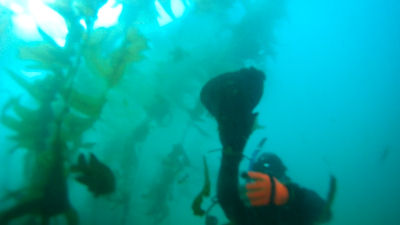 Throwing a pass with a sea hare.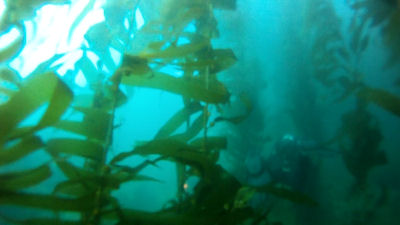 After touring the 120 reef for about 20 minutes, Bob started leading us back.
It was an all-sand dive similar to Veterans Park; the visibility really sucked – 5 feet at best.
But, Bob lead us right to the Cove; we all made easy exits.
As we were walking back, a HUGE rouge wave started towards the beach and crashed into the rocks; every rock on that beach was wet.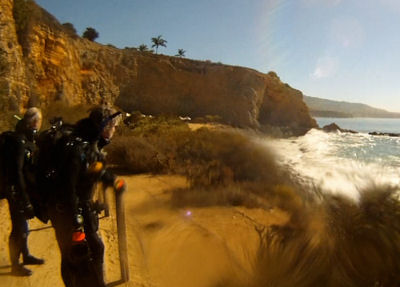 A second smaller wave started to form and I was able to get a picture of that one.
If we were delayed by five minutes, someone would have gotten hurt during their exit.
Two minutes later, some people who were sitting on the rocks came up soaking wet.
We did our traditional debrief in the parking lot…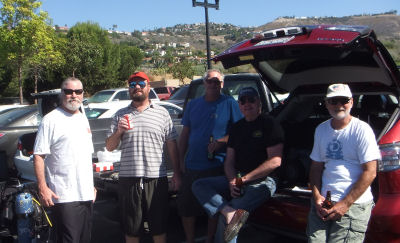 The other Jeff, Me, Nice Bob, Reverend Al and Blue Steel.
Let's get ready for Lobster Season!
Happy Hunting!